A 10-Year-old Yoga Guru wants to adopt a village.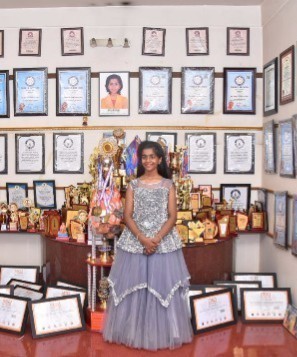 Yoga is a divine practice that brings together the mind and body, ensures strength, flexibility, and improved breathing. It can help boost the overall physical and mental well-being. These are just a few benefits of yoga to pen while there are in fact countless. Focus is being shifted towards the practice of yoga as both physical and mental exercise. Originated in ancient India, this practice has been luring the western fitness world for decades now. Today, Yoga is being mastered and performed by many and there are a wide range of schools that introduce different forms of Yoga. Training in Yoga is provided by eminent and experienced gurus. However, our team feels privileged to introduce to you, the youngest Yoga Guru, K. Prisha who is on a mission to take the benefits of yoga to every section of the community.
Born Blessed And Nurtured :
Prisha's early acquaintance with Yoga was through her mother Devi Priya who is a Lawyer by profession. Prisha started learning yoga from her mother right from a very tender age of one and half years. Even before she could walk, she performed a few asanas.

Small By Age, High In Spirit:
This little champ from Tirunelveli, has secured 70 world records so far in Yoga and swimming. At the age of 9 years, 11 months and 20 days, she set a record in aqua yoga. She has set records for diving long distances in water blindfolded and for simultaneously performing the highest number of asanas. She also represented India in International Yoga Competitions held at Malaysia in 2018 and at Thailand in 2019 and gifted GOLD to the nation. The Global University certified her as the youngest in the world to hold the highest number of world records. The governmental commission, NCPCR recognised her as the world's youngest yoga teacher for the blind. She received recognition as the World's Youngest Yoga Teacher for the Blind from NCPCR. She was bestowed with an honorary Doctorate by the University of New Jerusalem Medical College. Wah!! A Doctorate under 9!! These are just a few of her accomplishments but the biggest of all these came as love from her students. Yes!! Her students.
The Youngest Guru:
The medals she received, the world records she set and the Doctorate she owned boosted her morale. But there is something much bigger she wanted to do. She wanted to spread the goodness of Yoga, especially to the disabled. To instill confidence, boost immunity, and to gift numerous benefits of yoga to everyone around her, she resolved to teach yoga and she chose to do it at special schools and old-age homes in particular. During the weekends, she visits schools for visually challenged, old-age homes, government schools, etc to give yoga lessons. As yoga enhances the quality of life, she has decided to uplift the spirits of the differently-abled by introducing them to Yoga. She has been teaching Yoga in blind schools to help improve their concentration, memory, will power and to aid in their overall development. Not just in blind schools, Yoga sessions are also organized for the police and the NCC groups in and around Tamilnadu and Pondicherry. She is also training her students to set world records in Yoga. There are instances where students have reported increased concentration and memory ever since Prisha has introduced them to Yoga.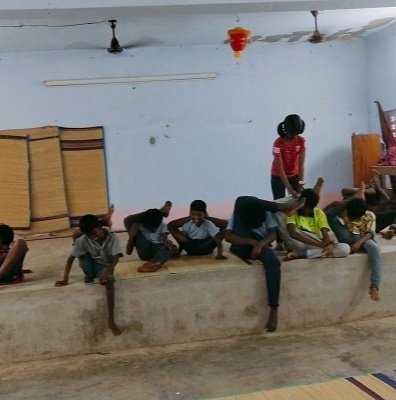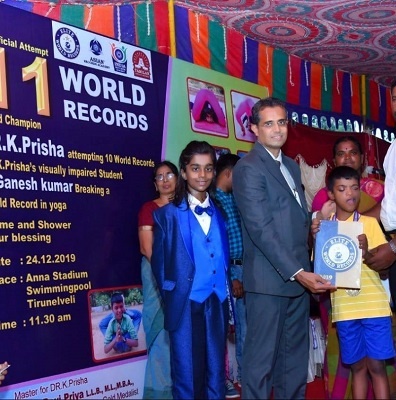 Age - Just A Number:
This child prodigy who has already set world records and bagged Doctorate even before she turned 10, is attempting to secure a page for herself in Guinness Book of World Records. Her aim is to adopt a village in the future and teach them Yoga as she believes, Yoga enhances the quality of life, ensures self-discipline, and improves the standard of one's living.
We wish this amazing little girl a bright future not just in breaking the records but also in helping the world around her become a better place for survival.