The 8-Year Old Who Climbs for a Cause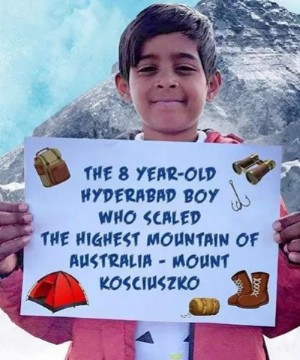 Eight-year-old Samanyu Pothuraju who hails from Hyderabad has set records by climbing the highest mountains in different countries. He aims high above the sea-level and completes every expedition with a never-give-up attitude.
On December 12, 2018, he set a record by climbing Mount Kosciuszko, which is the highest peak in Australia. The climb was to support the handloom weavers from Telangana state. Samanyu along with a team of five climbed the mountain wearing handlooms from the Telangana weavers. The team included his mother (Lavanya), coach (Thammineni Bharath), sister, and two others.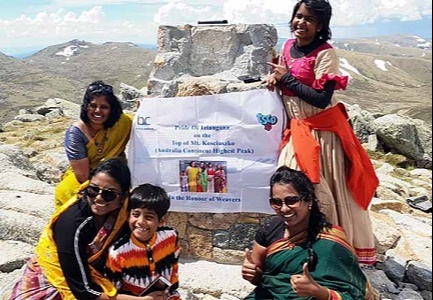 Samanyuis accompanied by his mother in all the expeditions. His mother says that every time they go to the mountains, they go with a cause and not without it. The 8-year-old has climbed four mountains so far and wishes to climb many more.
Setting Records at a Young Age!!
It was during a school event that Samanyu gained interest in mountaineering. On April 2, 2018, he set a world record by climbing Africa's highest mountain, Mount Kilimanjaro. It is one of the world's most difficult summit that many mountaineers aspire to cover. Climbing any mountain would need a lot of preparation and Mt Kilimanjaro is tougher to climb. It is said that only half the percentage of the people who climb the mountain has successfully reached its peak. At the age of seven Samayu has managed to reach the Uhuru peak, which is at 5,895 mts above the sea-level of Kibo's crater (adormant of Mt Kilimanjaro).
While sharing his experience, Samanyu told that they started the trek on March 29 which was a rainy day. The path was full of stones that led to pain in his legs. Afraid that he might hurt his legs, Samanyu took breaks and managed to reach the peak with all his determination. It took five days for him and his team to reach the peak. When they finally reached the peak, Samanyu unfurled the Indian flag, which was a moment of pride for the team.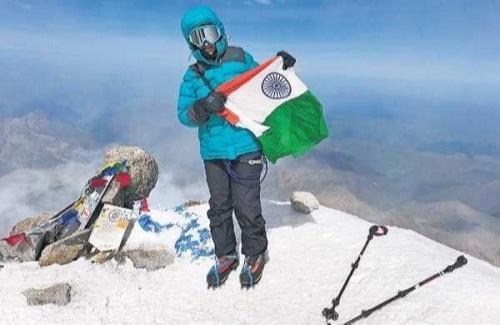 When asked about the reason for choosing such a dangerous summit, he said that he chose it because he likes snow. It might not be a good idea for most adults as Kibo is the volcanic cone that has the tendency to erupt again and also snow can be found on any other mountain. This young boy fears nothing about the mountains. Moreover, he was promised to meet up with his favorite movie star (Pawan Kalyan) on setting a world record. This made him take off to the summit with high energy.
His mother is very proud of him because he never gave up during the whole expedition, though she had to stop half the way due to her health condition. She was also worried about Samayu's health due to the adverse climatic conditions.
Reaching Greater Heights!
There are a lot more mountains in Samayu's list that he wishes to climb and set records. Mount Fuji in Japan is next on his list. He also plans to cover ten peaks by the end of May 2019. He wants to fly further high by joining the Air Force when he grows up.
Taking an initiative to not only climb the peaks of mountains but also to promote social causes is highly commendable for a boy of such a young age. If at all everyone around us takes up an initiative of helping the society, the world would be a better place. Samanyu is one such inspiration who is contributing to society by integrating his passion for community service. In an age where children are busy with their phones and tablets, Samayu is reaching heights by actively participating in mountain climbing expeditions.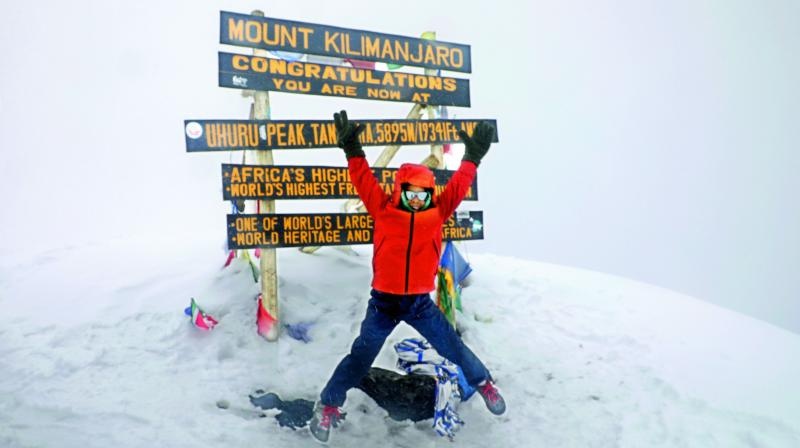 He concludes: "Every child has an inner passion to contribute to the society and also stay healthy but because of the busy schedules and the phones they tend to lose interest in doing anything worthwhile". Encouragement from the family, school, and friends can go a long way indeed!