Don't let phobia get you down. Face it advises the Aqua-phobic who swam across the Palk Strait.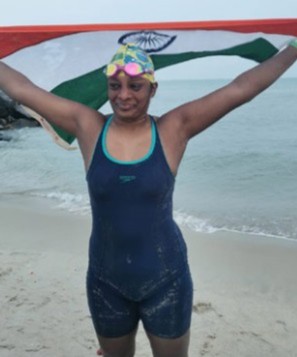 If you are afraid of heights, you wouldn't probably dare to climb to the topmost zone ever. If you are afraid of fire, you would surely not go close to it. That's the human tendency. But Goli Shyamala, a bold woman from Telangana, who is afraid of knee-deep waters, swam across the Palk Strait in 13 hours and 43 minutes. Yes, she is aquaphobic. Yet, she wanted to conquer her fear and thus took it as a challenge to swim the dangerous 30km stretch not caring for the unstable waves and poisonous marine snakes. Let's know more about this lady of grit who became the first Telugu woman to swim across the stretch between Srilanka and India.
An Entrepreneur:
Goli Shyamala hails from Hyderabad, Telangana, and is born into a farmer's family. She pursued her Master's degree in Sociology. Having done a Diploma in Web Designing and Multimedia, she started her career as an animation film producer and director. She founded a company called GS Digital Dream Designer Pvt. Ltd and led it as the Chairperson & Managing Director. What started with web designing slowly turned into animations when she directed and produced a comedy animation serial called "Paramanandaiah Shishyulu" which was telecasted in Maa Junior channel. Later, she went on to write a story called "Gowri" with the aim to send a good message along with providing fun to children and directed it in 2D animation. She has also produced a short film called "Meere Cheppandi " that has won the "Best Message Oriented short film Award" in the short film festival held by Vanitha TV on the occasion of International Women's Day. The team also worked for Doordarshan TV Government advertisements like Aggrissnet and Samagra Panta Runam. The team also has developed a 2D animation feature film in English, Hindi and Telugu. After running the animation company for ten years, after being into taking 3D projects as well, destiny planned a different route for Goli Shyamala and owing to financial constraints, she had to quit the company. Shyamala embraced swimming at the age of 44. She joined a summer camp in the year 2016 with a strong desire to overcome her aquaphobia. This marked the beginning of her swimming journey.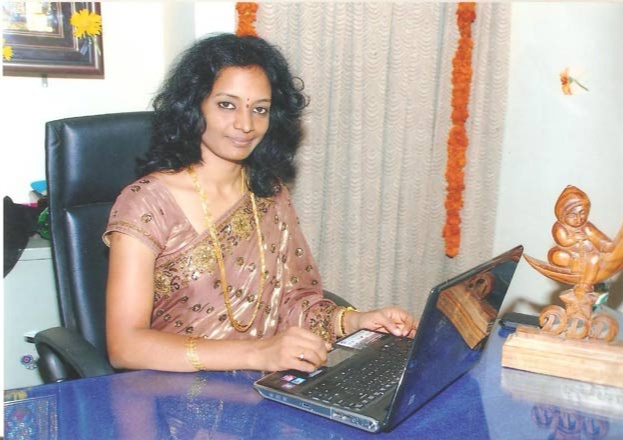 The World Of Waves:
Shyamala set her foot in swimming in 2016 and in the year 2019, she crossed the open waters of Ganga in Patna covering a distance of up to 13km. She also swam across River Krishna in Vijayawada and River Hoogly in Kolkata. The same year, she also took part in open-sea swimming championships held at Porbandar, Gujarat. She represented Telangana at the FINA World Masters Championship 2020 held in Gwangju, South Korea.
Swimming Across The Palk Strait:
After a series of successful swimming marathons, Shyamala attempted to swim the Palk Strait which's 30km long. She prepared herself for the adventure and self-funded her trip by expending all her savings. When she was all set to kick-start her adventure, on 8th March 2020, one day before her scheduled expedition date, the government of Srilanka implemented an island-wide lockdown. Shyamala lost all that she had invested in the expedition. Though it was a huge loss for her, she didn't feel dejected. She waited for things to go normal and exactly after one year, on 19th March 2021, Shyamala started her journey at 4:15AM from Talaimannar, Sri Lanka to Arichalmunai, India. She swam across the Palk Strait in 13 hours and 43 minutes and reached Dhanushkodi in Rameshwaram, Tamil Nadu.

She completed her journey at 5.30 pm according to Indian local time. While the journey was smooth on the Srilankan waters which, she crossed in 5 hours, she said that the Indian side was rough and she struggled a lot to sustain the strong currents. She said that she also faced breathing issues in the last five hours of the expedition. She was accompanied by a 14-member crew including a doctor and observers from the Swimming Federation of India. Narrating her experiences to a news release, she said, "The waves kept pushing me back and forth. It was a do-or-die situation and I never doubted myself. I had only Dhanushkodi in my mind," Without taking breaks every half-hour, she took breaks for every one hour. "I preferred liquid diets like watermelon juice, water, and homemade energy drinks. The focus was on finishing in the best time," she said. Her expedition was flagged off by C Velupillai Kandaiah Sivagnanam, Chairman of the Northern Provincial Council. She trained at the Sports Authority of Telangana State Swimming Pool at Gachibowli for the Palk Strait expedition. Though Shyamala's coach was Ayush Yadav, she was trained and guided initially by senior IPS officer Rajiv Trivedi, who is currently the director-general of Telangana Prisons, and who himself set a world record in 2012 by crossing Palk Strait in just 12 hours and 30 minutes, thus becoming the fastest across the Strait. "In his busy schedule, he would go through my daily reports of training and workouts that I used to send him via WhatsApp. He was kind enough to give me corrections, suggestions and a lot of encouragement," says Syamala.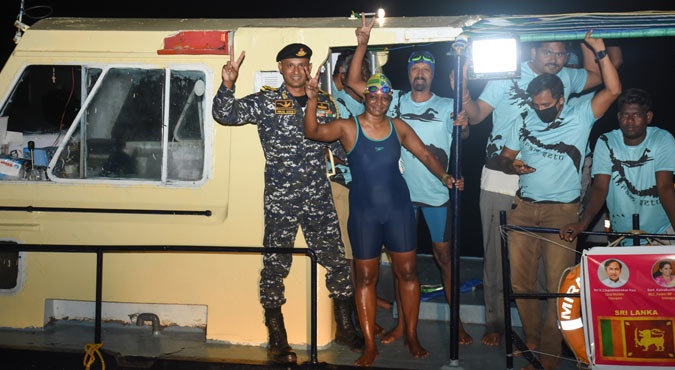 Challenges Were In The Way:
When Shyamala was training for making it big in swimming, she experienced tough times wherein women can have the pool only for a limited time. She said that women of her age are considered unfit to take part in open water competitions. Balancing passion and family was also a challenge to this mother and entrepreneur. "There are many challenges for a woman following her passion. If everything comes easy, then what is the fun. Decide what you want and work hard for it. Expect no one to motivate you or decide for you.", she advises. She has now set her eyes on swimming across the English Channel next.