She is allergic to sea water but is the first woman to swim across seas in seven continents. Here's her story.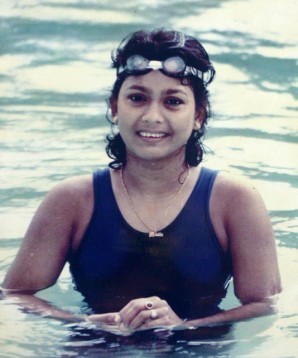 When I'm allergic to dust, I stop going out into dusty lands. When my children are allergic to ice-cream, I stop giving them any. But what if I'm allergic to something that makes my passion? Should I stop taking it up altogether? Or do I showcase my willpower? Will my will power save me from the threat of falling prey to my own determination? Will my willpower help me overcome my issue and head forward towards success?
"Yes", says Bula Choudhary, an Arjuna awardee, Padma Shri awardee and an Indian National Women's Swimming Champion. Well, while India has produced some world-class swimmers over the past decades, one among them, Bula Choudhary has her name written forever on the sands of every ocean in the globe not being washed away with the flow of new waters. Let's know more about this swimming champion who received the Padma Shri on the occasion of 72nd republic day. Let's know why she is so unique and what sets her apart from her fellow swimmers.
The first-ever woman to cross the seven seas, Bula Choudhury has been bestowed with both the Arjuna award and the Padma Shri. She has swum across the English Channel not once, but twice. Add to this the fact that she was the first woman to have swum across sea channels off five continents; you would know why she is a legend. And, she achieved all these feats while being allergic to seawater?
Father's Experience, Daughter's Commitment:
Born on 2 January 1970, in Hugli, India, Bula was introduced to swimming because of a dramatic incident her father experienced. Once, Bula's father was boating his way to his destination when his boat was capsized and sank in the river. He was close to drowning but a stranger saved his life. That moment, Bula's father decided to learn swimming and resolved that he would teach his children the art of swimming. Thus Bula was introduced to the waters at the age of two when her father took her to the Hugli river for a swim. When she reached five years of age, she was enrolled in a swimming academy. Bula was an active swimmer who learnt all the tricks and moves in swimming in no time.
Allergic To Water:
What if the fish in the water is diagnosed to be allergic to the water? The same thing happened with Bula. That girl who cheerfully dived through the waters developed a hole in one of her ears because of which she was subjected to frequent fungal infections. She was advised by the doctors to quit swimming. But she didn't listen to them. She persisted, practised and sustained.
A Never-look-back Diving:
Bula clinched medals in her first national championship in 1979 when she was just 9 years old. Though her competitors were much above her age, she made her winning sure. She has won six gold medals in as many events. Her first senior National event happened when she was 12 in the year 1982. Her performance in that event secured her a place in the Indian team for Brisbane Commonwealth games that took place later that year. In 1984, she set a national record in the 100m butterfly and in 1986, she stood second in the Seoul Asian Games registering the fastest time by an Indian in the 200m butterfly. In 1991, she bagged six gold medals at the South Asian Federation Games.
Bula leapt into long-distance swimming in the year 1989. She swam across the English Channel for the first time in 1989. In 1990, she was bestowed with the Arjuna Award. In the year 1996, she won the 50 mile Murshidabad long-distance swim. She crossed the English Channel yet again in the year 1999, exactly a decade after her first attempt. In 2004, she crossed the Palk Straits in nearly 14 hours becoming the first woman to do so. She earned numerous laurels for this feat from across the globe. In 2005, climbing up the ladder yet again, setting the bar high for herself, she swam across the sea channels in five continents where a distance of 30km was covered in 3 hours and 26 minutes in the year 2005 again becoming the first woman to achieve this feat.
This dolphin lover who served as an MLA with the West Bengal Legislative Assembly from 2006-2011, collaborated with a fashion brand and launched her own sportswear line called "Five continents by Bula". While the name reminds her feat as the first woman to swim across sea channels in five continents, the logo of the brand is her favourite animal, Dolphin.
This first woman to cross seven seas being allergic to seawater is truly a deserving soul to receive the nation's one of the highest civilian awards, the Padma Shri. She has already come a long way and now, under her guidance, India expects more world-class swimmers.