Not 'Dis'-abled but 'Super'-abled army officer clinches golds at the Wuhan Para games in China.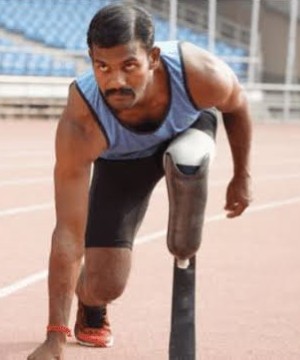 Learning the hard way.
Subedar Anandan Gunasekaran was born in Thanjavur in 1987. His father was a rickshaw puller and later on, his family moved to Kumbakonam. He did not enjoy his childhood much and had to learn the value of hard work in his very earlier stages. He started his first job as a newspaper delivery boy. Subedar was always passionate about running so whenever his cycle got punctured, the 12-year boy used to walk or run for seven-kilometers until the day his cycle was repaired.
Made it to the Army
Many a times, Subedar used to get late for school due to heavy load of delivering the newspaper to 50 houses. One day while delivering the newspaper his Physical Education teacher spotted him and convinced him to participate in the school meet. Though Subedar didn't perform well he had a determination to do much better so he continued practicing. Later on, he got enlisted in the army and started his career as an army personnel in September 2005 in Bengaluru for the next three years.
Losing a leg - Harsh reality …..
It was June 4, 2008, five months after his posting at the Line Of Control (LoC) at Kupwara in Jammu and Kashmir when three of his colleagues were on inspection for land mines at 150 yard LOC. After Subedar and his colleagues were done with the inspection they were about to return while indulging in a conversation about the dinner plans. While casually skimming on the layer of snow they suddenly felt a blast and scream. Shockingly Subedar saw his own leg shredded and blood oozing out. He screamed and was about to faint, though he kept courage and wished he could reverse the nightmare he saw. He calmed himself and told his colleagues to take him to the hospital but deep down felt that it was probably the end of his life. He was rushed to the nearest post where he got first aid and through the helipad was flown to a military hospital nearby. The surgery was done and he was shifted to ALC (Artificial Limb Centre) in Pune to get his leg amputated.
Always prepared.
Defence life is tough and one is prepared for the worst. Losing a leg didn't bring his spirits down but rather thought that since he had chosen a career in the army, could even lose his life one day. He often pondered on how he would be able to continue to shoulder the responsibility of supporting the family and siblings. What bothered him most was that even after 6 months of the accident none back home were aware.
Equipped with the wooden leg, he decided to recover, get going and start running. Some encouraged but many of his colleagues in the army quarters thought him to be crazy. He felt humiliated and insulted as amputees were not easily accepted in the society.
Silver lining
A fairy-tale it may sound, this young boy found his love with Dhanalaxmi against the wishes of family and friends but went ahead and got married. She knew the uncertainties of an army man's life but wanted to stand by him and support him instead. Facing any challenge with a smile is what the couple will always believe in.
Changed life forever
Its fate –just glancing through a newspaper article on Oscar Pistorius who became the fastest man with blades changed Subedar's life forever. Complain not – move on - if Oscar can do it why not me was the kind of impact it had. Inspired by this man he started practicing and winning medals at the national level with his ONE LEG. Subedar convinced his officer to get him a blade worth Rs 5 lakhs and was granted.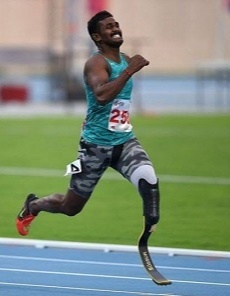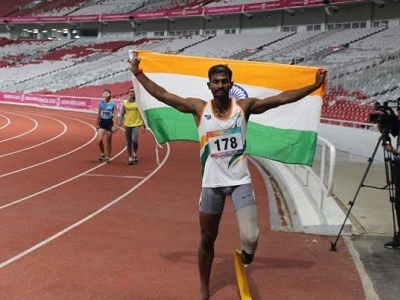 Asian Record broken.
Mocked with derogatory remarks for his guts he had to prove a point – that's what has made him a winner. At the recent Wuhan Para games in China, Subedar in the T-44 category clinched three golds – 100, 200 and 400-meter races to become the first to break an Asian record.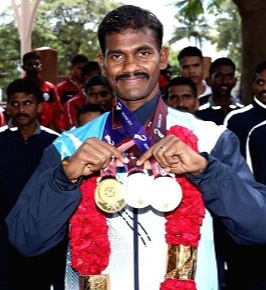 2020 Olympics is the aim.
All eyes are on this new promising champ for India – Subedar's complete focus is on 2020 Tokyo Paralympics and is aiming for a medal in 200 meters event.
Salams to this bold, courageous Man who wants to bring glory to his country and is always ready to continue to guard his country.