My talent lies in sports and that's how it's going to be. Kashmir's martial art champ proudly admits.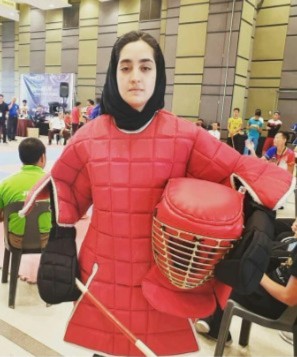 Dreams of children are to be encouraged and their passion is to be understood. While this argument is on one side, there are many parents who don't care for their children's aspirations and pressurize them to fit into the conventional engineer, doctor, and CA business. But here, a father wanted his girl to take up sports. He realised the potential and scope of his daughter in sports at a very tender age and enrolled her in a sports academy. As he rightly discovered what his child is good at, the child also loved what her father wanted her to do and though it put her tender childhood years through gruelling schedules, she persisted. Fast forward to the present, she now emerged as an icon in a place that's not so open to girls. She is Fiza Nazir, who emerged as the best sportswoman from Kashmir.
Fulfilling The Father's Desire:
Fiza Nazir hails from Fateh Kadal area of the old city of Kashmir. When she was eight years old, her father enrolled her in a sports academy where she was trained in martial arts. Little Fiza juggled between school, tuitions and martial arts training class. She hardly had time for anything else that girls of her age had. She did numerous sacrifices on her favourite food too to remain fit and healthy. "Though this decision was made by my father, I'm extremely proud of him and the decision he made for me," says Fiza. Fiza too loved to train in martial arts and fell in love with the sport ever since she started to receive training.
Achievements - Tokens To Her Sweat:
Fiza received intense training in martial arts and has mastered the art within a few years. She started participating in different championships at regional, state, national and international levels. In the year 2018, when Fiza was in her class 12, she participated in the international Thang-Ta championship at Imphal in Manipur. There, under the 52kg weight category, in the senior women's tournament, she bagged a gold medal. She was also nominated as the world's best woman fighter. She came back and decided to work as a trainer in the same academy. Going forward, she bagged another gold at the World Invitational Championship held in the Philippines in April 2019. She was the first Kashmiri to be placed in "martial arts Jhaghat". "It brought me immense satisfaction", she said. In the same year, that is 2019, she was selected for the World Martial Arts Union under UNESCO in South Korea where she won the gold medal in the under 62 weight category. Though she won the tournament, she couldn't share it personally with her family as the communication services were down owing to the abrogation of Article 370.
"My father came to know about my achievement through a news item published in a local daily," tells Fiza. Fiza won the "Champion of Champions women" title in Kashmir which was organized by the J&K Thang-Ta Association and sponsored by the J&K Sports Council in 2021. Recently she took part in another championship held in Manipur where she won a gold. Moreover, Fiza was also selected for Khelo India 2021. All in all, she has won 11 gold medals and holds the green, blue and yellow belt in Thang-Ta sport. She has bagged the experience of playing 11 nationals and five federations winning nine silver, seven bronze and five state trophies.
Sacrifices Made With No Regrets:
One can understand how passionate Fiza was towards pursuing martial arts by knowing about the sacrifices she made at every level. When Fiza attended the international Thang-Ta championship at Imphal in Manipur in 2018, she was in 12th standard. She had to drop her academic career to participate in the tournament.
"I was a medical student and attending the classes and managing the training was becoming difficult so I decided to drop my academic year.", She shared. Again, in 2019, when she had to travel to South Korea for a tournament, she gave up another academic year. "I have sacrificed my studies for martial arts and I aspire to adopt it as a full-fledged career." The girl has finally changed her academic stream from medical to Humanities. Fiza was also never afraid and taken aback by injuries and hardships. She never missed her practice sessions, come rain or sunshine. "I never miss out on practice. Though I come from old City but it didn't deter me from going out nor did the severe injuries I have faced in my entire career.", She mentioned.
Foundations To Her Own Academy:
In 2019, many parents approached Fiza asking her to train their kids. Upon their request, Fiza decided to start her own training academy which happened in April 2019. The birth of "Knock It out girls" took place in Rajbagh area of Srinagar. She has been training a number of girls and women in martial arts ever since then.
This first-generation sportsperson in the family has made it big fulfilling her father's desire and made her family and state proud." The consistent support of my parents has brought me to a place where I stand today. I'm extremely satisfied with the life I'm living", she says.