Meet the young rebellious woman who chose to promote girl skateboarding in India.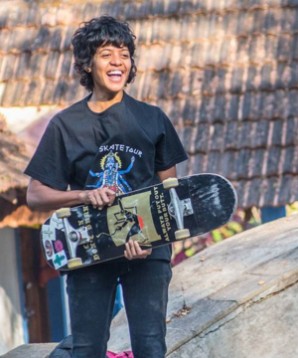 Being bold is in her blood. Her mother has not told her what to do and how to do. But the girl herself inculcated boldness and strength from her mother. Atita's mother, Nalini who is a non-muslim was once attacked by strangers with acid in a small town called Hassan in southwest India as she was wearing western outfits. Nalini wore shorts and skirts that annoyed the villagers who preferred and prescribed traditional outfits for women. However, Nalini escaped from the attack without any scarring.
But she has never changed her way of living being afraid of people's conservative mindsets. Atita Verghese, her daughter and India's first female skateboarder also inculcated the same funda of living. Come what may let people throw lemons, she never compromised on what she wanted to do and did all that makes her stand apart from the rest, of course in a positive way and that's why she is the star of our story today.
Encounter with the Sport:
Atita Verghese is a 27-year old skateboarder from Bengaluru. She was not a student of books and never got the best grades in school. "I did a lot of pranks and things. They would expect that from the boys - none of the girls were doing things like that." She laughs. Her teachers warned her about her future quite often but to no avail. In 2013, 19-year-old Atita set her foot on a skateboard. Abhishek Shakenbake, her friend took her to the skate park once, taught her a few basics and Atita became really curious about the game.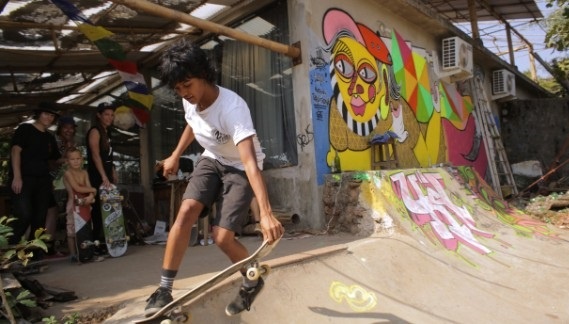 He would meet me (after school) with a skateboard, Verghese recollects.
Abhishek was a self-taught skateboarder who took up the sport in 2010. He founded the HolyStoked Collective in 2011, one of the biggest skate shops in Bangalore. But why did Abhishek drag Atita towards the skate park? Well, Abhishek and his fellow skaters who were close to just 6 people in total observed that they are the first set of skaters in India apart from two or three who started to skate before them.
'I just wanted some girl power', Abhishek recollects his thought of getting girls into the sport. And for him, Verghese turned out to be a great choice. Initially, without her own board, Atita had to wait for other skaters at the park to take breaks and then borrowed their boards. Eventually, by the end of 2013, Abhishek had a surplus of skateboards and gifted them to the serious players and Verghese was given one. The skatepark that was exclusively male-dominated had hardly any girl skateboarders. Two other girls came along "for a short time" before dropping out, Atita says.
In A Thirst To Contribute Her Part:
Atita didn't want to do the skateboarding just for fun. She thus started working with HolyStoked and organized skateboarding classes in Bangalore.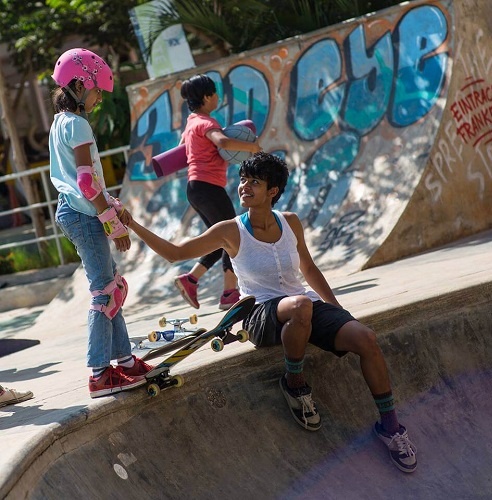 She desperately wanted to conduct events in other regions to introduce the sport to more people in the country. In such a scenario, she happened to meet Lisa Jacob, a Paris-based skateboarder in 2014. Lisa was advised to get in touch with Verghese who was in Kovalam, Kerala, building a skate park with Sebastian Indian Social Projects (SISP), a local NGO that uses skateboarding and surfing as incentives to get school dropouts back to the classroom along with Jacob and a Netherlands-based skateboarder Louisa Menke. They met and spoke about how skateboarding can be brought into spotlight on the Indian dais. The result of the brainstorming is the birth of Girl Skate India, an international collective of female skaters who engage with underprivileged youngsters through skating, in 2015.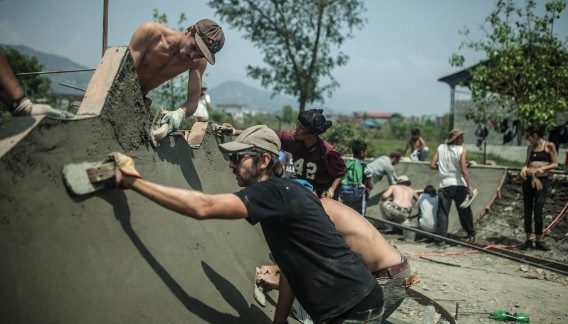 In December 2015, the group organised the first-ever tour of female skaters across India, featuring 12 women from nine countries. In this self-funded project, the group travelled to Kovalam, Bangalore, Goa and Hampi, where they held skate workshops and skate yoga lessons, as well as built skating ramps.
I learned how to use the tools and how long to wait for the concrete and the different steps that go into actually building a concrete skate park. After that there was a whole fire spreading across the country because people just wanted to build more and more, says Verghese.
I just needed some girl power in this part of the world, where there's hardly any of that. I wanted more girls to come skate, and spread the word so that hopefully it would get other girls interested, said the passionate skateboarder.
It's Not Always About Competing:
After the first-ever tour organised by Atita and team came to an end in 2016, Atita became a famous figure in the field of global skateboarding not because she participated in the competitions but for her efforts to introduce and promote the sport.
"I think this tour kicked things off faster and gave me a wider reach, as there were people from nine different countries on it. "(People) absolutely loved what I did. I was shocked ... I didn't know how big it was going to end up being.", she said.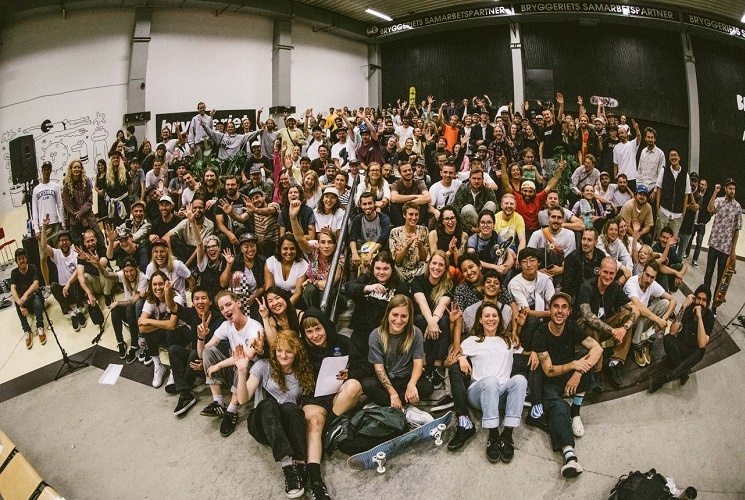 Girl Skate India released a short film on their work that was shown in 20 locations worldwide." I think it was important to show the rest of the community what we were doing because otherwise they wouldn't know." she said.
Verghese continues to work with various organizations all over the world as a volunteer including the international non-profit Make Life Skate Life that has built free skate parks in Bolivia, Jordan, Ethiopia, Myanmar, and India. She also associated herself with Janwaar Castle aiming to unite children and break the caste system in India through skateboarding. She helped build four skate parks in India and one in Belgium. With a rise in her fame, she got to work as a skate stunt double in commercials and was also featured in the music video of UK rock band Wild Beasts' "Alpha Female". Vans India became her sponsor in 2016. Other sponsors are the UK-based sports company Extreme, and US brand Stanley Tools.
The Mother Of Skateboarding, Will You Say Nay?
Atita is undoubtedly the first female professional skater of India. However, she says, "I'm not quite on the pro-level outside of the country. It's quite different when it comes to India and the rest of the world. I don't know if I would say that on an international level I'm a pro-skater because that would mean you either get your own deck model, or your own shoe model."
Keeping aside the aspect of whether she is an international skater or not, she has surely made a lot of difference in the skateboarding scene in India. "It's great Atita is doing this, not just skating for herself, but taking it forward, trying to put it out there. So many girls have been getting into skateboarding during the past couple of years. I would say a lot of them might have been inspired by seeing her, the work she's done. In India, they need that. They need to see other girls succeed." Abhishek says.
Undoubtedly, this leader of skateboarding sport in India will do much more to place India on the top of the global skateboarding scene.

Follow Her Work