From street Hockey to the State level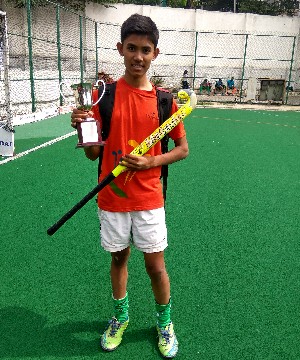 Deependhar Gagan lovingly called Dippy at home and amongst friends. His parents moved from Nepal to Bangalore to make a livelihood. His Dad ended up as a security guard in a building in Cooke Town. This was indeed a blessing in disguise for them.
Like all other children, he and his brother could only afford to play on the streets with sticks and stones and he picked up some sturdy sticks and one of the kids had a hockey ball. They would look forward to the evenings after school to play in the small and narrow streets outside his home. This was when he was just 8 or 9 years old.
One evening, a gentleman noticed some kids playing and asked Dippy if he would be interested in playing hockey and that was none other than Mr Varghese his present coach. He was thrilled and excited and the first thing his father said was that he couldn't afford to send him to any Academy or pay any money. Mr Varghese told him that Jude Felix Hockey Academy is an NGO and his family has to pay nothing and all training and equipment will be provided.
That's how it all began and then on there was no looking back. He first had to learn about the game and how it is played and now plays as a Midfielder. He has been playing Hockey for the last 5 years under the training and guidance of this academy. He started playing for the School team, then for Inter-school and kept improving his skills and stamina. He was part of the Taluk and the District teams. He hopes to be on the state team and would like to go in for SAI (Sports Authority of India) trials.
Apart from just learning the game, he said he learnt that without hard work nothing can be achieved. Dippy made a lot of new friends who were warm and caring. The academy taught him to be disciplined, focused and consistent. Playing a team game also taught him the importance of team spirit.
Till today, he has never missed his training which is from 5.30 to 8.30 am and he looks forward to it each day. He said he is fortunate to be part of JFHA where a lot of boys and girls like him can join and get trained. The JFHA run by a former Olympian Jude Felix provides them with everything including tracks, shoes, sticks, shin guards, morning breakfast etc., and all he needs to do is perform. What more can one ask for ?
His parents work tirelessly to provide nourishment for his brother and himself despite their meagre earnings and also a happy home environment. They want their sons to one day play for the country and land up with some government jobs.
He is 15 now and his immediate goal is to be part of the Karnataka State team and then represent the country. In the long run, he wants to also start an academy and if not at least be a coach.