Tiny European nation, San Marino athletes won medals at the 2020 Tokyo Olympics for the first time.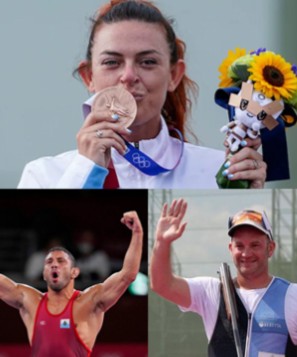 Spreading to just 61 square kilometres in the European continent, housing around 33,860 citizens there's a tiny country out there named San Marino. This tiny nation has scripted history in the recent 2020 Tokyo Olympics. Yes, it is known that countries like the USA, China and Japan have taken home many medals from the Olympics. But when it comes to talking about the success rate, we should mention names like Bermuda and San Marino. San Marino, with very less focus on sports and games as compared to tourism, has scripted history in the recently held prestigious international games. Three athletes have gifted San Marino, her first medals after 61 years of her debut in the Olympic games. It was in 1960 that this tiny European nation had entered into Olympics but hasn't taken home any medals. When Alessandra Perilli, Gian Marco Berti and Myles Amine showered medals on San Marino, the world looked at her and clapped for her. Let's get into the details of these three athletes who let San Marino, the world's fifth smallest nation, make noise on the world stage. Let me also tell you why the world has been cheering for San Marino. She sent just five athletes to the Olympics and proudly bagged three medals!
The Shooter Who Shot Two Medals:
Alessandra Perilli was born on 1st April 1988 is from San Marino. She was born in the Italian city of Rimini but when she turned 18, she became a citizen of San Marino as her hometown became Borgo Maggiore. She is a professional target shooter who participated in the 2012 Summer Olympics but could only finish 4th, close to the medal but losing it. She was first to miss in a dramatic three-way tie shoot out. She also took part in the 2016 Summer Olympics in Rio de Janeiro but didn't qualify for the finals as she finished 13th in the qualifications round for the women's trap. She was the flag bearer for San Marino in the Parade of Nations. But in Tokyo Olympics, she made it to the podium, she collected the medal that she gifted to her "small but proud nation". Talking about her mental status during the finals, she said that when the fifth shooter went out, she thought that she didn't want to finish fourth yet again. "I have to make it", she told to herself. This self-motivation made her win the first-ever Olympic medal, the bronze, for San Marino.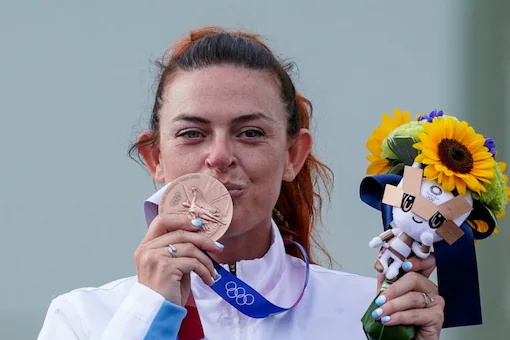 "This is not my first Olympics, but this is the first medal for me and for my country. We are a small country but very proud. They are for sure going crazy, crying. I don't know, but for sure now they are. There was no pressure, but only support from my country, from my team, from my federation and the Olympic committee", she shared her happiness with tear-filled eyes. She also went on to win a silver medal with Gian Marco Berti in the mixed trap shooting at the Alaska shooting range. Thus, this commendable athlete took home two medals from Tokyo Olympics after rising from her earlier disappointments.
The Lawyer Who Won A Medal For His Nation:
Gian Marco Berti who was born on 11th November 1982 studied law at the University of Urbino. His father was also a prominent athlete who represented San Marino in Sport Shooting at the 1988 Summer Olympics. Gian Marco competed in the men's trap and the mixed trap team events at the 2020 Summer Olympics. In the first-ever mixed-gender trap team event, he won a silver medal behind Spain, along with Alessandra Perilli. Thus, the duo became San Marino's first-ever silver medalist. When asked about his colleagues' likely reaction he replied, "Lawyers are jealous people so they will probably not say anything about it.", he said.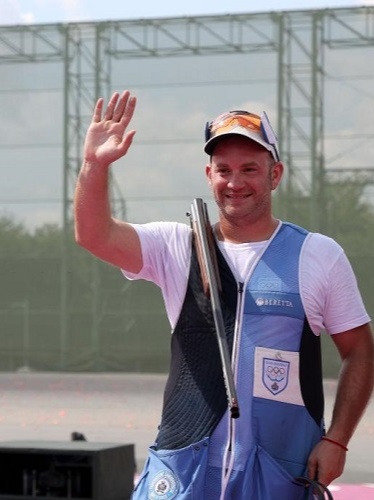 The First-ever Wrestling Medalist:
Born on 14th December 1996, Myles Nazem Amine is a Sammarinese-American freestyle and folkstyle wrestler. He competes in the 86kg category. Though from Michigan, he represents San Marino due to the roots of his mother's grandfather. In folkstyle, Myles is a four-time NCAA Division I All-American and Big Ten Conference Champion and a three-time finalist for the Michigan Wolverines. Amine was an accomplished 197-pound NCAA wrestler who took part in the 2021 national championships and finished third. He also bagged medals at the European Games and the European Championships. At the 2020 Summer Olympics, in the freestyle category, Amine won bronze for San Marino, gifting the nation which welcomed him with a warm heart, her first Olympic medal in Wrestling. He thus became San Marino's first-ever Olympic wrestling medallist. He is also Michigan wrestling's second-ever Olympic wrestling medalist while being the first to achieve the feat in men's freestyle.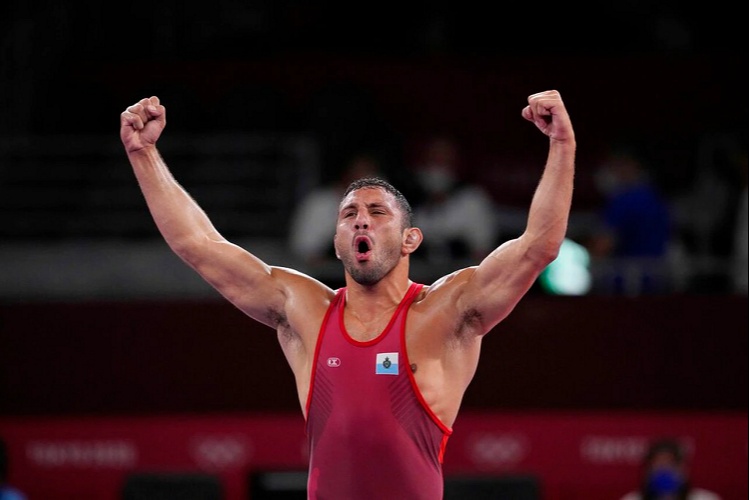 Hats off to the three athletes who gifted their small nation with a bundle of joy and pride. San Marino must surely have been extremely proud of these athletes for having made her to the list of countries that won medals on the Olympic stage. We are sure that this tiny European nation will listen to her National Anthem being played on the world stage in the following years.