The only Ambidextrous School in India is attracting researchers from across the globe to understand the benefits.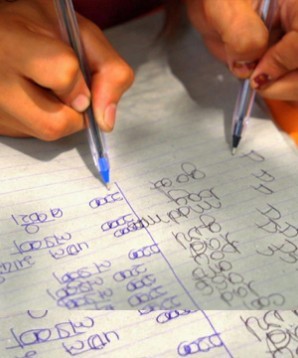 Billy McLaughlin, an Emmy-award winning acoustic guitarist was known for his complex and rhythmic music world-wide. At the height of his international career, however, McLaughlin started experiencing muscle spasms and contractions until he was unable to perform. In 2001, he was diagnosed with focal dystonia, a neuromuscular disorder, causing uncontrollable muscle spasms. Against medical advice that urged him to look for another career, Billy tried to continue by focusing on his songwriting. By 2002, it was apparent that his career had come to a standstill. Unwilling to give up on his music, he began the arduous task of teaching himself to play with his left hand. By 2007, he published his first release as a left-handed guitarist. By 2008, Billly McLaughlin had made a resounding come-back.
Though by no means Ambidextrous, McLaughlin's journey indicates that handedness, the skill and comfort a person feels using one hand or the other, is perhaps not so much the complex genetic trait it is made out to be.
In our very own country, a small private school in the Singrauli district of Madhya Pradesh decided to challenge this very notion of a dominant hand by teaching all, that's right, ALL of its students to write with both hands. Meet the nation's only Ambidextrous school – the Veena Vadini Public School of the remote Budhela village of MP, that has stirred awe across the world.
Changing Hands
A former soldier, VP Sharma, was inspired by the first President of India, Dr Rajendra Prasad, who was ambidextrous. In several interviews, he recounts that he was travelling in a bus as he read about the former President's curious ability in a magazine, which inspired him to try it himself. When he succeeded, he decided he would impart the skill to all of the children that would attend the school he was aiming to establish in his native village of Budhela.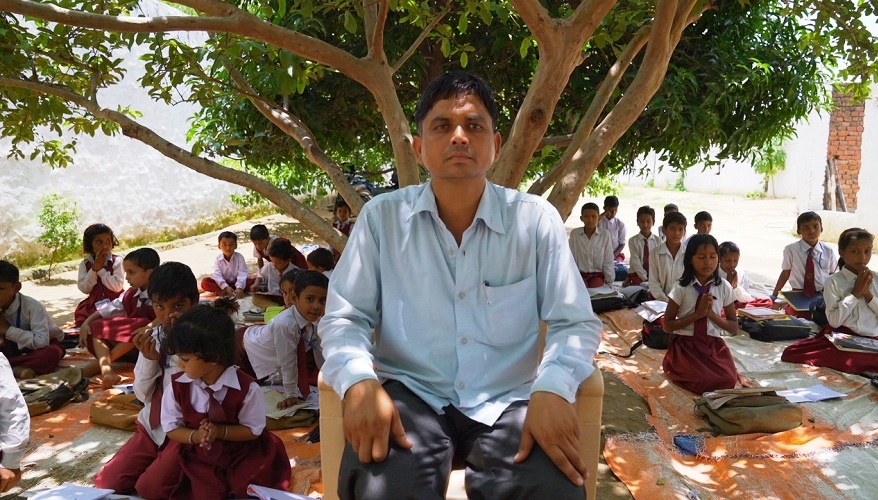 No ordinary institution, the Veena Vadini Public School, founded in 1999, follows a particular regimen till date. Starting from Class 1, students are taught to write with both their hands and by Class 3, they are able to do so almost effortlessly. When a new student is admitted, he or she writes using their hand of choice for a month, post-which they are taught to write with the other hand. After a few months, they are taught to use both hands together. In a 45-minute class, 15 minutes, are dedicated to writing practice in that subject, without fail.
Using this skill to develop an affinity for languages, students of the Veena Vadini Public School are taught to write in six different languages- Hindi, English, Urdu, Sanskrit, Arabic and Roman. And what's more, many students can write in two different scripts simultaneously, at a high level of speed. In addition, yoga and physical training form an integral part of the school's curriculum in order to sharpen the students' memory skills and concentration.
This unique school has piqued interest not only across the country but from scientists worldwide. Researchers from countries like South Korea, Germany and the U.S. have made their way to Madhya Pradesh, to study the pupils and understand this acquired ambidexterity from a closer lens.
Can ambidexterity really be acquired?
The students of Veena Vandini showcase a trait which is still largely seen as genetically-endowed. In an interview with How Stuff Works, Dr Sebastian Ocklenburg, author of The Asymmetric Brain, a blog on handedness says ambidexterity can be a mix of both. According to him "Handedness is determined by about 25 per cent genetic factors and 75 per cent non-genetic factors like environmental influences and it clearly runs in families, so it is somewhat inherited, but learning might also affect it," He says "I think ambidexterity for a specific task (e.g., hitting a tennis ball with a racket) [is possible], but full ambidexterity for all tasks is unlikely." (How Stuff Works, 2020)
While Ambidexterity has been linked to certain neurological and mental health issues, in several cases ambidexterity for one particular task or skill is seen to be advantageous in activities such as music, art and sports. Leonardo Da Vinci, Benjamin Franklin, Albert Einstein, LeBron James and Michelle Kwan are some famous names who are skilled at using both hands.
A Handy Future
While Veena Vandini only hosts students until Standard 8, many of the children who move on to other Higher Secondary Schools find admiration wherever they go. With increased concentration capabilities and a high writing speed, many of the students complete their examination papers well before other students, proving especially beneficial for their S.S.C and H.S.C. examinations.
Irrespective of the unique skill taught to these students, the school's multi-language curriculum and special training techniques have made it a popular choice in the local community. Several students have chosen to transfer from the state-run schools to Veena Vadini, where parents feel they are given far more attention and knowledge. In fact, across the country, where schools like Veena Vadini don't exist, several children are forced to receive a poor-quality education from state-run institutions that hardly cater to basic education needs due to issues like a lack of teacher training, funding.
Between 2011 and 2015 enrolment in government schools fell by 1.1 crores and rose in private schools by 1.6 crores, according to government's DISE data, creating a need for nearly 1,30,000 additional private schools in 2020 (The Times of India, 2020). More importantly, however, these schools need to be affordable and accessible to the general masses and not just limited to the metros. Schools such as Veena Vadini, can truly aid not just in the development of special skills but also provide a quality education that every child deserves. As we step into a decade where the acquisition of certain skills especially digital proficiency is becoming increasingly important, there is no doubt that we require the more privileged among us to step forward and contribute with our knowledge. Let's hope for more enterprising individuals like V P Sharma who took that one, passionate step in 1999 to give the children of Budhela what they needed and far beyond.
In vain have you acquired knowledge if you have not imparted it to others. -Deuteronomy Rabbah

Know More About School