Martial art skills are lifesavers so get yourselves equipped. A strong Kashmiri teen's voice echos.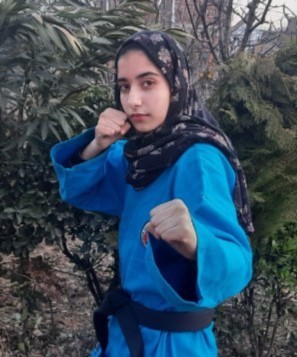 A few days back a scooter rider tried to misbehave with me. I asked him to stop it. But he didn't listen. Then I taught him the lesson there and then. Later on, he was saved by the pedestrians.
"With rape and molestation cases increasing all over the world, there is a need for every girl to learn self-defense to save herself from any odd situation," says Pakeeza Qureshi, a teenager from North Kashmir, also known as the Karate girl.
Love For Sports:
Pakeeza is a 14-year-old girl and is a native of Handwara town in the Kupwara district in North Kashmir. She goes to Army Goodwill School in Handwara. Her father Mr Masood ul Hassan Qureshi is a retired S.O. in the fisheries department. Her mother Mrs Zubaida Akhter is a teacher. Ever since childhood, Pakeeza was interested in athletics and would take part in every competition. Her presence was seen at all of her school athletic meets without fail. 100 meters, high bounce, and long hop - she was there for everything. "I used to practice for hours to make my muscles comfortable for the sport. The kicks, punches, and thunder were the entryways to an obscure world. Yet, I was enjoying every moment of it," she recollected. She always had in her, the zeal to gain mastery over martial arts, and with the same fire, she enrolled herself in mixed martial arts in 2018 at the Olympian classes. There, she was introduced to several self-defense techniques. She became strong both physically and mentally. The desire to become a professional player in martial arts started to grow and she continued to practice hard participating in various events. This young girl also displays interest in painting, yoga, and photography while on the other hand, she is also a good singer and dancer.
The Winning Streak:
Pakeeza saw herself as a strong contender at her first district-level championship in 2018 after she started to practice at the Olympian classes. There, she bagged a gold medal and secured a seat for herself in the state-level championship. Even from the state level, she brought home gold. From there, this girl of mettle was selected for the nationals. She glittered in bronze at her first national championship but her subsequent nationals held at Hyderabad showered her with golds. The gold fell into her basket in the under-21, 30 kg category at the Hyderabad National Karate championships held in Hyderabad, while the bronze medal was adorned to her in the Kudo championship in 2019. So far, this young martial artist has won three gold medals at the national level. "I won a gold medal in Mumbai during the Akshay Kumar Tournament and another one in Hyderabad.", she said. She has been winning several local level Karate titles and medals in state-level events for the last three years. Pakeeza stated that she was selected for the Internationals to be held in Dubai in 2019 but she couldn't participate due to financial constraints.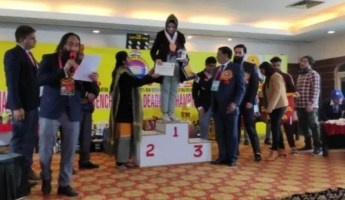 The Bold Girl:
Pakeeza is a proud protector of her friends. Her friends feel secured when she is around.
"Whenever I go out with my friends they always say, "We feel too secure when you are around." I keep on pushing them also to start the self deface training," shared Pakeeza. In 2020, when she was going to her academy along with her team of martial art girls, they were teased by a few boys on the way.
"We took them to cleaners. From there on, no such episode of eve-teasing has been reported from that locality," she proudly mentioned. She says that being a martial arts student, she doesn't feel intimidated by such incidents that happen quite usually in schools, on the roads and coaching institutes. She thus advises girls and women to take up martial arts in order to protect themselves and she states that martial arts instill confidence in an individual allowing them to act courageously when the situation demands.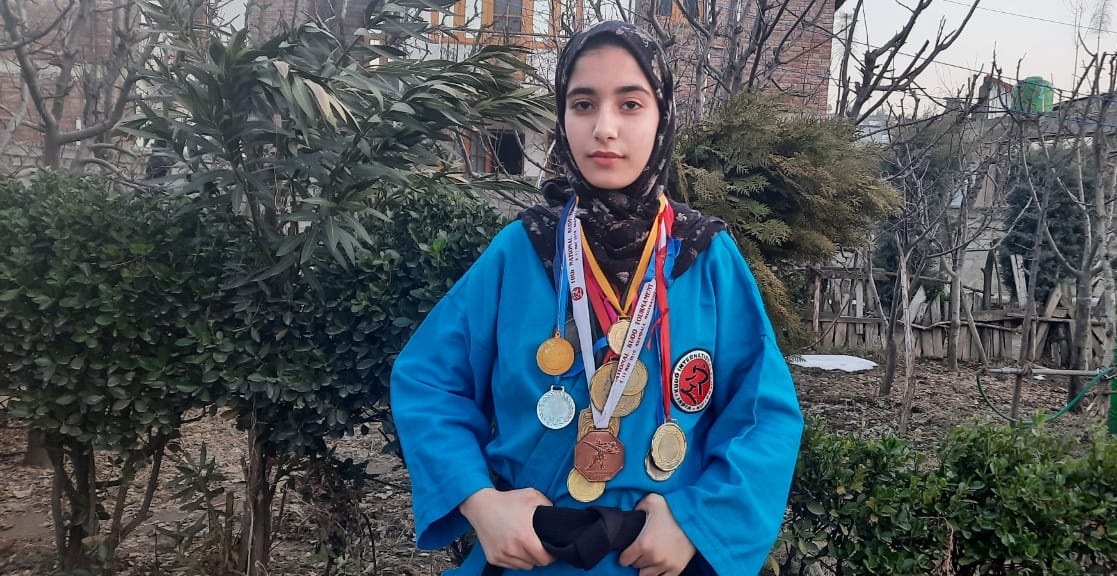 Supportive People Around:
Pakeeza says that she is extremely lucky for having got super supportive parents who have always been encouraging her allowing her to live her dreams. "I am proud of my parents who never became obstacles in any of my endeavours. Whenever there is an event of martial arts my mother is always coming to watch my performance and is always encouraging me. No words would be enough to thank my mother who's been my biggest supporter.", the martial artist said. She also mentions that everyone she met in her life so far has been very supportive of her aspirations. "My School staff always appreciated my efforts and my will to do something like this.", she mentioned with gratitude. She is also thankful to her coach Faisal Nazir who, she considers as the prime pillar of her success. Faisal caught the spark in Pakeeza when she was 12 years old. Talking about his student, Faisal said, "I was stunned by her certainty and her abilities. It was then, only I understood that she would make some mark in the game. She is among the top players of the club and is very obedient."
Brighter Future And Bigger Aspirations:
Pakeeza expresses her goal to continue being a sportsperson in the days to follow. She also wants to join the NDA. "It all requires support from the Government and people.", she says.
A Great Piece Of Advice:
Pakeeza, who very well knows what sports can gift an individual, calls everyone to take up sports to remain fit and healthy.
"To keep ourselves fit and healthy and to remain away from drugs, there is a need to take part in sports activities," she concluded.