Indian classical vocalist creates an App SuRHeal to treat ailments like migraines, back pains, Alzheimer etc.,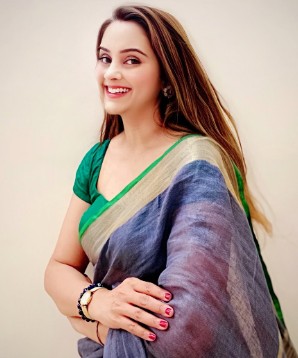 Indian Traditional dance and music have been the spirit of Indian culture for quite a long time. India is a nation of art, melody, and harmony, as well as the strength of the diverse styles of choral music, contributes to the heritage and ideology. To be legendary and an elegant classic musician, decades of intensive preparation, real graft, and devotion are required. For a performer and vocalist like Runki Goswami, renowned for her Telugu creations like Teen maar beatulakki, music is a ground-breaking healer and a therapeutic channel that can alter one's unique singing style. Runki Goswami is an Indian classical vocalist and music composer, who displayed her melodies voice in seventeen Indigenous languages on global grounds. She had begun her musical journeys at the age of six from inter-school contest floors.
Runki Goswami was born on 12 June 1978 in Asansol, West Bengal. Runki's performance was noted by the type of melodies songs she recreated, which has now become a legacy in certain movies. Runki Goswami launched her musical career with a Bengali Divine Liturgy album – Debobeena. Aside from films, Runki's Bengali reverential collection and two other Hindi song collections Manmarzian and Odhi Chunar Dhaani were quite well appreciated by the crowd. Following this, she was the music director for two Telugu films; The davaste warrior, and Trivikraman. Her mega-hits creation Teen Maar Beatulakki is indeed a top pick with the rustic populace in Telangana. She is likewise a pioneer and a keen promoter of revitalizing Indian Ragas as a healing therapy. Her articles on Raga remedy have created tons of interest in this conventional Indian Raga treatment which was in any case, getting lost to different impacts.
Childhood melodic walk ...
Runki Goswami has been studying traditional Hindu songs since childhood. Runki was born in a singer family, so she is not exempt. Runki has always been chasing her dream since she was three years old and vows to clutch it until her final gasp. She was a Chief Executive Head of ISB in Hyderabad as well as a Masters in Mass Communications.
As per Runki the early age of a person is appropriate to get into an Indian classical music scenario. "Ideally somewhere in the range of age 5 to 8." It is at this age that you can undoubtedly comprehend the different ranges of abilities like-capacity to distinguish shrutis, building up a voice reach and voice balance techniques." Runki Goswami began her expert music vocation with a private Bengali Devotional collection – Debobeena. The verses were composed by her dad, Dr Malay Kumar Laik which she formed, coordinated, and sung. The collection was delivered in Pan India by Keerthana music. She has done her Visharad in Hindustani traditional music from Prayag from Delhi and Chandigarh. Bhatkhande paddhati is the thing that she has followed since her youth with a few Gharana styles while learning. Following this, Runki additionally took formal preparation in ghazal and different types in semi-classical.
SURHeal raga remedy App!
Created by musician Runki Goswami, SuRHeal provides raga meditation for the well-being of the body, mind, and spirit. The thought of being a businessman was beyond her imagination until around the end of June 2016, when she visited her physician at the Indian Habitat Center ( IHC), Delhi. The specialist revealed to her that antiquated Indian music is accepted to impact individuals' health and urged her to expand on her skill in raga and traditional music and investigate Raga treatment. As per Harvard Medical School, a 2011 examination of a few investigations recommends that music treatment improves individuals' physical, mental, intellectual, and passionate working during actual restoration programs. After multiple years of learning various ragas vibrations and related influence, Runki tasked a mobile App called SuRHeal. She explains the motto of raga healing therapy for inducing well-being of body, mind, and spirit.
Expounding Ragas highlights…. Runki clarifies, " Ragas are made of melodic notes and have developed out of serenades from the Vedas. Every group of ragas differently affects individuals on various occasions." She began SuRHeal by onboarding five traditional artists. Accessible on Android and iOS, clients can pick between looking for physical and mental mending. Natural healing promises to treat pulmonary and lung-related diseases, abdomen and metabolism, pancreatic and liver, brain, breast, and back problems. At the same time, cognitive recovery tackles anxiety and stress, fatigue, insomnia, neurological and Alzheimers disease.
Healing videos... Together with a music video clip for relaxation, the service provides details on ragas or rhythms and instrumentation used while composition, the variable frequency, as well as the length of day where they're powerful. It is a Modern analogous trail. Runki says, "Not everybody listens to Indian Classical songs. Hearing and humming to other songs with raga features can help to relieve discomfort, including migraine." It will give a customized plan in the wake of understanding the cerebral pain triggers," she clarifies.
The melodic line of the Global Diaspora….
The Gurugram-based Music Director and vocalist amazed music fans with her captivating presentation yet this time on the global stage. Runki sang 25 tunes in 17 distinct languages including folk tunes of Rajasthan, Himachal, Tamil Nadu, Karnataka, the Northeastern, and several other regions. Runki's commanded and practised melodies created a glorious scene in her trip across the northeastern region on the globe performing a plethora of Indian traditional songs in their native form, addressing the global audience in multi-language symphonic music.
Runki Goswami these days, spreading public awareness on raga therapy is associated with medical professionals to help to treat people more quickly from debilitating conditions such as asthma, backbone issues, stomach pains, etc. Asserting to build an App. for raga treatment, the budding entrepreneur is aiming to launch a membership platform in the coming years.