What makes older mountaineers scale the Mt Everest. Hong Kong's 45 YO has the answer.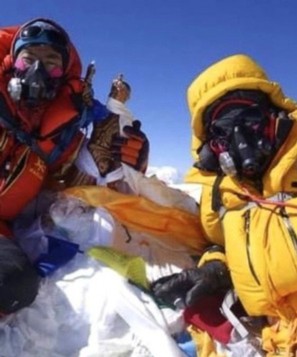 Gender. Something that bothers every human on the earth. I wonder if this gender concept is applied to animals and birds! I don't think any other creature on earth talks about gender but keep discharging their duties accordingly. Now that humans are gifted with intelligence and can think; region, religion, caste, gender, economic status, etc. stand as barriers while they discharge their duties. Over a period of time, things started to change. People, especially females, started to challenge gender stereotypes. How would anything in nature know if you are a male or a female or a child or an adult? Nature never imposes a restriction on any human but embraces everyone equally. Tsang Yin-hung of Hong Kong knows this very well and this made her fall in love with mountaineering, eventually becoming the fastest woman to scale the world's highest peak, Mt. Everest. What couldn't happen in her first attempt was accomplished with grit and determination in her second attempt. Tsang Yin-hung is the inspiration we need today and this is all about her.
Lack of Resources Didn't Dishearten Her.
Tsang Yin-hung was born in mainland China. When she was 10 years old, her family moved to Hong Kong. Her family had very less resources because of which Tsang, though was interested in taking up serious sports, had to participate in free athletic programs at her school. She actively participated in school sports and ran on the mountains. "When I was young I used to run on the mountains, play basketball and do other sports," Tsang stated. This sports enthusiast took to mountaineering only 12 years ago and she first climbed Mount Everest in the year 2017.
The Record-setting Moment.
Tsang Yin-hung, who used to run on mountains as a child and who started mountaineering late after her 30s, didn't find anything to stop her. Her eyes were set on the world's highest peak and that is all. At the age of 45, this Hong Kong teacher resolved to scale the mountain and on 11th May 2021, she set to reach the peak. Unfortunately, bad weather conditions sent her back in the last mile when the peak was sparkling in the limits of her eyesight. "My first summit push was on 11th and 12th and of course we failed at that time. We had reached 8,500 (meters) balcony and then the heavy snow and a very strong wind started, I knew that the weather forecast had said that the weather would be really good so I thought it is an only a short time, so we just keep moving up but after two hours we reach South Summit, I knew it was impossible, I told myself inside my heart though I could see the top," Tsang who is also known by the name, Ada said. Her determination didn't wither and she returned a week later.
She set to ascent again from the base camp at 17,390 feet to the world's highest peak at 29,032 feet. According to the report by a Nepalese government official, she left base camp at 13:20 local time (07:35 GMT) on 22 May and reached the top at 15:10 the next day. The Hong Kong teacher, 45, made her ascent from the base camp at 17,390 feet to the world's highest peak at 29,032 feet in 25 hours and 50 minutes, before arriving back in Kathmandu, Nepal, on Sunday, May 23.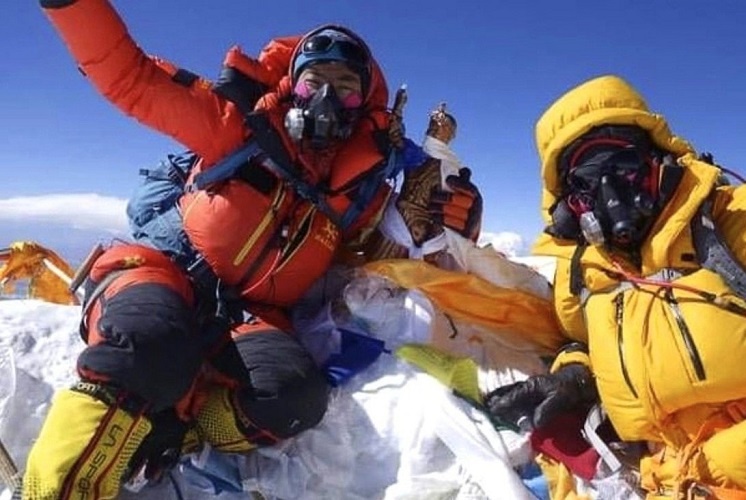 Tsang Yin-hung has created a new world
A record by climbing the world's highest peak, Mount Everest in just 25 hours and 50 minutes, becoming the fastest woman to scale the peak. During this feat, Tsang Yin-hung only took two breaks to change clothes between a base camp at 17,390 feet and the 29,032-foot summit. When asked about her experience she recollected that she didn't encounter any other climbers on her way. She only bumped into people who were returning because of which the speed of her ascent was not impacted. "To scale the summit, it is just not your ability and teamwork, luck is also very important.", she quoted.
The Record Breaker:
The 45-year-old Hong Kong inspiration has successfully broken the previous record of 39 hours and 6 minutes, set by a Nepali woman climber, Phunjo Jhangmu Lama in 2017. Tsang Yin-hung thus made her mark by reaching the top of the world's highest mountain in 25 hours and 50 minutes beating the previous record by close to 13 hours.
"I just feel kind of relief and happy because I am not looking for breaking a record. I feel relieved because I can prove my work to my friends, to my students."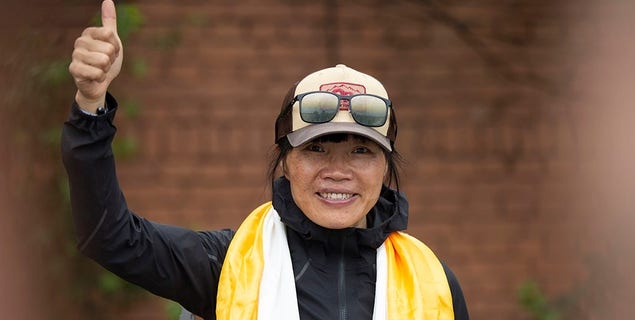 A Teacher Who Didn't Just Say But Showed:
Tsang Yin-hung wanted to serve as a living example of inspiration to her students and wanted to show them the fruits of perseverance and grit. She said that she succeeded in her mission by challenging herself. With her feat, she wished to tell her students that any high and hard target can be achieved if one trains rigorously without fearing the challenges. Just staying thereby not giving up, she says, gives success. "For my first time (expedition), it's definitely was for my students. I just want to show my students that if you get a really high and hard target, if you try to train step by step and yes of course there are lots of challenges and difficulties whenever you want to do something you have to just persist and never give up. Finally, you can achieve it,".
The fastest woman to scale the world's highest peak stood as an inspiration not just to her students but also to everyone out there who are waiting for the weather to clear and bad days to pass. Her story states that bad days can become the best days only and only with mettle and hard work. "When you aim high, expect high," Tsang Yin Hung, concludes.