Financially Feeble But Mentally Stubborn. This Pistol shooter firmly fixes her gaze on the 2020 Olympics.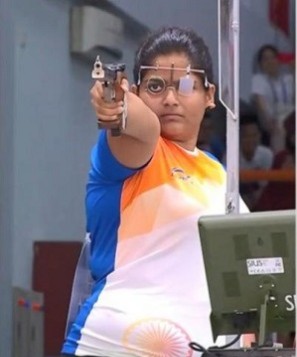 Aim at the Bull's Eye and you'll finally hit it. No, not the first time, nor the second time. Maybe not the third. But keep on aiming and keep on shooting for only practice will make you perfect.
How many of us know about athletes who have aimed high and achieved higher? While the nation runs around the cricket deities, there are many stars on the other side whose shine is not being reflected in its entirety. A few of them carved their way to wake the senses of the people and helped them realise the beauty of other sports and games. One such star is the Indian shooting champion Rahi Jeevan Sarnobat.
Glory of the Nation.
Rahi Jeevan Sarnobat, a female athlete from Kolhapur, Maharashtra is a 25m rifle shooter. This FIRST INDIAN pistol shooter to win a gold at the ISSF World Cup, quotes Tejaswini Sawant, a 50m rifle pro World Champion as her inspiration. A gold medal adorned her in 2008 Common Wealth Youth Games held in Pune. She is also the first Indian woman to win a gold at the Asian games. Rahi bagged bronze in world cup 2011 and got selected for the London Olympics in 2012 becoming the first Indian shooter to qualify for the 25 meters sports pistol event in the Olympics. The National Rifle Association of India recommended her for the Arjuna Award in 2015 and she truly deserves to be recognised.
Shooting pains from deep within her.
A mighty life from the outside but an apprehended soul deep within.
Rahi Sarnobat, an inspiration and a dream come true personality, suffers severe financial crisis in her life. She is employed as a deputy collector in her state's revenue department but due to her gruelling schedule as a sportsperson, she couldn't attend to her duties and thus remained without pay since 2017. Major portion of her earnings are melted to bear her coaching expenses and she wonders how long will she be paying to her coach out of her own pocket!
"I don't have more than four years left as a professional shooter and after 12 years of competing for India, I still have sleepless nights about my financial situation. I want more sponsors but don't know how to go about the whole thing", she says.
A Clear Vision.
Inspite of the severe financial disturbances that swallow the girl's comfortable night's sleep, this determined soul is committed to her sport and is working to give her best in the upcoming Olympics.
Let's wish good luck to this icon of brilliance for the 2020 Tokyo Olympics.