Having lost one arm, this Javelin Thrower is bringing glory to the nation at every world event.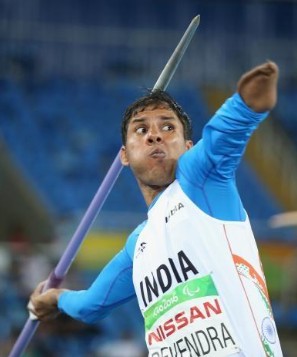 When the commentator at the Paralympics held in Rio de Janeiro, Brazil, in 2016 said "So Devendra Jhajharia, the hero of Athens in 2004, is here. He is the leader in this event. Two solid attempts for him so far. So... Devendra in the third round.... (as the javelin soars into the night sky)... is the world record holder..... Oooooh and he is the world record breaker! It stood for 12 years since his Athens gold and Devendra sends it out to the horizons. It's gone well beyond 62 metres, by a long way. Look at that! Sensational throw, 63.97. Devendra's wait is over!", India was in its sleep after wondering what went wrong with the athletes at the Rio Olympics with only two of the whole contingent bringing medals. But as the nation woke up the next day, one man brought smiles with his grand win. He is Devendra Jhajharia, the Indian Paralympic javelin thrower. As we finished Tokyo Olympics, it's time to gear up and encourage the athletes who are all set to represent India at the Tokyo Paralympics to be held from August 24 to September 5. On this note, we thought of bringing before you, the hero of the Indian Paralympic Javelin Throw, who won Gold for the nation twice.
The Undying Spirit:
Born on 10th June 1981, Devendra Jhajharia is from the Churu district in Rajasthan. He was just eight years old when fate wrote a different story for him. He was trying to climb a tree that came in contact with a live electric cable of 11KV. He was electrocuted and as he was brought down the tree with his left hand almost burnt, he was thought to be dead. However, the boy got back to consciousness and though doctors could save his life, they had to amputate his left arm declaring that he wouldn't be strong in his life again. "Lying in the hospital bed, I wondered what I would make of my life and how I would face my friends. When I returned home after six months, I realized that everything and everyone around me had changed. The children I used to play with earlier in the neighbourhood ridiculed and shooed me away.", he recollected those tough times. What his mother did then changed his life completely. She asked him to take up a sport instead of asking him to concentrate on academics aiming for a professional degree. When Devendra told her that he doesn't want to go out because other kids would taunt him, she forced him to the playground.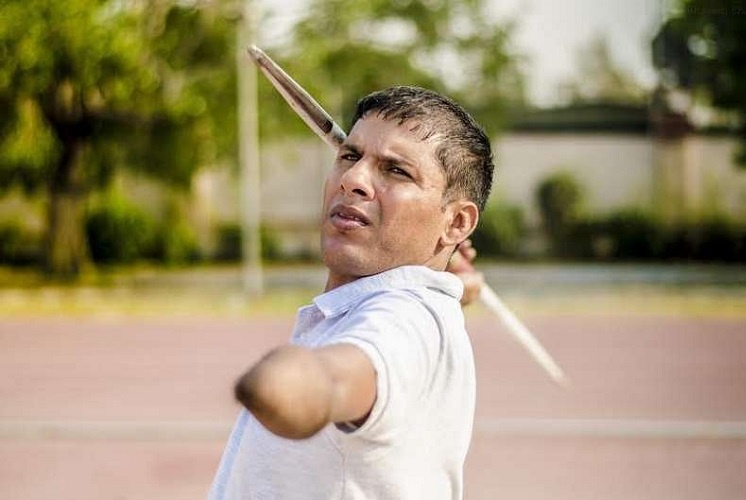 The Rise Of A Sportsperson:
Devendra participated in Javelin Throw at the district level championship when he was 14 years old. This teenager had no formal training and took part in the championship with a homemade javelin. He grabbed first place and it was a huge achievement for the young boy. "It felt like I had won an Olympic Gold, because it was a huge achievement for me. Somewhere deep inside my heart, I didn't want anyone to call me weak. I proved myself to be strong, and showed everyone that I was as capable as any other athlete," Jhajharia shared. In 1997, Dronacharya Awardee coach RD Singh spotted Jhajharia's talent while he competed at a school sports day and encouraged him to take up the sport seriously. From there, under Singh's training, his career turned for good.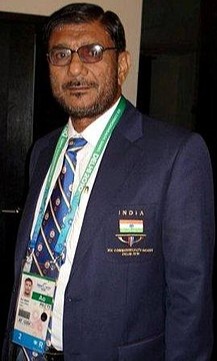 'Throwing' His Best every time:
Devendra participated in the 8th FESPIC Games in South Korea in 2002 and brought home Gold. In 2004 he qualified for his maiden Summer Paralympic Games and represented India at Athens where he set a new world record throwing his Javelin to a distance of 62.15m breaking the old record of 59.77m. He bagged a gold medal and thus became only the second gold medalist at the Paralympics for his country after Murlikant Petkar. In 2013, at the IPC Athletics World Championships in Lyon, France, he won a gold medal in the F46 javelin throw. He went on to bag a silver medal at the 2014 Asian Para Games at Incheon held in South Korea. At the 2015 IPC Athletics World Championships organized in Doha, Jhajharia bagged silver. In the year 2016, he won a gold medal at the 2016 IPC Athletics Asia-Oceania Championship held in Dubai. At the 2016 Summer Paralympics in Rio de Janeiro, he won the gold medal in the men's javelin throw F46 event, breaking his own record set in 2004, with a throw of 63.97 metres. At the national selection trials for the Tokyo Games held in July in New Delhi, 40-year-old Devendra recorded a distance of 65.71m, bettering his own world record throw of 63.97m thus qualifying for the Tokyo Paralympics.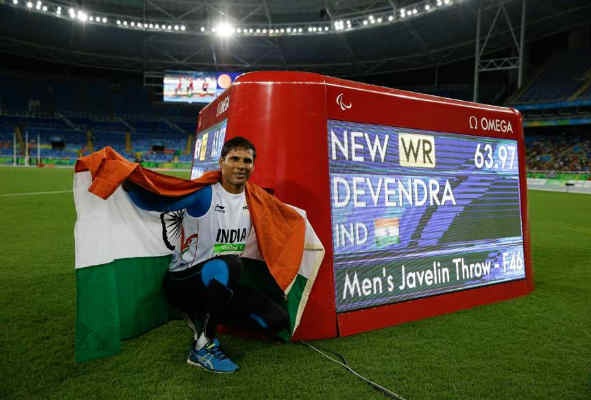 Recognition To The Legendary Sportsperson:
In 2004, this man of endurance was bestowed with the Arjuna award and in 2012, he became the first Paralympian to be honoured with a Padma Shri. He received the FICCI Para-sportsperson of the Year award in 2014. He was also conferred with the most coveted Major Dhyan Chand Khel Ratna award in 2017.
To the man who has been re-writing his own records. Para-athletes are no less champs. A big round of applause to these guys.

Follow His Work