Oz Women's Football captain is a great inspiration to Indian girls. Has Indian roots.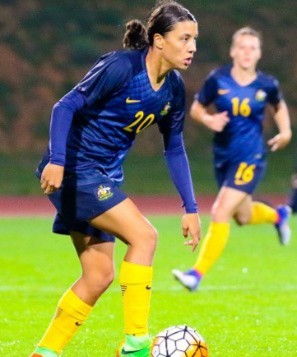 "My Indian heritage is something I'm really proud of and I know my nanna's really proud that I'm representing young Indian girls whenever I go out there and play. I think (reaching the final) was a really cool moment for my nan, and my family over here that is English, they're really proud of me too. I hope it inspires young girls. We have the Asian Cup coming up in India next year so, fingers crossed, everything goes well in India and we can still get out there. I've never been to India. It's something that I definitely want to get involved in, learning about my Indian heritage and culture."
The above lines were spoken in an interview by the prominent Australian football player Sam Kerr. When she spoke about her Indian roots and being a football icon to Indian girls, it looks startling. Isn't it? But she definitely is. Here is the inspiring journey of the current captain of the Australian women's national soccer team, the Matildas.
Born on 10th September 1993 in East Fremantle, a suburb of Perth, Western Australia on Australia's west coast, Samantha May Kerr's mother was Roxanne, who comes from an athletic family and her father Roger Kerr, was born in Calcutta to an English father, a featherweight boxer and an Indian mother who played basketball. Sam started with playing Australian rules football. She must have derived interest in the sport because of her father and older brother, Daniel Kerr, who were both professional rules football players. However, owing to certain factors, mainly the gender restrictions, she switched to soccer at the age of 12. At the age of 13, Bobby Despotovski, the Perth Glory striker spotted her and quoted her as an exceptional talent.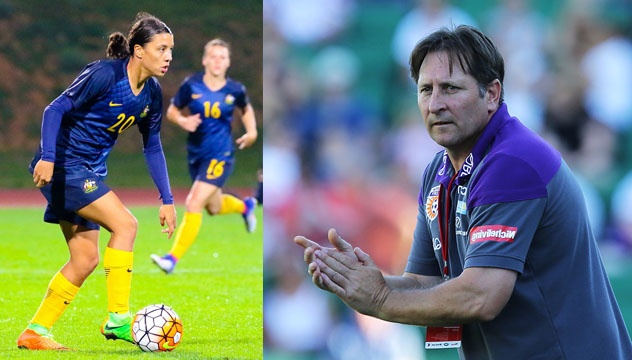 When she was 15, Sam made her W-League and international debuts. She started with playing soccer as a junior for the Western Knights in Mosman Park where she continued for three years before trialling for the Western Australian State Team. She later moved to Perth Glory and made her debut during the 2009 W-League season. She signed with the Western New York Flash for the inaugural season of the National Women's Soccer League (NWSL) in the United States in the year 2013. In August 2014, she returned to Perth Glory on a one-year deal as one of six national members to sign for Perth. In 2015, Kerr joined Matildas teammate Caitlin Foord at Sky Blue FC. It was in the 2016 season that she made nine appearances for Sky Blue. In the 2017 season, she secured four goals in a single game setting a new NWSL record. After her association in 2018 with the Chicago Red Stars, Sam decided to move to a European team. According to the stats mentioned in Wikipedia, at the 2020 Women's FA Community Shield on 29th August 2020, Kerr created a series of goal scoring opportunities before being substituted in Chelsea's 2–0 win over Manchester City. She also led goalscoring and assists for Chelsea and the League during the 2020–21 FA WSL season scoring 21 goals in 22 games winning the Golden Boot.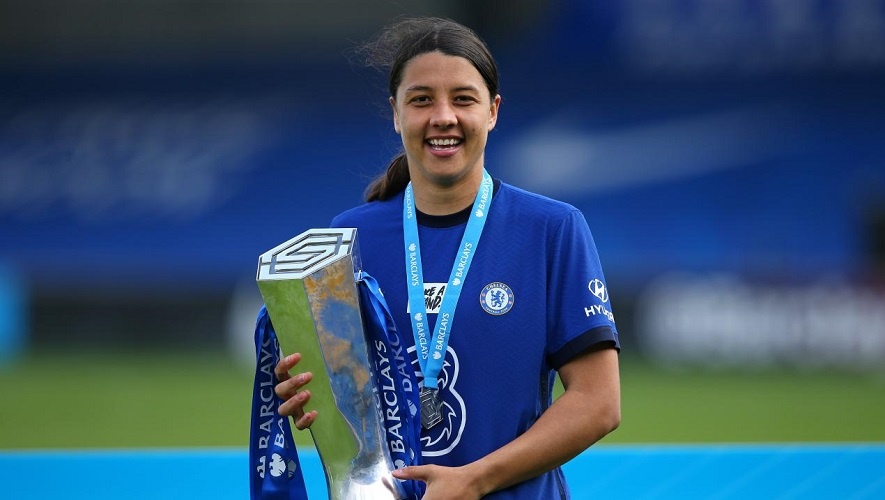 Her international debut was made at the age of 15 when she represented Australia's senior national team in Canberra. Her first goal was scored when she was 16 at the 2010 AFC Women's Asian Cup final against North Korea. At the age of 17, her name was listed in the 2011 FIFA Women's World Cup squad by head coach Tom Sermanni as one of seven players under twenty years of age. In February 2019, she was made the captain of the national team and two months later, she was also one of the five nominees for the BBC Women's Footballer of the Year award. Thus, she has been in the Australian squad playing international matches since 2009 and competed at 2011, 2015, and 2019 FIFA Women's World Cups as well as made her appearances at the 2012 and 2016 Summer Olympics. Her performance in the current Olympics is seen with a lip-biting excitement, she is giving her best in the field.
Recognition To The Dedicated Player:
In the year 2017, Kerr was awarded the Julie Dolan Medal for being the best player in Australia. She also received the PFA's Women's Footballer of the Year Award four times. She was named the International Player of the Year by Football Media Association in 2013 and 2014. She was also named the 2018 Young Australian of the Year. She also received the ESPY Award for the Best International Women's Soccer Player in 2018. She became the first Australian player for having scored a hat trick at a World Cup tournament in 2019. Known for her speed and tenacity, this young player is surely an inspiration to many girls out there to choose the sport that is thrown very little light on, especially in countries like India.