New York's Gujarati trio sisters attract 1 M views on Tik Tok. Are they exceptional ?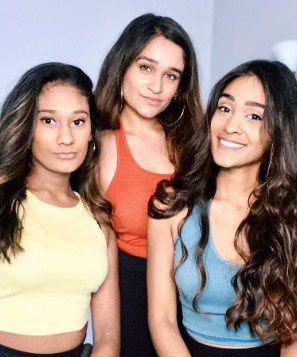 When these sisters danced to the remake of "Oh Na Na", they received huge love and appreciation from the audience. Looking at how people enjoyed their performance, they choreographed for one of their favourite songs Kamariya in which their Garbha moves appealed to everyone. The way they kept their Gujarati identity alive in their performances caught the attention of people and there you go! The names of Jikaria Sisters started resonating all over. Sister trio from Brooklyn made it big on the once most prominent platform TikTok with their graceful dance performances. They started showcasing their diverse experiences through their content representing their identities as South Asian Americans. These sisters have got over 1M views for their dance performances on tunes of Kamariya, Dholida, Young Shahrukh. People not only enjoyed their dances but also started to re-create their choreography.
Sisters Of New York From India:
The sister trio who has been the TikTok sensation were born and brought up in New York city. Their parents immigrated from Gujarat, India in the 1980s. The eldest of the three, Omika who graduated from Georgetown University's School of Foreign Service, is a second-year MBA student at Dartmouth's Tuck School of Business. Before joining the business school, Omika worked in technology and social entrepreneurship in the US and Asia. Omika, whose favourite dance style is salsa, is also a certified yoga and meditation instructor.
Rishika, the second of the three is a graduate in Political Science and Economics from Emory University. While her time at Emory, she danced on Emory SaRaas, Emory's collegiate competitive Raas-Garba Team, and she danced on Emory Karma Bhangra, Emory's collegiate competitive Bhangra team. Rishika, who is excited to start law school loves Bhangra. Aashika is the youngest sister who is studying Industrial engineering at the Georgia Institute of Technology. She is a student-athlete on the Georgia Tech Official Dance Team Goldrush, where she performs on the sidelines at football and basketball games, and competes at the collegiate level in Daytona, Florida. Aashika, whose favourite is the contemporary dance, attended the LaGuardia High School and received training to become a professional dancer by taking ballet and modern classes.
Dancing Divas Who Inspire Each Other:
Jikaria sisters started to train in classical Russian ballet at the age of three. Eventually, they started to receive training in other dance styles as well like Bharatnatyam, Ballroom, Jazz, and Contemporary. After they went to high school, they learned different dance styles. While Aashika trained in Horton and Graham, she continued to dance on Georgia Tech's collegiate level dance team, Goldrush. Rishika continued her dance training as a varsity cheerleader in high school and continued to dance in college, where she danced on both the competitive Garba-Raas and Bhangra teams. Omika also was a varsity cheerleader in high school, and after college, she trained as a semi-professional salsa dancer. "When we were young, we would go to ballet class because our mom told us to do so. However, as we grew older and developed a more personal connection to art, dance became an antidote to the stress of school. It quickly transformed into an outlet and a passion.", they said. The three sisters inspire each other to keep dancing. "We hold each other accountable to our craft and push each other to strive for excellence.", they say. Jikaria sisters mention that they find it interesting to fuse different dance styles that they have trained in.
TikTok Sensation:
The sisters grew up separately owing to their academic pursuits. While Omika was in New Hampshire, Rishika and Aashika were in Atlanta and Georgia. They went back home because of quarantine and have got sometime to spend with each other. In the first week that they met, they decided to make TikTok videos for fun. Within no time, they had gained immense popularity and appreciation. "As uncertainty, fear, and darkness are pervasive throughout mainstream media right now, we are grateful to have found a source of joy and positivity that we can share with others.", they say. The trio say that they love to collaborate with fusion DJs and finding new songs that are "catchy, unique, and fun to dance to. We specifically like mixes that allow us to merge different dance styles. We also often take note of song recommendations that we see in our comments." The girls also started to receive opportunities for partnerships with music festivals and clothing brands. "We are excited to further our mission and reach through continued, meaningful partnerships", they said.
The three sisters have got completely different professional goals but still they know that they are not going to leave behind their creativity.