Olympian champ Sanjeev Rajput adds gold to his collection of Commonwealth Medals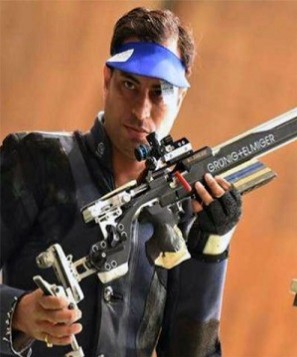 A recipient of the Arjuna Award, a sailor in the Indian Navy, a shooter by passion, and the holder of several sparkling medals, are some of the titles that define Sanjeev Rajput. A resilient comrade and a wise man, Sanjeev has been in the game for quite some time now.
He may not be as well known to others as his other fellow compatriots but that hasn't damped his prospects as one of the most trusted and excellent shots India has at winning a medal.
Background
Sanjeev wasn't born with a silver spoon in his mouth but to a modest father who is street-food vendor in Haryana. At the age of 18, he joined the Indian forces of Navy and in 2001, he set out to make it big in the shooting field.
However, his innate shooting skills came to the limelight in 2004 when he won two finals at the National Championships and also managed to clinch three gold medals along with a silver at the SAF Games.
Sanjeev has also represented India in the 2008 Summer Olympics. Although he did not win a medal, it is of utmost honour to have gotten the chance to represent one's own country in the Olympic Games.

Gold-Silver-Bronze
In the history of Sanjeev's participation and success in the Commonwealth Games, he has till date won a medal each of all three colours.
A bronze in the 2006 Melbourne Games, silver in the 2014 Glasgow Games, and gold in the 2018 Gold Coast Games.
He started from the bottom and went all the way to the top. His most recent win at CWG 2018 is something of a personal victory. A sweet one because he knows the efforts he put in, all the hard work and long hours of training that finally proved fruitful.
In the men's 50m rifle 3 positions event, Sanjeev created a new record, bringing up the total of medals won by the Indian Shooting team to 16 medals. Although, the finals didn't begin on a good start, he gave an impressive performance and shot ahead of his competitors. He kept his streak running and before anyone could realise what was happening, there he was, with a gold medal in his hand, wearing a triumphant smile on his face.

Bulletproof
Sanjeev, compared to other Indian shooters is a little more experienced. His 37-year-old self has been there and done that. Apart from him, there are several junior shooters who are excelling on an international level.
Sanjeev with his years of experience only wishes to remain bulletproof in this era of budding sportsmen and women. He toils hard and has a sharp focus in mind. Indian shooters have always done a good job in the commonwealth front and he hopes for that to remain the same.
The shooter has won several medals in several games and world cups. He currently is the MCPO II in the Indian Navy and apart from saving his country, he is also winning its glory.