13 Year Old Grabs the Gold Medal in inter-club skating competition 2021 Organized by - Esther roller skating club.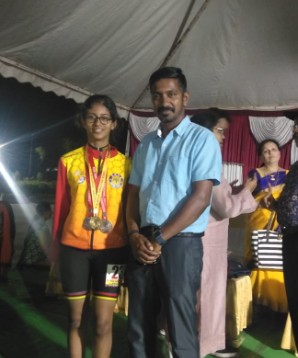 Catch them young.
Vanshika at 6 did what most kids are likely to do; watch TV all the time, try to use smartphones and do their routine homework. Her father Vijay and Mom Padma were not happy with this lifestyle for a child as she had no physical activity at all.
To distract her from this lazy lifestyle, they bought her a skateboard and every evening made it a point to take her skating on the streets. After the initial unsteadiness and a few falls, she was off on her own skating independently in a matter of a couple of days. Her parents immediately enrolled their little girl for the summer camp 2015 at the Esther Roller Skating Club (ERSC), Bengaluru.
Was ready to take on the competition.
Determined to make a mark in the Skating circles, she practiced hard and focussed on the skills. Hardly a year later; she started participating in competitions. She has won many club level and district level competitions and in October 2016, walked away with a Silver Medal at the Open State Level in Shimoga the INLINE Skates event held in Shimoga, Karnataka.
Hungry kya?
Certainly YES. Kids, once they achieve something want to do more and Vanshika had her eyes on representing Karnataka State. In just six months, she had on her Karnataka Jersey and participated at the Open National Skating Championships in May 2017 in Puducherry. She took part in 300 Meters Rink, 100 and 500 meters on road. She did very well for herself to finish at the 5th position which is commendable for this young talent who is 9 years old.
What makes her so determined?
Her never "Give up" attitude probably. Her sheer hard work and determination have fetched her a Gold after a string of silvers in various competitions. She is already on the national arena but heading to picking a Medal soon.
Why Skating makes it all so enjoyable.
Vanshika says, it keeps her healthy, active and this physical strenuous activity helps her in concentrating on her studies as well. She is thrilled that her parents and grandparents introduced her to this sport and also grateful to her coaches who have patience and are supportive.
What do the parents say?
No matter how hard or expensive it is, they say they are willing to spend time and money to see their daughter achieve greater heights. Any parent, if they want their kids to take up the sport; have no other alternative but to spend a lot of money to stay in the race. No financial or any other support comes their way. We hope this will change through websites like bookofachievers.com
Vanshika, wish you good luck and hope to see you on the victory stand with a Medal at the national levels.