Multi-talented Viren is probably every Hockey player's idol.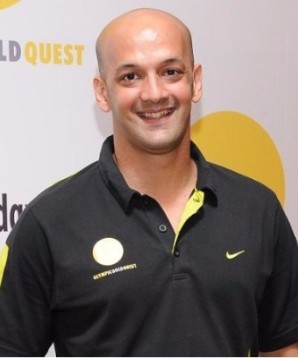 So many feathers in his CAP ...
A rank holder in his 10th Boards, was part of the Gold Winning Indian Juniors, a former captain of the Indian Hockey Team, played more than 180 international matches, was a first class student throughout his college, an Alumnus of ISB, a CEO at Olympic Gold Quest and of course an Arjuna Awardee. One wonders how he could achieve so much in such a short time.
Is it perfect Time

Management

? Discipline?
As the saying goes "Old Habits Die Hard", We are sure his parents Eric and Merlyn had a huge role to play in inculcating some good habits. They probably taught him the importance of physical fitness and studies as well, planning; eating good home cooked food, waking up in the wee hours etc., what his parents believed in was a healthy body is a healthy mind. From the coaches could have picked up discipline and team spirit and hard work. All this boils down to good Time management.
Hockey it was !!!
After trying out a few other sports, he knew he was good at dabbling with the hockey stick and wanted to be a part of a team game. He was part of the school team at St Stanalius School and winning became a habit. He was lucky to have trained under some of the finest coaches like Carvalo, Lobo, and Gomes. The bond and relationship any player build with his coaches is really very important.
His achievements are plenty and here are a few.
Represented the Maharashtra squad at many nationals.
2. He was the youngest player to have made it to the International League. He played for Air India, Tata Sports, IOC.
3. Was part of the Junior World Cup in Australia which brought home the CUP, Olympian participant at Athens, Asian Games 2002 and 2003. Best sportsman of the year in 2004 and Arjuna award in 2005.
Back to school...
At the peak of his career when he was 28, he decided to take a bold step to retire and go back to studying. Before he did that he had to get to an MBA college and he sailed through the entrances and was off to IBS in Hyderabad. The decision was tough and what is even tougher is that everyone wants to know why and how? Today he is happy to be an Alumnus of ISB and put to use what he learned.
What does he think of the future of Hockey?
He feels that the domestic level hockey standards are poor. There is an urgent need to upgrade the quality of coaches who can teach the correct techniques. Infrastructure, fitness, and diet are other areas that need improvement. These are not really problems but a lot of thought and action needs to be taken. There is slow progress and hope it speeds up.
At Olympic Gold Quest.
With his rich experience, achievements and his qualifications, he is sure to be of immense support to OGQ and we hope for better performances at the Olympics. Especially since Viren is someone who believes in giving his 100% at any job on hand.
Bookofachievers is privileged to feature Viren and reading this many aspiring Hockey players and athletes will be inspired.
Read more : https://en.wikipedia.org/wiki/Viren_Rasquinha