"Fitness is irrespective of age", says this mother of two a body building champion.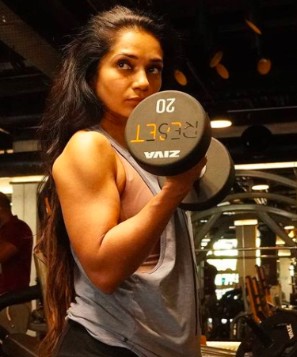 "Age is just a number. Only when the woman of the family is fit and healthy, the rest of the family also follows in the footsteps and takes fitness seriously." These words are straight from Sonali Swami, a fitness icon and the woman in her forties who broke the stereotypes and proved that bodybuilding sport is not just for men. Just give a reading of this story and all the women out there,
I'm sure you will stop giving excuses like pregnancy, C-section, menopause etc. to enter into the world of being fit and healthy and all the men, you will stop saying that bodybuilding is just your cherry.
A Disciplined Childhood:
Sonali was born to a father who served in the Indian Army and retired as Major General. So, it was obvious that discipline, determination and dedication came naturally to her from a very young age. The family taught their children to be responsible for their own work and keeping themselves physically active in some way or the other came as naturally as breathing. While Sonali's father never missed his morning walks and badminton sessions, her brother was a national level cricketer. Sonali used to play badminton and is also a trained Kathak dancer. Thus, right from her childhood, the desire to be fit and active came to her from her father.
Gone A Little Unstable Post Marriage:
After getting married to her husband Sanjay, a Software Professional, she had put on 12 kilograms of weight in just one year. She was disturbed by the fact that she could fit into none of her old clothes. She decided to join an aerobics class like most women but it didn't work for her. As she was always passionate about dancing, she joined a dance class. She danced with complete dedication and did a lot of Latin dancing. Not only that she could successfully shed those extra kilos from her body, but she also became a Latin dance instructor.
"I had tasted fitness and I did not want to let it go.", she said. For the next few years, she kept herself fit only by dancing and walking but has never thought of hitting the gym. "I had shed my post-pregnancy weight by walking and eating wisely. 3 years after my first child I had my second child and it was a C-section. So almost 4 months I was at home not able to go on my walks. That was all on my mind, I just wanted to start walking again.", she recollects. One day, when the couple went to a mall, they saw a gym named Fitness First. They stepped into it and interacted with the instructors there. She took a membership as she was driven towards the group classes - as a dance instructor. Looking at her dedication, her instructor asked Sonali to finish a few certifications and she attained several certifications there becoming a certified Zumba Instructor, Bokwa Instructor, Aerobics Instructor, TRX Suspension Instructor, and Les Mills Body Pump Instructor. One day, where she joined as a member, in the same gym, she appeared as an instructor. She took aerobic sessions at the gym and also started working as a freelance instructor with corporate and gyms. However, she was still away from bodybuilding and weights.
Entry Into Bodybuilding:
Fitness First has organised five bodybuilding trial sessions exclusively for the instructors at the gym and Sonali attended those. "I had screamed my lungs out but I completed them. There was pain, soreness but I still got hooked on it. I could sense a difference in me in just those five sessions. I had a sense of achievement.", she says. She then paid for the next 11 sessions and continued the training. Within a month, she could notice the difference. "My shoulders were toned, my biceps were toned, and my stomach had become flat. My trainer pushed me all he could and I too gave my 200 per cent and so we could achieve great results in just a month.", she recollects.
During her weight training and bodybuilding sessions, in 2014, she came to know about the prestigious event, Body Power Expo's Fit Factor and that it is being hosted by India for the first time ever. She decided to participate. She did, she won. When asked about her experience entering the first bodybuilding championship and winning it, she says, "I did not know anything about bodybuilding and bodybuilding events before. I was very nervous; there were too many things on my mind. I was married, with two kids; the idea of walking in a bikini in front of a crowd gave me chills. Secondly, I was not in such good shape. I was improving but not great enough to compete at such an event. I did not have much time to prepare. Thirdly, I was 38 years and the girls in the competition were much younger – late teens to early twenties. I did not feel confident enough. However, my instructor pushed me. More importantly, my husband was there. I finally participated and to my surprise, I won, I bagged Gold. This made me think that maybe I am good at it and I should continue it. Next, I participated in Muscle Mania and won there too. I have not turned back since then".
A Woman Of Substance:
Sonali, who started training at the age of 37, had proved it to every individual out there who feels that they must have started it early, that it's never too late. She was married and had two kids and she already is ready to hit her forties but she did not fear what other women or people think of her but took up what she desired and proved to the world that bodybuilding is a SPORT and is also meant for women- women with kids too. Sonali won Bronze at the Asian Bodybuilding and Physique Championship in the year 2016. She won the First-ever FitFactor conducted by BodyPower in the year 2014. She was also the winner of the 2014 Muscle Mania India and 2014 Muscle Mania Model. She stood in the Top 10 in the World Bodybuilding and Physique Championships in the year 2015. She has also got sponsorship from prestigious brands like Optimum Nutrition and ADIDAS Training India.
Supporting Family:
She dedicates the credits to her success to her family. She says that her husband is the main confidence booster. When she was sceptical about wearing a bikini for the competition, it was her husband who encouraged her not looking at her as a married woman and a mother of two. He looked at her as a competitive athlete. He asked Sonali to look at it like a "SPORT" and said that once she looks at herself as an athlete, the world too will. The support she received from her parents-in-law was also immense. "My mother-in-law told me that I should get more trophies home.". Sonali also perfectly balances her career and family. She keeps herself busy when her two teenage children are busy with classes and frees herself when they are home. "My career is my choice; it is something I do for myself. My kids, my husband or my family should not suffer because of it. My daughter is 13 and my son is 10 years old, they share with me a lot of things, there are so many things they need to talk about. I am always there for them." says this amazing mother of two.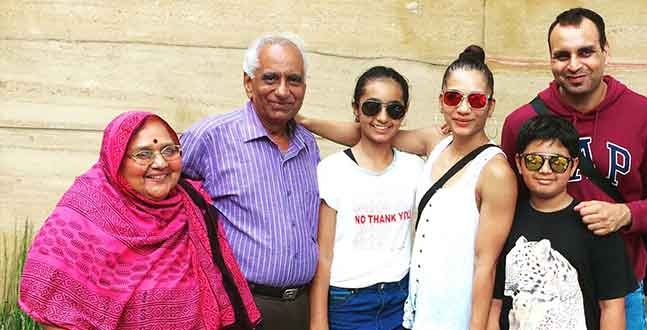 Negativity:
When she started becoming popular with her achievements, she became a public icon and being a woman in her forties, wearing bikinis and the so-called "non-traditional" clothes being a mother of two, she suffered severe negativity. Harsh comments slammed her. She received messages stating that being an Indian woman, what she was doing was absolutely wrong. She should not be walking in a bikini, etc. "I had just one answer to these comments, my husband was with me, and my family was with me, why I would think I was doing anything wrong.", she reminisces. As people started seeing her efforts, they started realizing that this was no bikini show but requires a lot of hard work. They started looking at her as an athlete. "I have always looked at myself as an athlete first and then as a woman and people have started doing the same. That makes me feel really good.", She says with pride.
Her Vision:
She says that she wishes to see India as a fit nation. She is working relentlessly to raise awareness on the importance of fitness and is trying to help everyone, especially women who are succumbed to inhibitions to live a healthy and disciplined life so as to ensure a stress-free environment.
"Many women ask me if it is possible for them to get six-packs after having kids.
Yes, definitely!", she says.
"Our society still thinks that six-pack abs are meant for men and not women. According to them, women should behave in a traditional manner and not get into the fields meant for men. However, as I said, things are in the process of changing and now men and women both are appreciated for their hard work." she concludes.

Follow Her Work