Mother of two from Arunachal Pradesh becomes the First Woman to Scale the Mount Everest twice in 10 days – Anshu Jamsenpa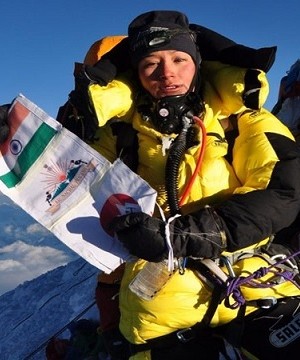 Anshu Jamsenpa is first and foremost a wife, then a mother, and finally a spectacular mountaineer. She is 38 years old and from Bomdila in Arunachal Pradesh. She has brought immense pride to the state as well as the country being the first woman ever to scale the mighty Mount Everest twice in a matter of 10 days. She is also the only Indian woman to have climbed the Everest for a record fifth time. Who wouldn't want to be a mountaineer? For from up there, all the prizes and glory you can achieve seem the least bit insignificant. Anshu did not settle for the ordinary. Instead, she willed herself to risk all that she's got- 5 times to make her dream come true. She is a true mountaineer at heart and despite having a family with two kids to look after, she didn't let fate dim her prospects as she reached for the stars.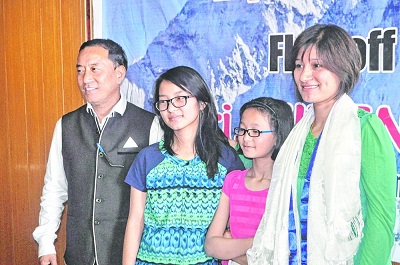 Her love for the mountains is also shared by her husband, Tsering Wange, who is the president of the All Arunachal Mountaineering and Adventure Sports Association.
Five Times the Charm
On April 2, 2017, after she had received her due blessings from the 14th Dalai Lama, she began her expedition to climb the Everest from Guwahati. She prepared herself for the climb for 38 days, after which she hoisted the Indian Flag at the top of the summit becoming the first Indian woman to do so. Precisely after 118 hours and 15 minutes, she set out again to climb the Everest peak, for the second time, in five days. In doing so, she set the record for a double ascent in a single season's time. On Jan 31 2018, she received the Award of Honoris Causa (Honorary Doctor of Literature) Degree.
If this seemed legendary, the fact that these two climbs weren't her first trip to the mountains would leave your mouth hanging open. She has, in fact, conquered the mountains three times earlier to this. First in 2011, within 10 days, she scaled the haunting peaks of the Everest, twice! Her third successful attempt was two years from then in 2013.
For Anshu, it is not about gaining popularity. For her, climbing the peak is in a way conquering her fear and she will climb great boulders if that's what will take for her to breathe out an adventure. The mountains are her calling and she, being the outwardly soul in search of a breathtaking adventure, will climb the highest peak just to see how the world looks from up there.
Dreams Bigger than any Mountain
After having successfully completed her multiple ascends, Anshu now plans to conquer Kangto – the highest peak in Arunachal Pradesh, which is 7042 meters above sea level. This is an ambitious dream for Kangto has never been climbed upon by anyone.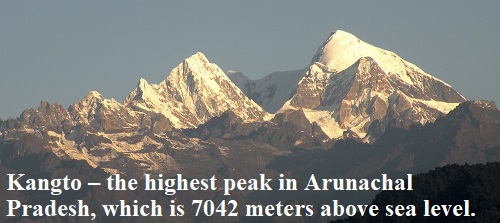 It is all a step by step journey. Anshu has huge plans for her future. Plans that are bigger than any mountain peak in the world. Plans that shoot straight across to the horizon of a majestic grandeur of dreams and possibilities.