MMA international champ and coach is popularizing the sport in India.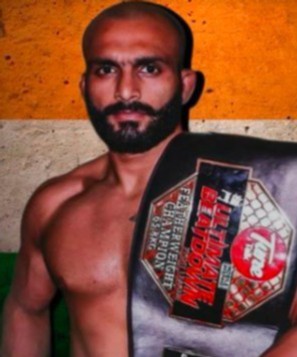 MMA - the Mixed Martial Arts. Not heard of this ever? Okay! Spider Silva? Ken Shamrock? No? Well, have you watched the 2015 Bollywood movie 'Brothers'? There you are! That intense fight the lead actors in the movie get involved in is the MMA. MMA is a combat sport that incorporates into it, the techniques of various martial arts like boxing, wrestling, judo, jujitsu, karate, Muay Thai, etc. So, why are we discussing MMA here? It's because of Chaitanya Gavali, India's Professional MMA Fighter, Purple Belt holder in Brazilian Jiu-Jitsu, Judoka and Fitness Trainer. Why is he so special to be discussed here?
Belief In Self:
Born on 13th November 1988, Mumbai-based Chaitanya Baban Gavali is also popularly known with the nickname, 'Dangerous'. He belonged to a middle-class family that ran a small shoe mart in Mumbai. He was raised along with his two brothers in the Kandivali suburban area of Mumbai. Chaitanya's family expected him to take over the family business but Chaitanya strongly believed that he is meant for something bigger than just selling shoes. Though he respects his family's shoemaking business, he didn't want to settle as just a man selling shoes. He approached his mother and told her that he wants to try something else. He also assured her that he would come back and take up the shoe selling work had he failed in achieving his dream. It came as a shocker to the family and they were definitely not happy. But Chaitanya knew what he wanted to do with his life. "I didn't want to be a sales guy and do the same for the rest of my life. I asked my mother to grant me some time to prove my worth and stand on my feet and make her feel proud".
Mr Fat To Fit:
Chaitanya then joined a gym with just the basic idea of losing weight. He has always been a chubby kid who was constantly bullied for his overweight. To lose those extra pounds so as to improve self-confidence, he started training hard at the gym. However, his body started showing positive changes and his coach suggested taking Mixed Martial Arts that nearly pit Chaitanya in shock. "MMA is not for the faint-hearted. It requires the strongest dedication and a steel will to push beyond the physical and mental barriers. But is MMA really for me?", he wondered. But his coach Jitendra Khare not only saw his potential but also pushed Chaitanya beyond his doubts to become a pro fighter. As Chaitanya started his serious training in MMA, he started falling in love with the sport and discovered that 'this is all that he wanted to do'. However, his parents didn't seem to be happy with his decision of taking up MMA.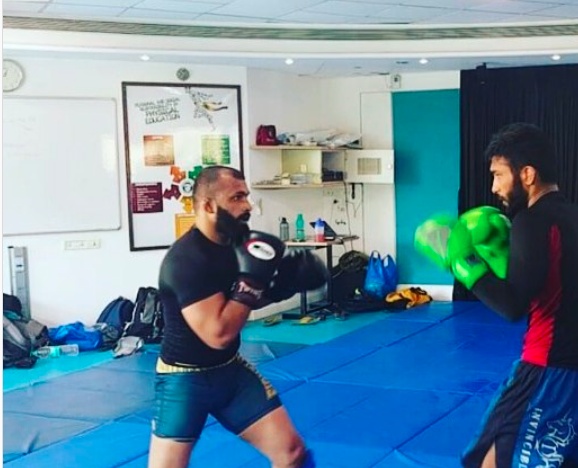 "It was quite difficult getting my parent's approval since MMA is not a paying sport in India yet. It took a lot of convincing and promises to get their approval.", he shared in an interview. Even after getting their approval, he knew that if he didn't work hard and prove himself, their support will no longer be with him and he would have to go back to selling and mending shoes. "I discovered that this sport was my destiny and calling and I have never experienced more passion in life other than for this sport.", says the Man of Steel.
Unbreakable Zeal :
Chaitanya thus started his Mixed Martial Arts career with the Evolution Combat Fighting Academy in Mumbai under the able mentorship of Jitendra Khare. He stood as a champion in the World Feather Weight MMA at Ultimate Beat Down and also in the Bantam Weight at Warrior FC, Malaysia. He brought home, Silver Medal from the Bangkok Brazilian Jiu-Jutsu (BJJ) Open held in 2011. Another Silver Medal adorned him at the World Professional Jiu-Jutsu Championship (WPJJC) Trials Held In Hong Kong in 2012. The same year, he bagged a Gold Medal at the Bangkok Brazilian Jiu-Jutsu (BJJ) Open. He also grabbed Gold at the Evolution Grappling India Open in 2015. Gavali also participated at the Warrior Championship held in Penang, Malaysia in September 2015 where he knocked down Gary Espinar of Ireland and secured the Gold medal. He thus became the first Indian to fight under the World Series of Fighting banner, the third most prestigious MMA promotion in the world. He also became the first professional MMA fighter in India who won the title on foreign land. He also participated in the MMA-based reality show, the Super Fight League from Season 1. On top of everything, Amul butter created a billboard featuring Chaitanya's pose from his fight with Tiran "Tornado" Thakshala in Season 1 of the Super Fight League.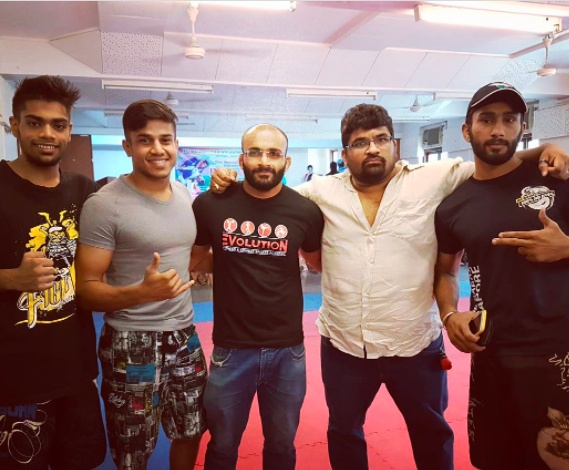 Gruelling Schedules But Committed To Stick:
The daily schedule of an MMA sportsman fills with just one pre-requisite - discipline. Chaitanya says that he cannot even think of cheating on his diet or relaxing from his training schedules, as doing so could negatively impact his performance in the fighting ring. Unlike an average person, an MMA fighter like Gavali cannot take things for granted even for a minute. He starts his training sharp at 6 am for two hours at a stretch. His day then includes training in different forms of mixed martial arts.
"My day starts and ends with MMA.", he says. His hard work has never gone in vain and his pan Asia following speaks loud about it.
Recognition Lacked On The Own Land:
Though Gavali is a prominent fighter who everyone looks up to across Asia and his opponent is sure to have shaky legs when his name is heard, his own nation knows him barely. He speaks about many challenges that MMA sportspeople face in India. From lack of understanding of the sport to lack of resources, Chaitanya's MMA journey is not a good one in a country that failed to put minimum focus on the sport. The sport here hasn't reached a mass audience and people don't seem to look at the sport beyond two semi-nude men grappling each other for the claps and cheers of the audience. "It is very difficult to change the mindset of the people and convince them that there's genuine beauty in the sport rather than just the physicality.", he puts the saddened fact in. He also expresses that there aren't equal opportunities for fighters in India. "I believe that I am playing a small part in opening India's eyes to recognize and love this sport as I do. That alone is my goal every time I represent India for MMA.", Gavali says. "A fighter needs to be able to think and plan about his fight rather than just rush into a ring. This sport requires a strong mind and body and at the end of the day, I believe also the humility to learn every time in the ring.", he adds saying that people just think that it's all about just being physically strong. MMA also requires the players to strongly develop technical skills in various types of martial arts. "It's not street fighting as it may look like to the untrained eye.", he says. Chaitanya had to encounter too many stereotypical mindsets and overcame typecasting all through his journey besides struggling with parental unacceptance. He says that the monetary payoff at the end is far from what the fighters deserve. This is the main reason, he says, that most of the fighters don't choose to continue MMA. Despite all these, Gavali had one driving factor that kept him hooked up to the game - to win the championship in his weight class in the world.
"I see many youngsters who come to the gym to learn a new sport form and once they start training, it becomes a way of life. That is the effect of MMA. And I know that this is not a trend but a sport here to stay.", he says with pride.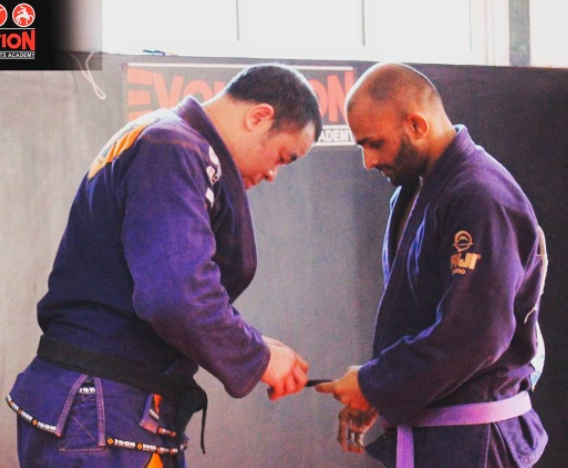 All Thanks To His Coach:
Chaitanya, who has now won his family's approval, says that his mother goes on to share his winning moments with friends and relatives and never misses an opportunity to show the videos of Gavali to everyone she meets. This fighting pro always remains indebted to his mentor who he calls, his friend, Jitendra Khare, who is always with him in making his dream of becoming an international pro fighter come true. "The very first title that I won, I dedicated to him because he is the reason I am here today.", he says with gratitude.
May Gavali's sincere efforts make MMA popular in India. May the public and authorities realise and understand what truly MMA is all about and what it takes to be an MMA fighter pro. Things have been walking towards betterment and one day, they will surely establish in the right way.

Follow His Work