6 YO has 2 million Instagram fans. His video grabbed the attention of Lionel Messi himself.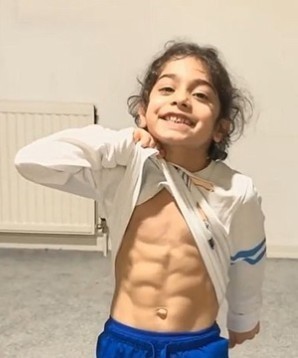 6 Yo Iranian boy Arat Hosseini dreams of becoming the next Messi. This genius is already exhibiting his extraordinary talent and skill to reach there. In 2017 Arat's Dad posted a video of his son on social media and expressed his son's desire to one day play for Barcelona when he grows up. Everyone was aghast watching the video and was wunderstruck by this wunderkid. But why did everyone go gaga? Lets check out!
What's so extraordinary about this wonder Kid?
At age 6, with over 2 million Instagram fans, 3000 plus kick-ups, his chest hits, head hits, his agility, his extraordinary skills, his strength, he was widely being broadcasted on ESPN, video released on FIFA's Twitter and FIFA went a step further to state that Arat will replace Messi, response to his video from his idol Messi himself "Thanks Arat. I see a lot of class there. Awesome. A hug" and other fans commenting "You are the golden boy", "Can't wait to watch you – grow up fast"., if this doesn't make him SPECIAL and EXTRAORDINARY – what else will?
A post shared by Arat Hosseini (@arat.gym) on Apr 8, 2020 at 3:22pm PDT
A talent nurtured..
Arat's Dad Mohammad was rather surprised to notice his little chappy's interest and skill with the football when he was a few months old. The duo enjoyed playing for hours each day and soon his father started training him.
Each day his boy would surprise him with his new tricks. Just over a year old, people around and other clubs started noticing Arat's talent and instantly lucrative offers poured in where they wanted the family to emigrate from Iran. Initially, Dad didn't pay much heed and shrugged them off. At 4, Arat seemed like a pro and the pressure of accepting more offers mounted. This is when Arat's father finally decided to move to London in 2019.
What is it with Liverpool, Arsenal and Barcelona ?
The authorities at Liverpool were taken aback when they saw Arat's talent and offered him to join the Academy. However, contracts at this tender age aren't signed officially but a lot is provided. Arat thoroughly enjoys playing at the Academy but only time will tell about where he goes next. Even while at Liverpool, he was offered a deal with Arsenal but Liverpool wants him and have extended greater support and so they stay on. It is sad but true..Despite Barcelona making concerted efforts to get him there, the legal clause doesn't allow his transfer.
What next for Arat ?
While Arat continues to gain best offers, fame, praises he seems to be pretty grounded says his father. With all this, Arat's father says they have a lot of visa issues and his boy is on a student visa and focus is on the boy's game and let the future take its course.
We sincerely hope this international figure already, doesn't get swayed by the media, money and fame and reaches his goal and entertain fans for a long long time.
​ Follow Arat Hosseini For New Updates
​ Like and Subscribe to Arat Hosseini Channel For more Updates on His Game
​