16 - year - old grabs Gold in the Men's 10m Pistol event at the Jakarta Asian Games 2018.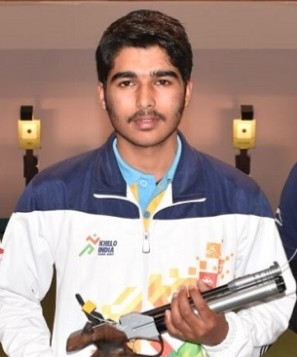 Who is Saurabh Chaudhary?
A new shooting sensation who surprised, shocked and rose to instant fame when he clinched the Gold at the recently concluded Jakarta Games 2018. Saurabh all of 16, hails from one of the remotest villages Kalina, barely a half hour drive from Meerut (UP). Farming is the main occupation of the 400 plus families who live here and so is the Golden boy Saurabh Chaudhary's father Jagmohan and his mother a homemaker.
Shot to fame
Began his earnest Shooting journey while just 13 at Amit Sheoran's Academy in Binauli Near Baghpat. In a matter of a couple of years, his extraordinary talent took him to bag many nationals and recently on his debut in Germany came back with an impressive gold score in the juniors.
Hitting the bullseye is all that he could think, practice and dream of. His coach Pavel Smirnov all along knew he was the medal material and all Saurabh did was to simply believe in "Do as you are told"...
Jakarta Games - 2018
Not even aware of the selection criteria for the Asian Games, but just continued the daily routine of "Eat, Shoot, Sleep, Shoot" and obey his coach. Pavel admits that he is one of the nicest teens who is driven by passion and perfection
It was Saurabh's first senior tournament and was the youngest in the men squad. Here comes the new Indian 10m air pistol senior Champ at 16. Nobody knew him nor did anybody expect him to perform the way he did. No signs of nervousness or fear as he said "I know these people are big shooters, but I've never seen them. I don't have any role models in shooting really. I just try to get better myself," He has been consistently shooting 586 during training sessions and was confident about his shoots.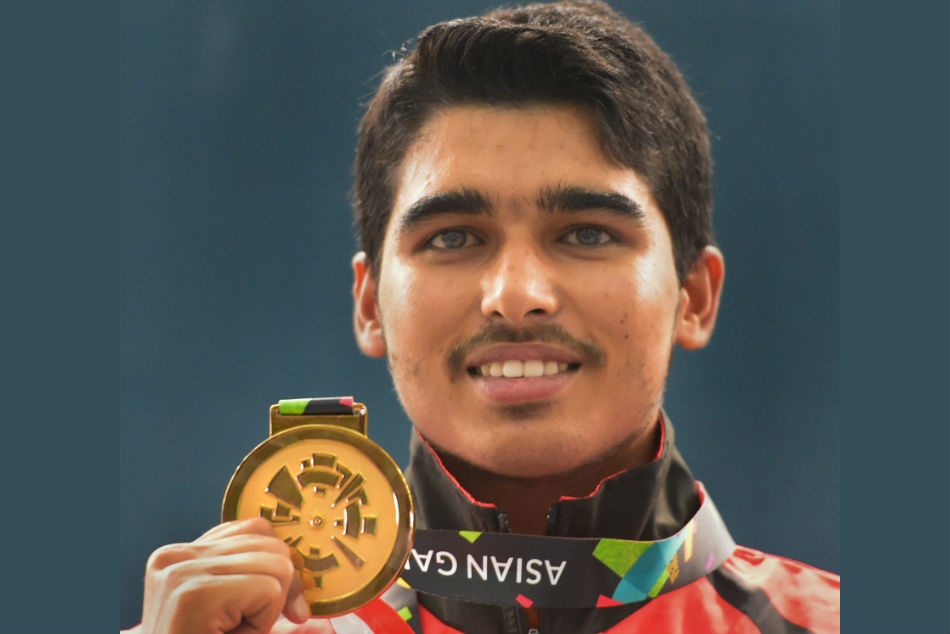 Matsuda, the Japanese champ was leading throughout and it was only the last two shots took the lead from him at 240.7 ahead of the Japanese shooter's 239.7, becoming the first youngest Indian to clinch the GOLD.
Rise of Indian Shooters
It is Abhinav Bindra's success at the Olympics and the government introducing the sport in CBSE schools could be attributed to the rising shooters in the country. Most of the credit goes to the Athletes themselves who are passionate about the sport.
Bit about the event
A shooter needs to shoot over a distance of 10 meters in the standing position, using 4.5mm or 0.1777 inches calibre air pistol with a max weight of 1.5 kgs. The centre of the target is positioned at 1.4 meters above the floor. A qualification round takes 60 shots of 1h15 min with a max score of 10 points and total max of 600 points. The top 8 shooters will have a 24 final shots. The scores are made of decimal points and the maximum is 261.6 points. Two series of 5 shots within 250 seconds, followed by 14 single shots fired on command and within 50 seconds. After the 12th shot the lowest scores and elimations goes on after ever two shots until the gold and silver are determined. If there is a tie it will be broken by one or more additional shoot-off shots.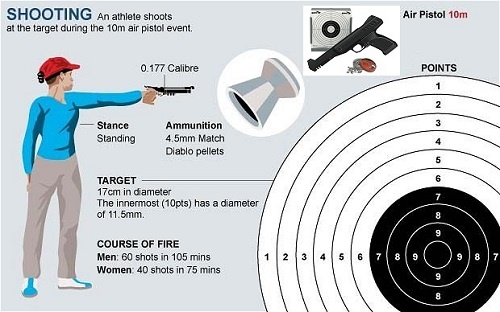 Spare time?
There is no time for anything, either he is at the training institute or at the competitions and when he is home he loves to help his father in the farm. Yoga is something he religiously practices which helps in concentration, drawing and painting too he likes. A firm NO to phones and social media as this is a huge distraction. He finds enough time to study and is doing well academically too.
Watch out for this teen shooting sensation who has clearly announced his arrival.