UnDutee-dly the most daring, courageous, controversial, fearless and gutsy Sprinter.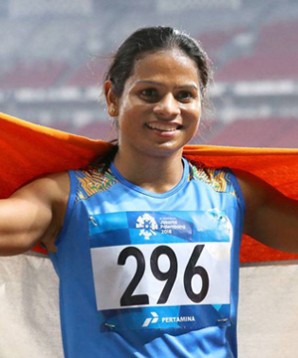 Her gleaming blue vest reflects her confidence. Her neon spikes glorify the strength of her character. Her run is a run for life. Her voice is a gift of life to fellow athletes. An epitome of perseverance, Dutee Chand, the resilient Indian Sprinter needs no introduction. This Asian Games double silver medallist, the crown of Odisha, is a Cheetah not just on the track but off the circuit too. The national record holder in women's 100m scripted history in 2019 at the World Universiade in Naples when she brought home, Gold. She broke into the scene in 2012 when her mettle was displayed in the Under-18 category in a 100m event and this image continued to flash in front of the global audience creating waves of sensation both with respect to her personal and professional life. This weaver's girl who leaped into the sports sphere aspiring a decent government job, set and broke records as an untiring sprinter. That girl who ran discalced along the banks of Brahmani river sprinted incessantly unconcerned of the numerous checkpoints in her way.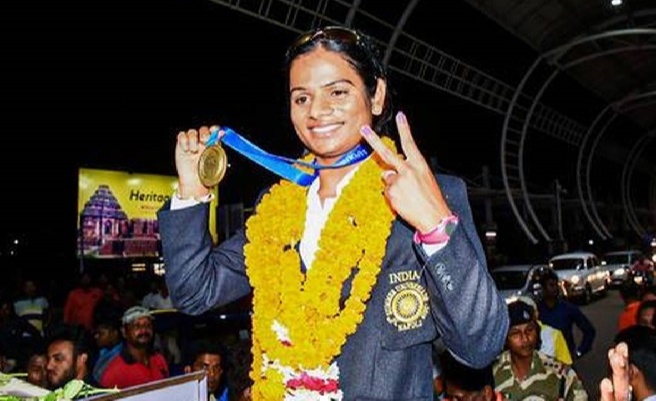 "Do you really believe in this puny-framed ward that she would gain chance on the international athletic scene?" This was the doubt expressed by a foreign coach on Dutee's ability looking at her physique.
"Not her size but her will is what let her cross her village", replied Ramesh, Dutee's coach.
We bring before you, the trajectory of this contentious yet rock-ribbed sportsperson.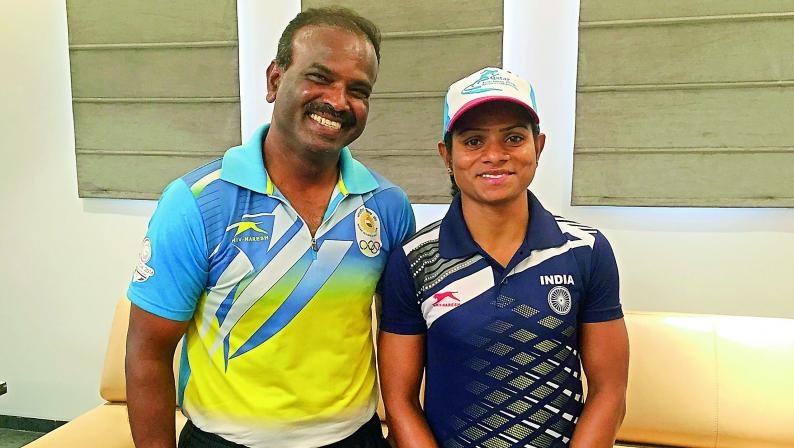 The Single-player:
Let's take a walk through the early years of her career first. The stone-ribbed teenager trained vigorously in Bhubaneswar 80km away from her home. During this time, she sheltered her tired body on the benches in bus stops and railway stations. Her sore soles and exhausted calf muscles gifted her GOLD in the 100m, 200m, and 400m events at the National School Games in 2013. That high-spirited girl who always dreamt of owning a car received a Nano car from the then Chief minister of U.P Akhilesh Yadav. This first show-stopping moment brought her into the spotlight. The glare of publicity kept her motivated to enter the Commonwealth games in 2014 .
"I am a Woman because I am a woman"- Suspicions On Gender:
The battle in the court leaves any sportsperson with scars but Dutee had to battle with swords that kept her from kissing the track. The life of an athlete who was beginning to emerge as an iconic sprinter was stripped down. The dreams of conquering the podium at the Commonwealth Games and the Asian Games turned into nightmares. Without any prior notice or information, Dutee was called to Delhi in June 2014 for tests to decide her gender! Yes! Athletic Federation of India suspected her gender, claimed that their suspicions had valid reasons and insisted that she must undergo gender test. The ridiculous battlefield was harsh towards the young athlete.
An allegation that a woman is NOT a woman!
Now, to evaluate the gender, the international athletic association follows a protocol that involves measuring the clitoris, vagina and labia, evaluating the breast size and pubic hair on a five-grade scale. Such soul-ripping tests reported that she had high levels of male hormone, testosterone in her body-a medical condition called hyperandrogenism. For this reason, citing that she would have the advantage of a male dominated hormone, she was banned from entering the Commonwealth Games. This shook not just Dutee, but many athletes across the world who had to go through this were unable to bear this trauma. Many withdrew while some ended their lives. No one fought back. But Dutee raised her voice. "It is God-given. I have never doped and when I'm not at fault, why should I run away? I'll fight back", she said to her coach Ramesh. She appealed to the Court of Arbitration for Sport (CAS). While court proceedings cost hugely, no one from the elite Indian group came forward to support her. But, she didn't walk back. Her gender is at question! The society that clapped for her triumphs his in the dark while she needed support. Those who showered rose petals when she received laurels poked her with thorny words. Successfully, the CAS vetoed the IAAF's hyperandrogenism policy stating that there is no substantial point to prove that high testosterone levels add feather to a female athlete's cap. On these grounds, the court cleared Dutee and her shackled feet were allowed to run.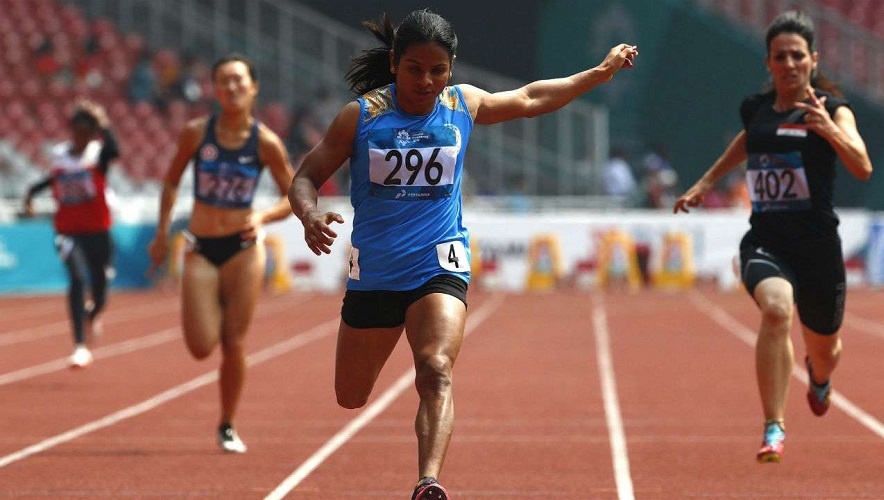 "Her triumph over an evil move that tried to change her status as a woman, is the triumph of all women athletes whose femininity is being questioned"
Deprived Of Shelter:
Though the court's verdict laid grass in her track allowing her to run again, the society was not kind enough to embrace her. Her sexuality was branded abnormal setting her aloof from the rest of the so-called "normal" group of people. She was looked down upon by everyone around her. Dutee could not stay anymore in the Sports Association of India hostel. But, to qualify in the 2016 Rio Olympics, she needed training. But how and where? Ramesh, her coach thought of an idea and requested his good friend, the famous badminton coach Pullela Gopichand to accommodate Dutee. What a butter-hearted man was he to empathize with the pain of a player! Gopichand gave Dutee the best of everything!! Dutee was fed with dry fruit, chicken and fish and all that she needed for a power-packed muscle. Gopichand's family kept the kitchen doors open for Dutee letting her cook whatever she wanted. Gopichand mentored her, supervised her training, instilled faith and audacity in Dutee, enriched her with everything she needed to sweep the board at the Olympics.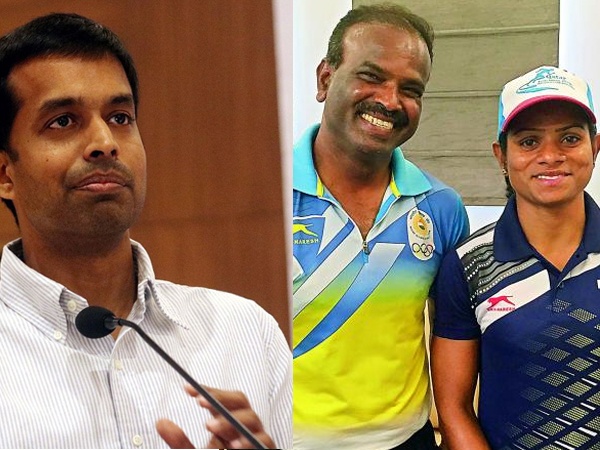 Back With A Medal-thirsty Roar:
That dark phase of her life when the allegations made her scream in silence was wiped off when she became the third Indian woman to participate in the Women's 100m and the first WOMAN to represent India in the Olympics sprint event in 36 years. Followed by this, in 2017, her glory doubled with a double- Bronze at the Asian Athletics Championships. 2018 Asian Games adorned Dutee with two silvers. Her silver in 100m was India's first silver medal in 32 years after P.T Usha's triumph in 1986 and her silver in 200m was India's first in 16 years after Saraswati Saha's Gold in 2002. Most importantly, it is Dutee's FIRST MEDAL in Asian Games after lifting the 2014 ban on her.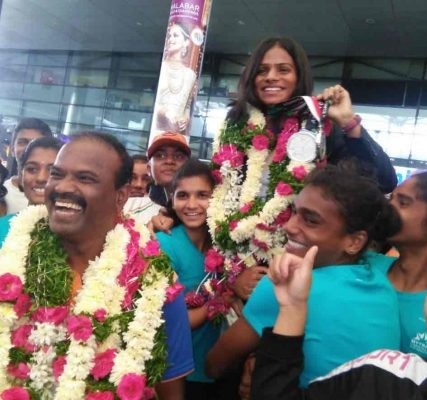 A Parade Before The Public Eyes Yet Another Time:
In May of 2019, when scorching heat waves were burning everyone down, a super sensational announcement from Dutee scorched Indian and International arena like a wildfire. "I have found my soulmate", by declaring so, she announced her 5-year relationship with another woman and acknowledged being in a same-sex relationship. The historic decision of the Supreme Court of India on decriminalizing gay sex in 2018 cleared her path in publicly announcing the love of her life. When she revealed the news of her dating a woman from her village in eastern Odisha to a deeply conservative country, she started receiving threats of being expelled from her own family. After she won the fight against International Olympic Committee on their transphobic and sexist practices, Dutee set to challenge the conservative notions of womanhood. After revealing her same-sex relationship, the powerhouse of her family, her elder sister threatened that she would be thrown out of the family. The family made allegations that Dutee's partner eyed upon her property and trapped her for money. Dutee was browbeat by her sister who said that she would send Dutee to jail. While waves of praises were showered upon her for being so gutsy from across the world, she faced severe repercussions from her own family and village. Though the iron lady received ample support from all her mentors and majority of the global population clapped for her courage, she had to encounter foul-mouthed statements from the conservative lot.
"It's an immoral and an unethical relationship. She has destroyed our village's reputation", Mr. Chand stated.
"Freedom to choose what my heart loves is my right and I shall exercise it", says Dutee.
The fastest lady couldn't train properly for around two weeks after this. However, strained her focus to set records in 2020 Olympics and started to train in Hyderabad.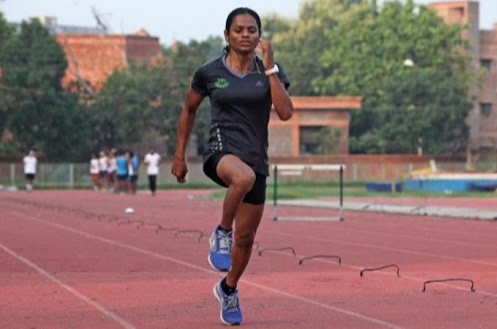 Favourite Automobile For Sale:
As a mark of her achievements in 2018 Asian Games, Dutee's love for luxury cars came alive when she owned a BMW for herself. However, very recently, she took to Facebook to sell her luxury car citing lack of resources as a reason to maintain it. Within a span of few hours, thousands of comments drowned her from top to toe.
"She thoughtlessly spent all the money allotted by the state government and sponsors for training", "She has very poor financial planning". Comments rose seeking the government's intervention to help her. Later that day, Dutee deleted the post saying that she has three cars and the maintenance of BMW is going beyond reach. Parth Jindal, Director of JSW Sports said that he has offered to support Dutee countless times in the past and that he is still ready to support her financially.
Odisha government also reacted to her post and comments that went viral across social media stating that the government has been financially supporting the athlete since 2015, also quoting the funding sum to be around Rs.4.09 crore. In view of all the negativity that spread like wildfire, Dutee came out yet again with her explanation.
"I never said that I am selling my BMW to fund my training. It was only due to high maintenance and has nothing to do with the lack of funds for training. I'm not complaining nor I'm exhibiting my financial status. I'm not in deprivation of resources but selling my car gives me a chance of not burdening KIIT and Odisha Government in these stretched out times. Can't I be self-reliant? Can't I do something for myself? My words have been completely mis-interpreted by the media."
She also reacted to the Odisha Government's post that revealed the figures of financial aid offered to Dutee. "Why am I being humiliated? While you( the Odisha Government) have spent crores on the Hockey World Cup in 2018, have you declared how much you spent on it? After the press release, people started thinking that I've a lot of money but I'm lying".
The Sprint-Queen's Sword Of Valor:
It all started from doubting the musculature of this bare-footed sprinter. She wore powerful armour to protect herself from doubt, humiliation, abuse and aspersions. She was subjected to vexing embarrassments, her vitality was destroyed many a time but she rose from the ashes every time she was burnt. She often spoke her mind till date. She never gave up. She is mightier than her troubles and more than a sprinter. She aspires to enter politics once she is done with the course of her career. She wishes to serve the people by being one among them. Of course, a dynamic voice of such kind that never shivers to remain transparent is the need of the hour!! Isn't it?
Lets wish this courageous athlete the very best for the upcoming Olympics whenever it happens.