Will millennials take advise from anyone ? Sandeep Das has been successful though.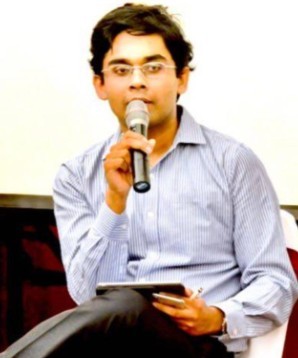 His words work like magic. His advises, when executed, yield remarkable benefits to individuals and organizations alike.
"The Ones Who Are Confused Are Not Lost", "Do Less To Earn More", "Overcoming A Career Downturn", "Career Trends For Management Professionals Over Upcoming Decade" – these are just a few of his masterpieces that provide deep insight on every contemporary aspect. This story highlights the journey of Sandeep Das, a best-selling author, Global Foresight Lead for Emerging Countries for Mars Wrigley, a columnist and an amazing Speaker. Straight from IIM Bangalore, this corporate leader has been receiving wide acclamation from clients across the nation.
Strong Foundations of Education And Sound Professional Experience:
Born on 14th January, 1985 in Calcutta to Manoj Kumar Das, Retd. CEO of Halosource, an American company and Dr. Ruma Das, a Retd. Educationist and trainer, Sandeep Das went to St. Joseph's European Boys' High School and completed his Grade XII at Bishop Cotton Boys' School. Ever since childhood, Sandeep has been an active kid performing to his excellence both in academics and co-curriculars. He loved debating, watching television shows, playing cricket and enjoyed Theatre Art. He was also a street-food lover. He has obtained his engineering degree in Computer Science from R.V. College of Engineering, Bangalore. Having completed his Business Strategy course from INSEAD, he secured his MBA in 2009 from Indian Institute of Management, Bangalore. Currently working as the Global Foresight Lead for Emerging Countries for Mars Wrigley, he is instrumental in identifying and deploying futuristic business models and consumer paradigms across emerging countries. Prior to this, Sandeep worked as the Director at PwC, Accenture Strategy, Marico & BCG gaining experience of more than a decade as a corporate leader.
The Pen That Preaches Positivity:
Sandeep Das is not only dealing with a demanding career as a management consultant, but is also playing his part to motivate and enlighten millennials on various aspects through his writings. He has authored three books and has been a columnist contributing his opinions on eminent media like the Fortune, Forbes, Times of India, Economic Times, Mint, Business World, Entrepreneur & Outlook. He has penned over 125 columns in all and has also been quoted by Fortune, Mint, Money Control, etc. His books help confused millennials find answers to their never-ending questions. His "'Hacks for Life and Career: A Millennial's Guide to Making it Big' focusses on providing career tips for millennials bringing with it, a tinge of sarcasm along with stimulating substance. This 340-page manuscript published in 2020, is surely a holy book in the hands of career-confused individuals.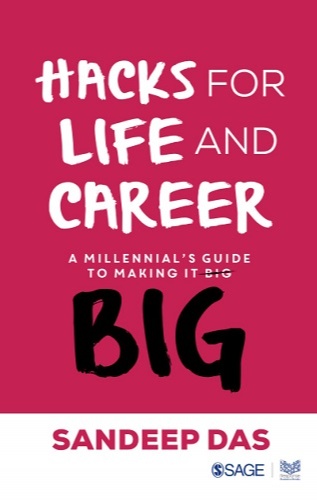 Talking about the main idea behind penning this, Sandeep said, "Most millennials believe what they learn as part of their education is not relevant and where they work doesn't fulfil them.
Over the last 2 - 3 years, I ended up speaking to over 250 millennials and leading HR heads on what they believe should be necessary skill sets that the millennials ought to have to succeed in life, both personally and professionally. 'Hacks for Life and Career: A Millennial's Guide to Making it Big' is an attempt in that direction to plug that gap and make millennials ready to take on life, both personally and professionally". This book is tagged as an Amazon best-seller and has reportedly reached #1 in Amazon Hot Trending List and #2 in Amazon Business Best Sellers list. His two other books are Yours Sarcastically and Satan's Angels. All the three masterpieces were featured in Fortune, Times of India, Economic Times, Mint, Deccan Chronicle, Business Line, Asian Age, Pioneer, Deccan Herald, CNN IBN, Hindu, Bangalore Mirror, Mid-Day, Financial Express, etc. The Entrepreneur Magazine named Sandeep Das as one of India's most influential writers. Sandeep Das, whose writings touch upon contemporary and unconventional topics spanning multiple subjects, are the must-reads – Don't miss to grab your copies.
An Influential Speaker:
When he talks about aspects like "Personal Finance" or when he says answer to "Why You Are Not Employable?", or when he gives an advice in "Don't Invest In Things You Don't Understand", the listener gets totally carried away with his creativity, eloquence, voice, sense of humour, passion and purpose. When I say that he has been a guest speaker at more than 50 leading institutes including NUS Singapore, IISc, IIM B, IIM C, IIT Bombay, St. Stephen's Delhi, IIT Madras, IIM K, IIT Delhi, FMS Delhi, BITS Pilani, SRCC Delhi, IIT Kanpur, LSR Delhi; it's not an exaggeration. He has also spoken at mighty corporates like the Indian Oil, Bajaj Electrical, Accenture, PwC, Deloitte, upGrad. He has also hosted literary festivals like the Bangalore Business Literature Festival, Pune International literary Festival, etc. Tune in to his videos and you are sure to take something back home that is productive for the rest of your lives – his talk is a cerebral treat!
It All Comes With Dedication:
While doing a full-time job as challenging as it is, Sandeep has never taken a step back from doing what he loved – spreading his learnings for the benefit of others through writing and speaking. He admits that managing the mainstream career and the alternate one is quite difficult but says that he has his own strategy to balance things. Talking about the same, he says, "One of the aspects that has worked very well for me is to wake up early (around 4:30 - 5 am) over the last 10 years. An early morning slot gives my mind a clean passage to focus on my alternate career while the drama of a regular career takes over after 9 am. In addition, I consciously spend 4 - 6 hours every weekend on my alternate career".
His Words Of Value:
Sandeep, whose profile has been featured in leading publications, suggests that everyone should take up an alternate career besides their mainstream career. "Leading research also indicates that most people are likely to straddle multiple careers over this decade. An alternate career can span across creative arts (e.g., dancing, writing, photography, culinary), a small business in parallel or a teaching role in an institute. While a primary career is necessary to pay the EMIs, an alternate career often nourishes the soul and fulfils individual", he says.
Being stuck with one's own life is common in the present-day world. Not everyone can think of spreading the fragrance of their wisdom for the amelioration of others. The individual who tries to take others along with him in his journey towards advancement, is who we need today. May Sandeep Das continue to inspire and empower more young minds.

Follow His Work

CheckOut His Book - Hacks for Life and Career: A Millennial's Guide to Making it Big