A Silver at the Gold Coast for this small town boy from Mangaluru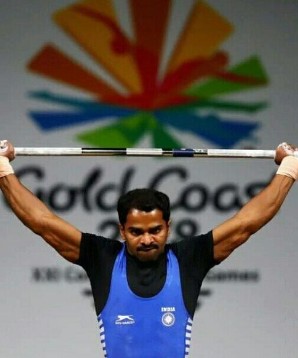 A Silver for Gururaj
At sharp 3.30 a.m, 25-year-old Gururaj's siblings, parents, and friends were intently watching the Live TV performance in absolute silence and suddenly there was cheer everywhere when he was declared the winner of the Silver Medal in Men's 56 kg category at the recently concluded Gold Coast Commonwealth Championships 2018. Celebrations began at the Poojary's home with sweets and dancing. Though aimed for a Gold, nevertheless the victory was sweeter than 2017 where he had to settle for Bronze. He said, "He needs to put in more hard work ".
Winning is not new for him as he had already tasted victories with Golds at 2016 Asian and Commonwealth and has been in the International circles for a few years now.
Who is Gururaj

Poojary?
A small town boy. There is something special about these kids from poverty-stricken backgrounds and their determination to achieve something and more often than not it's simply to help their struggling parents and improve their lifestyle. The Poojary family of 6 boys hails from a small village near Condapura, Udupi in Karnataka and live in a rented house. Despite Gururaj's international fame, his father Mr. Mahabala Poojary still continues to drive a pickup van and mother a humble homemaker.
Steady Rise
The PT Coach Mr. Rajendra Prasad at the SDM College had a gut feeling that a new champ had emerged and he was right. The first year of training itself he made a mark at the college and university levels and within a couple of years later at the nationals he was proud to walk to the podium. Today is bringing glory to the country in every International meet he takes part in.
Enough support?
If not for Dr Veerandra Heggade and other professors he asserts that he would never have reached this position and is extremely grateful for all the support he receives including necessary training etc., The champion son of Mahabala Poojary feels for his parents and his family and is determined to change their lifestyle and build a house and is hopeful of financial support from the state and the centre and other sources. He is a recipient of Ekalavya award by the Karnataka government.
Simple outlook.
His outlook to life is very very simple and all that he has in mind is how to provide his parents and the family with a permanent ROOF over their head. He swears by his coaches who also are his mentors and says that he has worked ever since his talent was identified and there is no substitute for hard work he claims. Life is nothing more than Practise, College, Home and Practice and of course a lot of travel which he enjoys thoroughly.
Return of the Champ.
His parents say that its a gift from God and they are happy about their son's achievements but miss him as he travels for long periods and they are all anxiously waiting for his return and start the real celebrations.
India is improving day by day but has to provide a lot of support for these athletes who tirelessly work towards bringing glory to the nation.