India's Manasi Joshi wins Gold at the Para-Badminton World Championships in 2019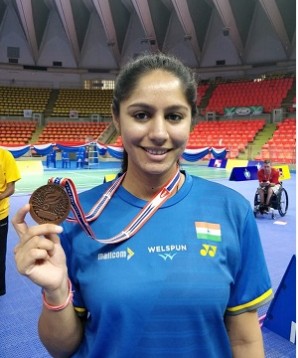 "Never complain you have no

shoes

until you see this international amputee shuttler".
Who is Manasi

Joshi?
A 29-year-old, Gujarati is an international shuttler. Badminton has always been her favourite game and has always played only for the sake of staying healthy and fit and probably would have later contemplated taking it up as a serious sport. An academically bright child ended up being a software engineer.
A sudden

setback

.
A bubbly active kid's daily routine and activities came to a complete sudden halt when she met with an accident in 2011 and had to amputate her one leg. Her parents and family stood by her through thick and thin, providing her much needed moral support and encouragement. Once her prosthetic leg was fixed by a rehabilitation clinic in Mumbai, she felt that she could pick up a racket for the fun of it. This was a turning point when she started playing regularly and training. It was only in 2015 she competed in some tournaments and found herself doing extraordinarily well. International arena she was aiming at.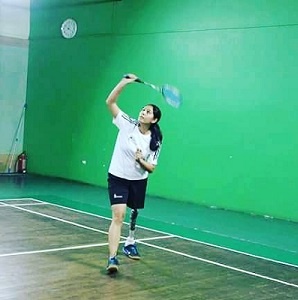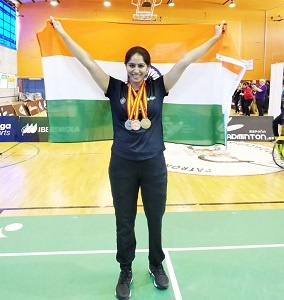 The Man behind her success.
P Gopichand has put India on the international Map and deserves the highest award for his Academy, where he tirelessly works to churn out champs each year and Manasi Joshi and her family are all praises for him. They were overwhelmed when Sir Gopichand welcomed her with open arms and took her under his wings. "Being accepted in the best academy is best thing that could have happened to me and what more can one ask" ..she gushes. The players at the academy including Sindhu have been so caring which makes her stay positive, motivated and encouraged. The Academy is run so professionally with state of the art equipment, qualified coaches, carefully worked healthy diets that there is no compromise. "I am elated by the Bronze win at the 2018 Para Championships in Thailand but there is always room for improvement". Improving and working hard she did to clinch the Gold at the recently concluded Para-Badminton World Championships in Switzerland. Gopi Sir as he is fondly known certainly deserves the credit too.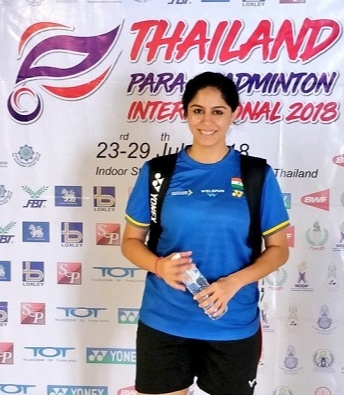 Biggest

Challenge?
Being accepted by society despite setbacks is a huge challenge. Moreover, its disappointing to see that the Para games doesn't get enough recognition. The society at large has changed a bit but much more needs to be done by the associations and media to bring it into the limelight. Many a times the international matches are not even shown on TV channels. Righly so: How many actually watch Para games in our country? Aren't they working hard? Aren't they role models for so many? Don't they bring glory to the country? Take a look at some who have been great examples like Arnold the bodybuilder, Arunima Sinha the mountaineer. Manasi is grateful to the goverment for awarding her with over Rs 20 lakhs this year.