Diagnosed with Lung Disorder hasn't stopped him from gunning for a National Half Marathon Record.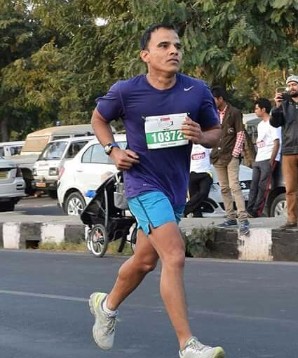 Suraj was shocked.
Suraj, 47, generally played his favorite game Football to keep himself healthy but never a fitness freak though. Way back in the 90s, on one of his regular medical check-ups, he was diagnosed with lung disorder and Doctors strictly warned him not to do any strenuous workouts. He was very shocked, surprised, disappointed, dejected and discouraged when he heard this.
Took it on himself.
He didn't get bogged down, but instead picked up the courage to help himself by getting down to yoga and running every day. He decided to fight back and this regular routine, in fact, made him stronger and healthier. He realized his body was gradually taking his instructions well and never got tired with the distances of 15 to 21 km.
Marathon it was.
If he could do the long distances; why not prepare for a marathon and in the last decade has been a regular marathoner at the major metros. He has won many events and now wanted to take this further and create a record of some sorts.
124 Half Marathons !!
When he learned that Zele from Pune was attempting a 121 Marathons he wanted to outdo and has decided to do 124 days instead. Against all odds, this bold and brave gentleman has started his run on 21st of May and with support and well-wishers; will definitely accomplish the humongous task on 24th of September 2017. He begins at 5 in the morning and has so far kept a thorough record of everyday runs along with timings. He finishes each day's run in less than 2 hours.
Hasn't visited a Doctor in a while
What was claimed to be a lung disorder; this Man seems to have healed himself without any drugs, and there isn't any sign of him feeling weak or uneasy and hasn't visited a Doctor in years. Many a time, it's the powerful mind that heals.
Who is Suraj otherwise?
He is a Software Engineer who runs his own outfit in Jaipur and propagates and encourages everyone to do some kind of exercises like walking, jogging, running or any sport to enjoy life to the fullest.
Contemplating the bigger one.
Hopefully, once he finishes his 124 records he is keen to prepare for a full marathon of 42 km in 50 days and why not?
Bookofachievers.com would love to see him create a record and he has been a hero for many.