Accident, loss of his mother shattered his dreams but look how he turned a successful entrepreneur.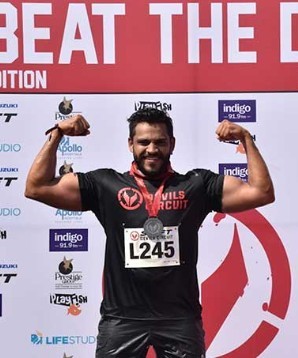 We all have dreams. We work hard to make them come true. What if, in spite of our honest efforts, dreams don't seem to bloom? What if the doors are closed and you can no way to reach there? That is all it? Life is over? "No", says Nihar Shah, the young entrepreneur whose dream of bodybuilding shattered but he didn't. He emerged as a successful entrepreneur post the tragedy he met with in life. His story gives hope and confidence that an alternative is always there. All we need to do is just wait, have patience, discover the new road and start walking.
All Thanks to Mom:
Goa-based twenty-something man Nihar Shah was raised under the good Influence of an artist mother and an entrepreneur father. His mother, being an artist, always encouraged Nihar to take part in various activities apart from academics. Through these activities, Nihar could develop various skills that would otherwise not have developed with books alone. This artistic genius that was kindled in him at a very young age made him so confident that he strongly believed that he is meant for doing something big. He eventually joined the Goa College of Art and finished his graduation. After graduation, he joined his father's huge pest control business in Goa.
The Change of Course:
Joining his father's business didn't seem right to Nihar. He felt that he should do something on his own. He wanted to stand on his feet and thus founded a graphic design studio. Alongside, he also stepped into bodybuilding and did it with immense dedication. He also wished to participate in the bodybuilding championship and did rigorous training. A bodybuilding competition at Belgaum was announced and Nihar prepared himself for that. Just 25 days from the competition and Nihar met with a car accident. His dreams of winning the competition shattered and he had to fate's decision at that time.
Loss That Aggravated the Pain:
While Nihar was coping with the tragedy, the COVID-19 pandemic hit and he lost his mother, the biggest support system of his life, to the pandemic in September 2020.
"Being a strong woman herself, she was the strength and my inspiration behind everything I was and still am. I decided to do something and not give up on myself," he said.
The Wake of a Serious And Successful Entrepreneur:
Things start changing when we start giving them a new perspective. This time, Nihar gave it a serious thought. He wanted to begin afresh, everything all over again. He got the idea of selling milk. He says that there is no firm reason behind choosing to do the dairy business. "Somehow, I got this idea of selling milk. It was not at all I ever thought I will be doing in life but it was one way out to begin again.", he said. But to start any business, the first and foremost requirement is an investment. Where shall he bring the money from to start his entrepreneurial journey? Having an independent mindset, he always wished to grow by himself. While he was toiling hard to pool up the finances, he came to know about the scheme introduced by the Goa government to encourage the young entrepreneurs. The Chief Minister Loan scheme caught his attention and he was obliged by its features. "Unlike the usual loans, in this loan scheme, the EMI starts after the nine months of the business running fine", he mentioned how happy he felt about learning about the scheme. He moved the coins quickly and the loan was sanctioned. He then started his business in a rented house and hired a few employees. He made sure that the work went on with proper coordination while he constantly monitored the quality. Nihar decided not to add any preservatives to the milk to keep it longer because the main idea behind SATVA is "purity". Thus, when the milk reached the customers, they complained of it getting spoilt quickly and raised doubts about its quality. Nihar explained to every customer that they don't add preservatives like other brands do, to increase the shelf life of milk. Customers got convinced and who wouldn't want pure products? Eventually, his brand started being accepted and he started receiving orders from resorts and other vendors for milk and other dairy products.
A Life Re-built:
That man whose dreams of becoming a bodybuilder were shattered because of an accident rose from the series of tragedies at physical, emotional, psychological levels and has now become a self-sustained individual as he always dreamt of being. That son who didn't continue in his father's business causing pain to him at one point has now self-grown into a successful entrepreneur bagging a profit of Rs.40,000 per month and it's increasing. His father also started walking alongside him, helping his business grow.
Bodybuilding - Why Not?
Nihar says that he didn't give up on his bodybuilding dream. He is consistently training and says firmly that he will participate in the bodybuilding championships in the days to come and live his dream. "This journey has given me the experience of a lifetime. And sweetness after all this hard work followed back. That feeling of being independent is everything which keeps me motivated all the time." he says.
We wish Nihar, who rose from the ashes of shattered dreams and is now providing employment to others grow leaps and bounds in his journey.