Little girl with chiseling six-pack abs is aiming for gold at the Olympics 2024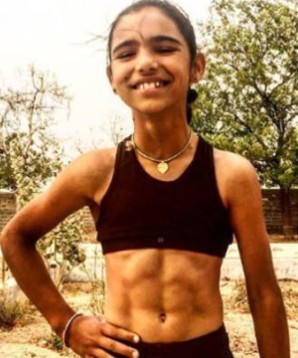 The three-year-old girl wanted to participate in a running race with the boys much older than her. It's ok that she lost the race but the thought of competing with the boys itself shows the zeal of the tiny little girl to do something bigger and achieve something greater. At the age of three, without any external pressure, if the girl had that competitive spirit, imagine what wonders she can do when she grows up. Well! I'm talking about the world's first little girl with 6-pack abs, Pooja Bishnoi from Jodhpur. Let's dive into her story to know more about her journey.
An Evening Breather Showed What Is In Her:
Pooja Bishnoi, a girl from Guda Bishnoiyan village near Jodhpur, was born in a farmer's family to Ashok Bishnoi and Mima Devi. At the age of three, one evening, Pooja was playing on the road when she happened to notice some boys running. She wanted to run with the boys and told the same to her maternal uncle, Sarwan Bishnoi. Without discouraging the girl, her uncle arranged a playful race with the boys. Though Pooja lost the race, her uncle recognised her ability to run faster and understood that with good training she shall be able to perform well. Sarwan who himself was an athlete associated with the Sports Authority of India, Jodhpur, trained Pooja for over a month and organised a race with the boys again.
The closest boy chasing her was 20 metres away, Sarwan said.
Sarwan himself became Pooja's coach and started training her with utmost dedication. Sarwan's sister Mima Devi supported Sarwan by sacrificing many a time and stood against everyone to fulfil her brother's wish to become an athlete. So, Sarwan considered it to be a way to repay her sister by training Pooja and make her an athlete. Thus Pooja's running journey started and by the age of 10, she had already made several achievements making everyone proud.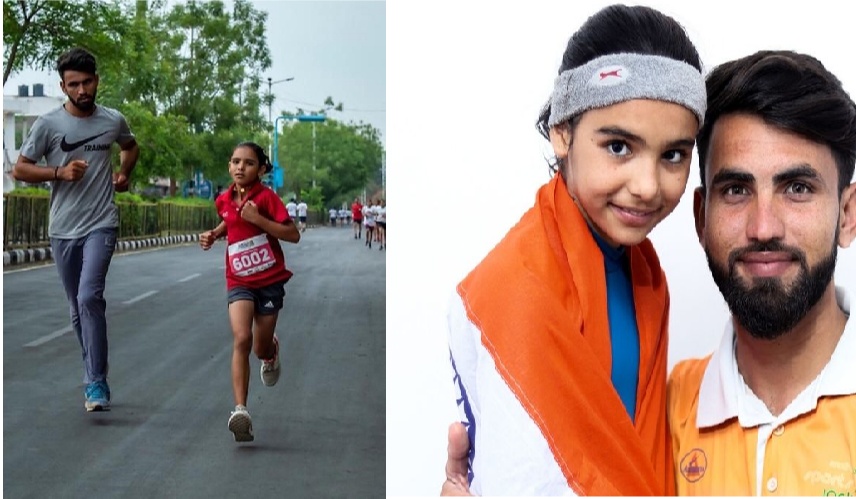 "The inspiration which I instil in these kids came from their mother who is my elder sister. She wanted me to become an international athlete and used to encourage me a lot to go on practices, but in lack of proper guidance and other social aspects, my dreams left unfulfilled. But she gave me a new hope through her children and I decided to make them what I once wanted to be.", says Sarwan.
The Not-so-good Living Conditions:
Pooja, a student of Shiv Shakti UPS School whose parents are traditional farmers lived in such conditions that bearing her training costs is like walking with an overhead mountain. Finances play a vital role in meeting the training expenses, to buy the required equipment and most importantly, to maintain a rich, balanced diet. Though Pooja's determination kept her going forward without caring for the effects of a strict training regimen, poor finances hindered her progress. Pooja's expenses and other things are being taken care of by Sarwan and his family. Sarwan works at a friend's shop as a business manager to fund her needs. Eventually, Sarwan approached the Virat Kohli foundation for help and met the manager there. Looking at her training videos and her initial achievements, the foundation agreed to extend its support in January 2019. After Sarwan approached the foundation, the team checked her profile and understood that she has an intent to achieve bigger. The talent manager at the foundation, Tushar said that Pooja's achievements are commendable and she has a promising future. "We definitely think she has the potential to win a gold at the Olympics and we are building an ecosystem to support her," he said. The Virat Kohli foundation takes up her daily expenses of travel, training, nutrition, etc.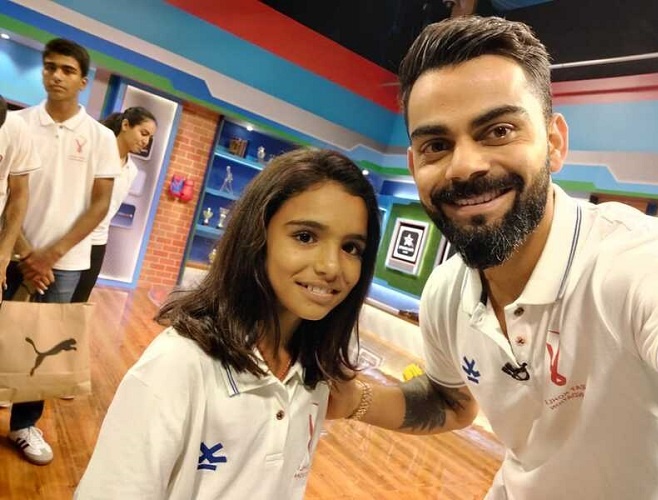 The Little Girl Enjoys Rigorous Training:
While other children of her age are much asleep, Pooja starts her day by walking at 3 am every day. After walking and exercising till 7-8 am, she attends her school or sits for her online classes. After a little rest in the afternoon, she attends the training program again in the evening. Her diet too is restricted to high protein and high fats. She cannot relish her favourite ice-cream nor eat tasty ghee parathas like the children of her age. Her diet involves fruits, dry fruits, proteins. And yeah! Don't even ask about social life or playing in the rain with her friends.
"I hardly get time with my friends because I mostly spend all my time with my best friend –the athletic track.", says Pooja. Her classmates also consider her to be the next Olympic champion.
Pooja, at 7, could build six-pack abs and became the youngest little girl in world history with abs.
"I feel very proud and content to achieve such a feat at the age of seven. I have really worked hard along with my coach to achieve the title. I give all the credit to my coach.", She proudly says.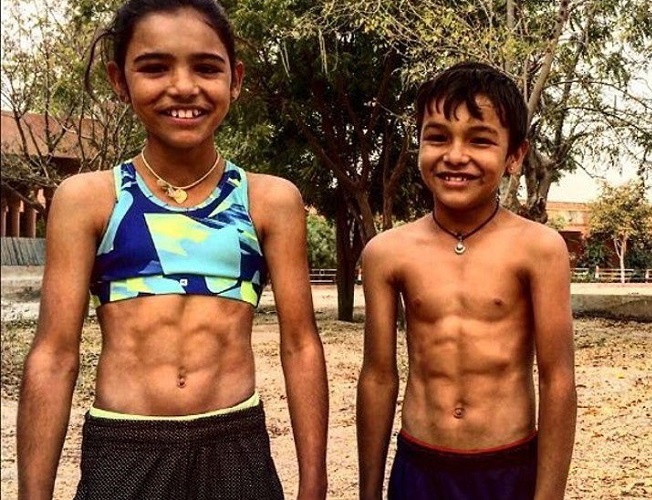 Her Running Journey:
At the age of six, in 2017, for a Jodhpur Marathon Pooja covered a distance of 10km in 48 minutes. In November 2019, Pooja achieved an Under-14 World Record at the Sportygo tournament in Delhi by running 3 km in 12.50 minutes. Pooja has also bagged gold medals in the 3,000 meters, 1,500 meters and 800 metres categories. Her eyes are all set on winning the gold at the Olympics.
"I am preparing to compete at the Youth Olympics, scheduled to be held in 2024 and I want to win a gold for the country," Pooja said.
When she was honoured by Bollywood Baadshah, Amitabh Bachhan, she posted a clip on her Instagram with a caption,
"(जोधपुर) विराट कोहली सर व अमिताभ बच्चन सार के साथ ).What a truly wonderful night.met a lot of talented people, Bollywood and sports celebrities at @indiansportshonours 2019. It's a matter of pride for me that I am getting support from the @vkfofficial. To get honoured from Great Bollywood actor of the century @amitabhbachchan sir and Team India Captain and Great Cricketer of the Planet @virat.kohli sir Really feel me like a dream become true for a girl coming from a small village and reached here with true hard work. I also want to thank my Instagram family who support me to this extent, Which always inspires me to work harder."
Dreams Running A Marathon To Visualise Reality:
Sarwan wants Pooja to become an inspiration to every aspiring athlete. He wants to hear the budding athletes say "I want to be like Pooja". To make this come true one day, the duo is toiling hard day and night.
"India was once regarded as "Sone ki Chidiya" and I hope that Pooja's achievements and efforts may bring back that title to the nation", says Sarwan.
Let's wish Pooja great success in the years to come and we wish that this little girl gets to play our National anthem on the world stage.

Follow Her For More Updates

Like And Subscribe Her Channel