Marathon in a saree at 68? Desperate for the prize money or All for Love.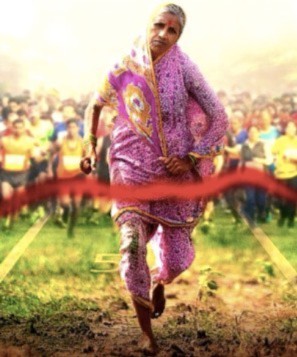 Lata's journey was filmed into a Marathi movie titled, "Lata Bhagwan Kare", which was released in 2020. It was directed by Karimnagar-based director Naveen Deshaboina in which Lata plays her own character. And now, National Film Awards honoured the movie under the special mention category. By the way, who is Lata Khare? Let's know about the woman who showed how far love can take you without expecting anything for yourself.
A Life Lived In Poverty:
Lata Bhagwan Khare, a 68-year-old woman, lives with her husband in the Buldhana district in Maharashtra. She has three daughters and all her life, she worked along with her husband. Whatever they saved, they spent on their daughters' weddings and were left with absolutely nothing. After their daughters got married and left home, the husband and wife duo started working as daily wagers in the nearby farms to get food onto the table. The income they earned was just sufficient for their survival.
A Turn Of Events:
While life was going on smoothly to the old couple, one bad day, Lata's husband collapsed and he was diagnosed with some serious infection. Lata felt lost as she had no money in hand and when he was taken to the government hospital, doctors recommended him to the terminal hospital in Baramati. A series of tests lined up and Lata sat there like an iceberg with her eyes watering. The helpless woman walked out of the hospital along with her husband thinking about how to pool up money for her husband's treatment. She somehow collected money from neighbours and relatives and left for Baramati. To her ill fate, the doctors suggested few more expensive tests and medications that Lata could seriously couldn't afford. She cannot even ask for help anymore, as she had already done that before.
Thanks To "Samosa" :
The wife and husband came out of the hospital, went to the nearby shop to fill their growling stomachs. They ordered two samosas that were served to them on a piece of paper. The headlines on the paper caught Lata's attention. They read, "Baramati Marathon and its prize money". Lata didn't even give a second thought and she knew she was going to be there the next day.
The Odd One Out Was The Winner:
When Lata entered the field to take part in the Baramati Marathon, her competitors were all highly prepared with shorts and tracks and comfy tees. But 67-year-old Lata was in her torn saree with no footwear. All she had was the image of the winning line and the cash prize. The organisers were not ready to let her take part in the competition as she didn't meet the protocol in any way - be it her age, her attire etc. She argued, begged, and did whatever she could desperately with teary eyes and finally convinced the organisers who let her participate. As the Marathon began, Lata, to the utter shock of everyone ran beyond her age. Her saree that was hitched above her ankles and her bare feet didn't bother her. All she could see was her husband's treatment resuming with the amount she would win. She went past the rocks and sharp pebbles while people cheered her up with their claps. She won the marathon and received the prize money. The salutes and louder applauds went above her head and all that she could see was her husband's life being saved. She collected the prize money and provided her husband with the required medication.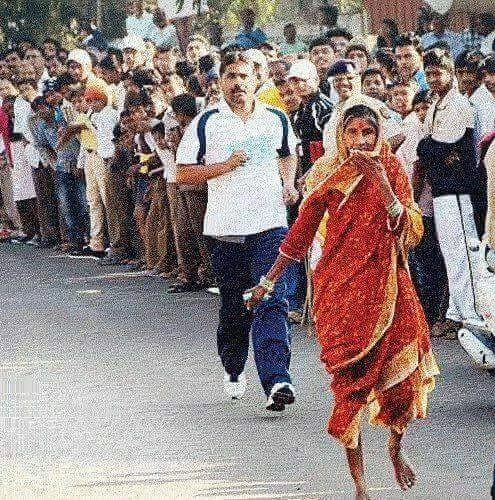 A Story To Share:
Her story of love, dedication, determination, strength and positivity is worth sharing and that's why Indian film director Naveen Deshaboina filmed her life in which Lata played her own role. The movie, Lata Bhagwan Kare, was awarded at the National Film Awards under the special mention category.
Even if your skin is wrinkled, even if your eyes are blurred, even if your feet are weakened, if love has to take you to miles, it will.