Man from Kerala popularly known as 'Dolphin' sets Guinness Record for swimming like a Dolphin.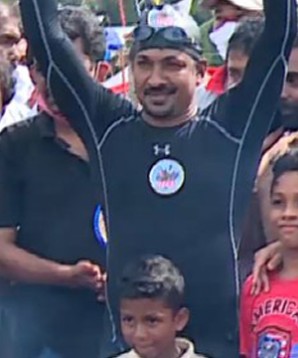 Swimming is the favourite option for many fitness freaks. Everyone irrespective of age and gender love to splash their hands and feet amidst the water waves. Freestyle swimming is a hobby to many while many others take it as a challenge and participate in national and international events. On the other hand, there are people who set to create and break world records in swimming. This story is about 'Dolphin' who set the Guinness World Record in swimming. Don't be shocked. Just read further and you will understand who the 'Dolphin' is.
Tied Up But Not To Stop:
A boy was born in a fisher family in Alappad and naturally, he was called by the waters. His name is Ratheesh Kumar who has recently set a Guinness World Record in swimming. He loved to swim and splash the waters all around which formed his favourite past time early in his childhood. Slowly this hobby turned into a passion. He wanted to swim in a way different from the routine freestyle swimming. That's when he thought of the sea mammal, the Dolphin and decided to adopt its style. Thus, with his hands and legs tied, he started to propel his body cutting through the waters. He practised this style of swimming for around two decades. Because of his mastery over this style of bound-swimming that resembles the swimming style of a dolphin, he started to be popularly known as Dolphin.
Meticulous Efforts Never Fail:
Ratheesh Kumar who practised swimming with his hands and legs tied for over two decades could finally master it. He decided to set a world record and for this, he chose a 10Km stretch across Thiruvananthapuram-Shoranur canal. In 5 hours and 10 minutes, Ratheesh Kumar could swim across this 10km-long canal which landed his name in the Guinness Book of World records. He broke the record of Gopal Kharvi, another Indian who dived for 3.7km.
The Splashing Journey:
This mind-blowing swimmer has been training in the Arabian Sea since 2002. His first adventurous show was organized in 2002 wherein he jumped from the 50-foot-high Neendakara bridge into the estuary. With his hands and legs tied, he swam for around 500 metres. In 2003, he swam in the Ashtamudi lake for 1km, this time with his body wrapped in a sack. Ratheesh, who works as a lifeguard on Kollam beach, has many records to his credit including the Limca Book of Records and Arabian Book of World Records.
A Swimmer with A Vision:
Kerala, being a state that's frequently prone to floods, sees many lives dipping into the waters quite often. Ratheesh Kumar wants to make Kerala a state with no drownings one day. He is a swimming instructor with such noble vision in mind who thus conducts various events across the state to spread awareness on the importance and advantages of swimming.
My idea is to make Kerala a State with zero drownings, says Ratheesh.
In The Days To Come:
Ratheesh aspires to cross one of the challenging routes ever, the English Channel - considered to be the toughest task even by the experienced and adventurous swimmers. Many freestyle swimmers have already achieved this but if Ratheesh attempts this, he will become the first swimmer to have performed this task with his hands and legs bound. It requires a lot of exercise and months of training to become seasoned to the cold waters. Also, it requires a good amount of funding as he shall not be able to invest in everything by himself. So, Ratheesh is looking for some financial aid to achieve this. This attempt, he says, shall be taken forward to spread awareness on marine pollution.
We wish Ratheesh Kumar achieves more records and may his swimming endeavours continue to serve good purposes. Happy swimming Mr. Dolphin!