6 Yo girl batting superstar is winning the hearts of netizens. Waiting to grow fast and wear the Blue Jersey.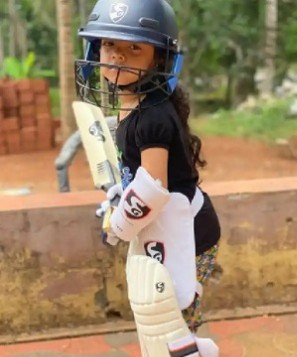 Mehak Fathima is just six years old but she has already become a celebrity with legends of Indian cricket and the business tycoons tweeting about her. She became the talk of the town and netizens are showering their "Awws" at the little girl's distinctive talent. When her video showcasing her skills in batting went viral, she became the little superstar. Her brilliant batting skills where she doesn't let go of a single ball unattended is mesmerizing everyone. Her Instagram handle has the videos of her playing cricket along with presenting her routine drills. The 6-year-old looks super cute wearing the cricket gloves, pads, and helmet. Let's look into who she is and what made the prominent people like Mithali Raj, Jemima Rodrigues, and Anand Mahindra talk about her.
A Student Who Demanded Lessons:
Mehak Fathima is six years old who hails from Kozhikode, Kerala. She goes to Thodannur MLP school and studies in Class 1. Her father is Munir and her mother's name is Khadija. Mehak's father was a cricket player who played for the University of Calicut when he was 13 years old. However, owing to take up the family business, he left cricket behind. One day, he started to train his three-year-old son in cricket which was noticed by Mehak. She went straight to her father and asked why he did not teach her the game. "You are not teaching me because I am a girl?", little Mehak asked Muneer. This question shocked Muneer and he understood that the girl is interested in the game. He then started training her since November 2020. Mehak's mother Khadija says that love for cricket is very well seen in the family. She also said that Mehak is so deeply interested in the game that she plays inside the house with her father all day. Mehak's parents also enrolled her in formal cricket training. "Cricket runs in the family too. Fatima's father Munir also claimed that at the age of 13 he used to play for Calicut University. And his brother also started playing with bat and ball at the young age of 18 months", says Khadija.
The Distinctive Flair For Batting:
Mehak Fathima, who started her training in November 2020, picked up in no time. She trains not only in the game skills but also works on her physical fitness. Her father keeps her tender age in mind while training her. Her exceptional abilities are very well displayed in her batting. She pulls up multiple shots, straight drives, and pull shots with ease and presents her unique style. When her videos are posted on social media, her batting skills have amazed the netizens. People started calling her "Small Wonder Girl". Her batting has also caught the attention of the Indian cricketer Mithali Raj. Appreciating the wonder kid, Mithali Raj said that the girl shall have her best wishes and asked her parents to personally reach out to her in case they needed any assistance. "She has both my support and blessings. All little girls keen to pursue the sport always have my blessings. Her parents can DM me regarding any assistance they need", tweeted Mithali Raj. On the other hand, Indian business tycoon Anand Mahindra also took to twitter to congratulate the girl. He tagged the Union Sports and Youth Affairs Minister, Kiren Rijiju while he shared the video of the budding cricketer. He said that this young talent shouldn't be missed as she is going to be the future superstar. He shared the video of Mehak's batting and wrote, "I keep getting forwards about kids around the globe being prodigies in soccer or basketball. Ok world, here's our future superstar. @KirenRijiju let's keep an eye on this young lady & not let her talent be wasted…"
Young Talent With High Aspirations:
Fathima, who is an admirer of Smriti Mandhana watches her play quite often. She closely observes her cricket icon's videos and Khadija says that Mehak wants to play like Mandhana. " Her playing cricket and playing shots tells us that she wants to be like her", said Khadija.
Kids often surprise elders with their abilities. When kids are not subjected to parental and societal pressure, they have all the freedom to choose and do what they love. That's how their unique abilities are displayed. If elders encourage them in their chosen field of interest, they outshine and outperform everyone. As Azim Premji rightly said, "India will be radiant when our children are free to dance in the rain". Let's welcome radiant India. Let's encourage young talents.

Follow Her Game