Kashmir's first woman fitness trainer is breaking all gender stereotypes. society must evolve.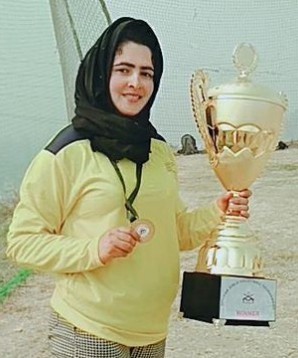 She is just 23 years old and all those she trains are men above her age. This is not just one thing that sets her apart from the rest of the young girls in India's Kashmiri valley. Her fitness goals, her expertise in martial arts and her sportsmanship are just to name a few alongside her long list of achievements. Arifa Bilal's story is something that you shouldn't miss to read today as it gives you enough motivation to remain fit and healthy.
Active since Childhood:
Arifa who belongs to the village of Duderhama of North Kashmir's Ganderbal district has been very much inclined towards physical activities and sports since childhood. She participated in all kinds of sports including cricket, badminton, volleyball, basketball and kho- kho. She grew up, so did her love for sports. She pushed herself beyond the conservative limits imposed by society and brought glory by winning countless medals at various state and national level events.
The Hitting Of Gym:
With a strong will to keep her fitness levels high, Arifa hit the gym and trained there for hours. Looking at her passion and dedication for working out, the gym management offered her to become a trainer at the gym's training facility. She accepted the offer becoming a trained where she herself trained. Arifa thus became the first girl gym trainer of the Ganderbal district of North Kashmir.
Arifa's Track record:
It was in the year 2012 that Arifa decided to set her mark in martial arts. To make her dream come true she started training intensely in Sqay martial arts. Eventually, this hard work paid off as she won Black Belt in Sqay martial arts. Her coach Saleem Pathan was of great support to her who helped her in building her confidence. She participated in various championships and won many awards. With the confidence her winnings gave, she developed the desire to do more and joined the gym to improve her fitness levels. She started training harder by increasing the numbers of her lifts. She then participated in a powerlifting event where she lifted 190kg- scouts in 65kg category, bench press 40 kg and dead-lift 90kg. She bagged gold in the event and was selected to participate at a national level event. At the recently held at 3rd National Powerlifting Championship held at Karnal, Haryana, Arifa bagged gold medal by lifting 100 kg weight. With this, she became the first woman from Jammu and Kashmir to win gold in the weightlifting event.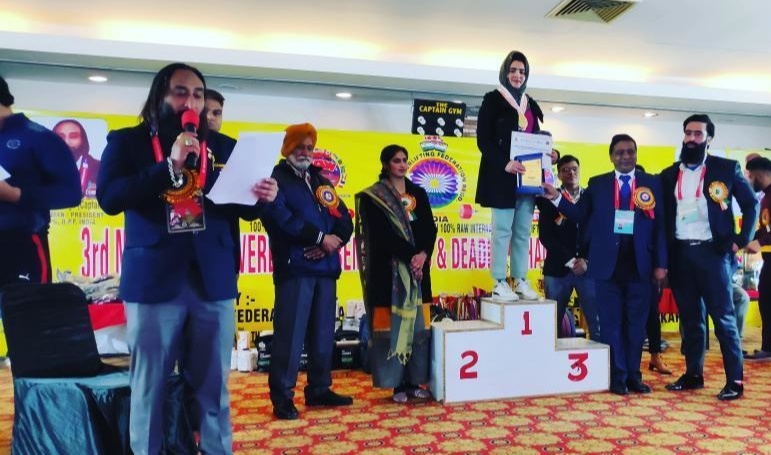 Congratulatory Wishes Poured In:
Once the news of Arifa's winning came out, people from the village visited her family pouring in their congratulatory wishes. Arifa's mother Habla Bano reveals that when she was pregnant she wanted a boy as she already had three girls. As she had a son who died in an accident and as Arifa, a girl child was born again, her in-laws were also not happy. Habla was abused for giving birth to a girl child. However, Habla loved Arifa and gave her all the freedom to pursue her dreams. "Today they are congratulating me for having a girl like her. That is what Arifa did, she broke all the societal stereotypes which define the boundaries of a girl," Habla added.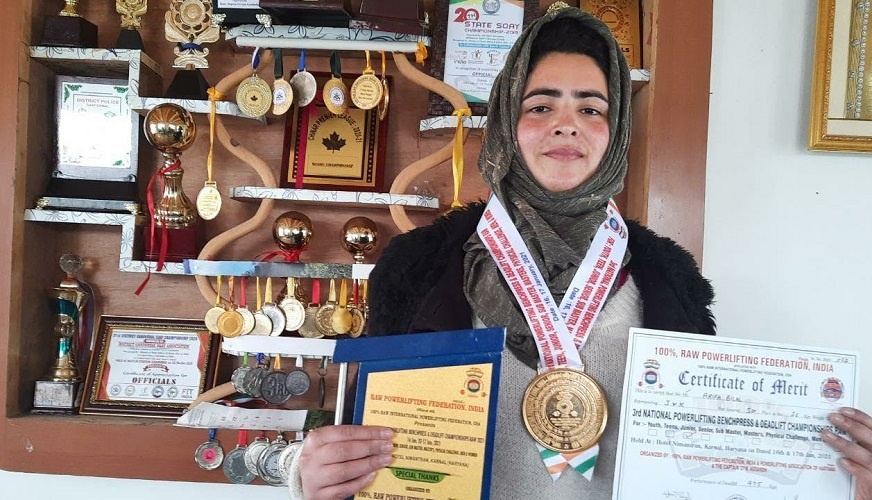 Arifa's Wish:
Arifa who had an active lifestyle since childhood knows very well the importance of fitness in improving the quality of life. She found the gym as a place to cope with all sorts of pulls and pressures of life. Arifa says that she wants people to experience the fruits of a healthy lifestyle. With the increase in the number of girls suffering from Polycystic Ovarian Disease (PCOD)(also known as Polycystic Ovary Syndrome (PCOS)) that has been impacting them both physically and emotionally, Arifa says that holding on to a fitness regime and right diet will help them overcome such medical conditions without medication. Arifa wants to help such women to lead a healthy lifestyle. "I want people especially women to experience a healthy lifestyle by improving their habits," Arifa said.
In The Days To Come:
Arifa who is pursuing her B. A from Degree College, Ganderbal wants to pursue higher studies while continuing to participate in the evens. She wishes to represent her country at the international level in future.
Arifa, the first woman fitness trainer of the district who has been training men and women of all ages in the fitness centre for more than a year by challenging gender stereotypes in a predominantly conservative society has a long way to go.

Follow Her Work