How important is it for Para sport to have a separate Body? First woman intl champ suggests.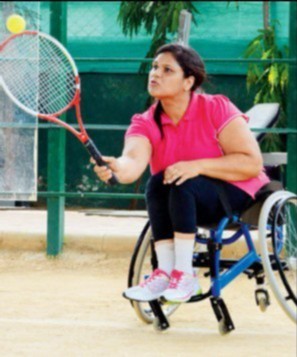 "Fear is something that holds you back from doing anything in life. So first and foremost you need to conquer that to lead yourself in an effective manner and I believe this is applicable to every human being." - These are the words spoken by the lady of mettle, grit and willpower, the first woman para-athlete to represent the country internationally for wheelchair tennis and the first woman from the country to achieve an ITF wheelchair tennis world ranking. She is Gujarat's Madhu Bagri and read her story that tells you how to convert the sour lemons life throws into tasty lemonade.
Bitter Reality Assimilated With Grit:
Madhu Bagri hails from Ahmedabad, Gujarat. She got infected with polio at the tender age of 18 months. As she was the first child to suffer from a disability in the family, they couldn't come to terms with and digest the societal attitude towards her. Ever since childhood, Madhu excelled in studies and she was equally interested in sports. But unlike her friends who played and jumped in front of her, Madhu felt helpless having confined to a wheelchair. But she decided not to give up. She didn't lose hope. She continued to give her best until in 2011 fate kicked her badly again. She underwent spinal surgery and she was confined to bed for three years because of which she had to quit school. "That phase of my life was akin to waging a world war. Wherein I was at one end and everyone else at the other and the fight was bitter and brutal. Everyone including my family asked me to quit my studies and just accept life as it was. But I never gave up and I fought against all odds to complete my studies and I did so with flying colours," Madhu told in an interview. With an utmost fighting spirit, she completed her studies and graduated in commerce through distance education. Madhu's interest in sports didn't fade away at any point in time. She used to spend hours in her backyard with a badminton racket, trying to shoot the shuttlecocks racing in her wheelchair. She also worked with several companies post her graduation but everywhere she went, she faced trouble with the attitudes of people towards the disabled.
Embracing Sports:
For some reasons, be it to pursue her passion for sports or to maintain her personal fitness, Madhu took her call to get the sport back into her life in 2012. She started attending one of the badminton academies and over a period of time, badminton was replaced by tennis. Though playing tennis was always her dream, due to zero awareness of Para sports, she never expressed her wish. But at the academy, she came to know about para-sports. When one day, a coach at the academy asked if she would like to give tennis a try, she immediately accepted, post which, she went on to play internationally just with few months of training. She worked with determination under her coach Pramesh Modi and also bought a tennis wheelchair through funding owing to her then weak finances. In 2014, she was also selected in Asian Games but it didn't happen as they had to struggle for the right equipment, tournaments, etc as nobody was ready to support them. From 2012 to 2016, Madhu played tennis during which time, she played for several national and international tournaments and also became the national champion twice.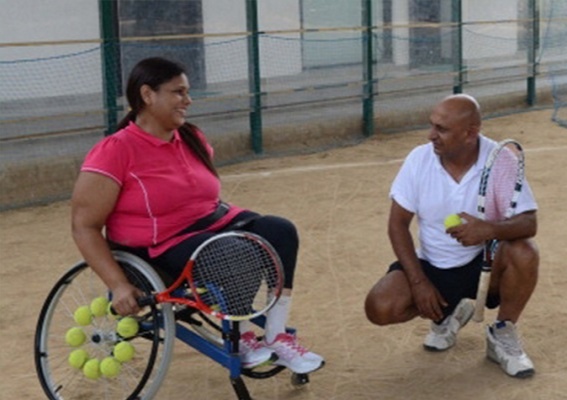 Life's Different Plan:
Until 2016, Madhu played tennis participating in over ten international championships. This two-time national tennis champion, unexpectedly quit tennis in 2016 when she suffered a major shoulder injury for which she underwent surgery. "The recovery period was quite long, and to be able to recover in the same strength was very challenging for me.", she recollects.
Life closed doors to what she loved yet again. But Madhu didn't stop. She took a different route and tried para-cycling. She underwent training in Hyderabad for eight months, post which she was selected for the Asian Para-cycling championship 2018 in Myanmar. She won the Bronze in the championship.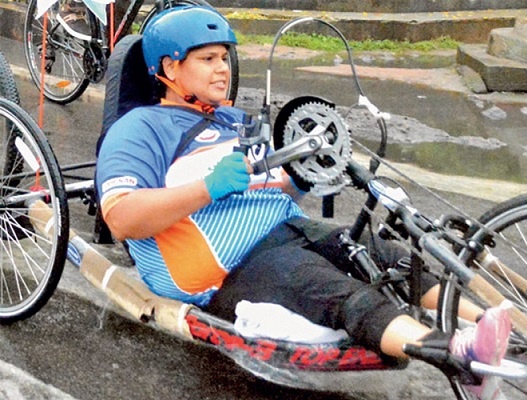 Tough Schedules Of Training - A Lone Fighter:
Madhu says that she would train for six hours in tennis and every day for one hour, she would go swimming. After she took up para-cycling, she used to practice cycling for almost 50km a day, starting at 2'o clock in the morning.
Achievements That Came Her Way:
Madhu Bagri gained prominence as the first woman to represent India in an international tournament for wheelchair tennis and the first woman from the country to achieve an ITF wheelchair tennis world ranking. She also holds a Limca Book of Records for being the first Indian woman wheelchair tennis player to represent India overseas. At the Asian Para-cycling championship 2018, she became the first para hand cyclist from India to win a bronze. She was also conferred with the award, 'Special Sports Icon' in 2014 by the IFFCI flow (an apex body of Chambers of commerce and Industry in Gujarat). Also, an NGO presented her with the 'Quality Mark Trust Women Award' in 2015. A national Hindi Newspaper, Divya Bhaskar, published her profile in their Top 100 Residents of Gujarat making a meaningful contribution to their state.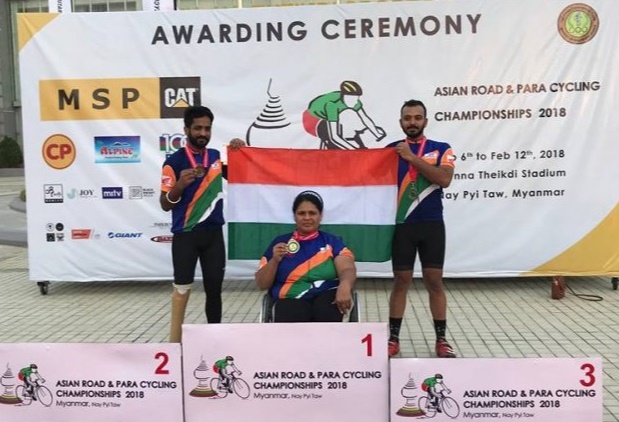 Madhu, who saw numerous instances where she hasn't received equal opportunities like the able-bodied sportspeople, says - "I believe we need a dedicated body to work solely towards para-sports without being biased about the sport or the athletes. I would suggest that a body should be made of able-bodied people and a few advisory members who are para-athletes/athletes, especially having an open mindset. A change can only be brought in if such steps are taken which would, in turn, encourage more people to take up sports."
Hats off to the unrelenting fight of this warrior who used just the strength of mind as her weapon to fight all the odds that came her way.