World Fencing Champ hopes to be selected for the next Olympics if and when it happens.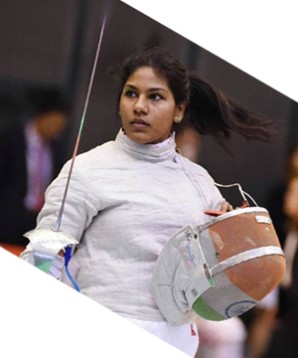 Fencing is a combat sport; the first thing which comes to our mind when we think about combat is "Men". Because most of us think so narrow-minded and leave out the women. Women can do extraordinary things, which could be unimaginable and unheard of by most of us. Here's a Chronicle of such Great stroke of a genius woman.
Who is SHE?
Chadalavada Anandha Sundhararaman Bhavani Devi, who is widely known as C.A.Bhavani Devi who was born on 27th August 1993. Her accomplishments in the Sport of Fencing started at a very young age. The irony about Bhavani Devi is she chose Fencing in her school level when she was in 6th grade, only because other options were taken by the time she joined the school. The one Important thing she said was, she chose it because it sounded new to her and was eager to try it. And at that point of time no one actually even knew that a sport called Fencing existed.
Mother's Unconditional Support.
In everyone's life, we'll have a support system for what we do as our passion/career. In this case, Bhavani's mother was her pillar of strength. She was only a house maker even though her mother had all the confidence to support her daughter's wishes. As Bhavani was born in a middle-class family, it was tough for them to fund her sports career. As she flourished in the sport she was given opportunities abroad, hence she had to travel. Even though it was an impossible thing for them to fund her travels, her mother managed to take loans and borrow money from friends and family for her daughter's dream. And made Bhavani travel across the oceans to participate in the tournaments and make her country proud.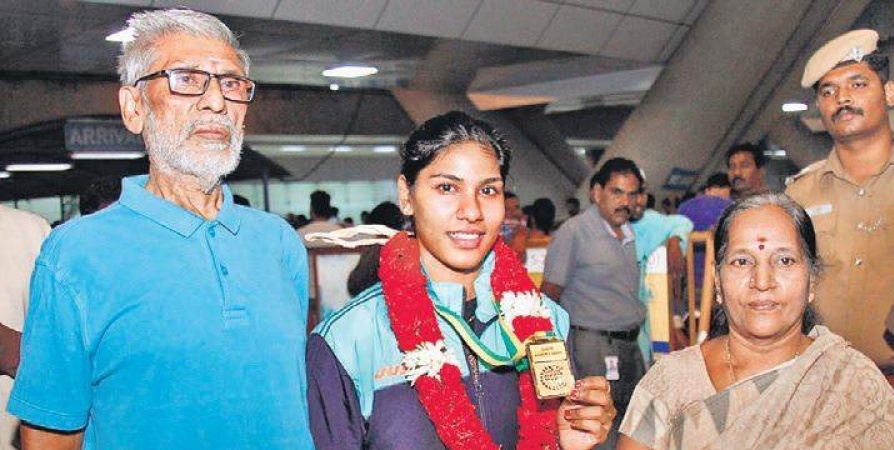 GIRL Power!
Being a girl it was not easy for her too. Her family members kept pestering her mom not to let Bhavani travel alone for competitions. But nothing stopped this Thriving person. She kept pushing through all her obstacles and walked upon them with Pride.
Bhavani used her first electric equipment when she participated in a national event. Until then she used a wooden stick instead of a Sabre weapon. Look at the determination and Hope within her, while the international players had the luxury to practice with electric swords. But Bhavani had put in extra effort and hard work practising in the hot sun and she actually borrowed swords from other players while going for tournaments, as she couldn't afford them. This shows we have to just keep going on and on until we reach our goal, whatever may be the obstacle.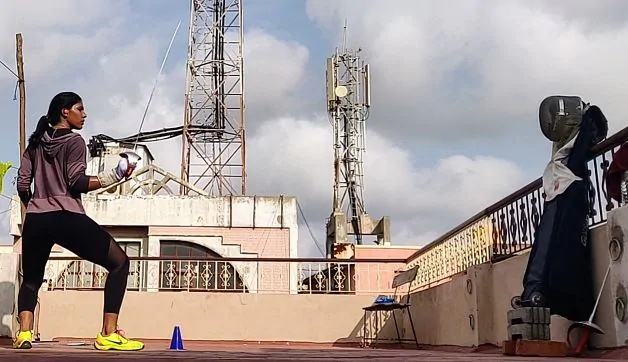 Failure turned to success.
We should learn from her that failure can attack us from any side. In her career, her very first international tournament in Turkey turned into a failure for her, because she was late by 3 minutes of time. They gave her a Black card for that respective game. She faced this at the age of 14, she could have easily given up. But she didn't. Her determination led her to the path of VICTORY.
Stack full of Medals
She is India's First Woman who bagged so many Championships and Gold medals in the field of Fencing. Starting from the Bronze medal at 2009 Common Wealth Championship held in Malaysia, she won Bronze medals in 2010 International Open in Thailand, 2010 Cadet Asian championship in the Philippines, 2012 Common Wealth Championship in Jersey, 2015 Flemish open.
In 2014, it was a stepping up from Bronze to Silver. She bagged the Silver medal in the Asian Championship under 23 category in the Philippines, she was the First Indian to win this Laurel. After this, she had a huge recognition from her very own State's Chief Minister of Tamilnadu Jayalalitha honoured her with INR 3 lakh as financial aid for her training in the U.S.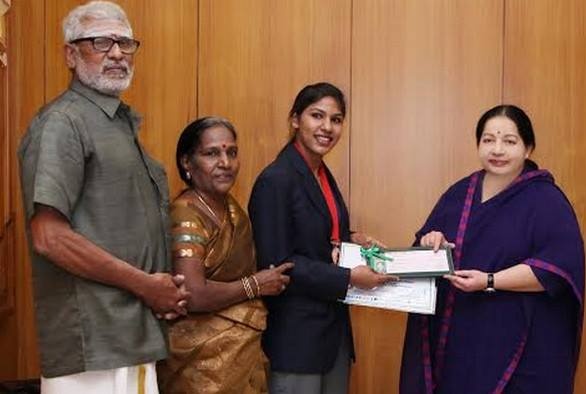 These achievements didn't reach her very easily. She worked hard for it and earned by stepping over each and every obstacle with pride and even though her start didn't turn out well, she never gave up her hope, she fought for her win.
Go Sports opened the Green Door.
At one point of time, while she was thinking to quit Fencing in 2015, she was selected for the Rahul Dravid Athlete Mentorship Program by the Go Sports Foundation. It's like the Universe responded to her desires and gave her a hand to get back.
More Golds to her Kitty.
Not only one Gold for the Country, but she was also the First Indian to win a Gold Medal at the Senior Common Wealth Fencing Championship in Australia in 2018. She bagged another Gold Medal for her country and stood with Humbleness as well as Pride.
Bhavani won over England's Emily Ruaux in the difference of 3 points, 15-12, after a semifinal win over Scotland's Catriona Thomson. Just like any other Mentor, Sagar Lagu her coach in SAI Kannur was overjoyed and proud to see his student bag The Gold in the Senior Common Wealth Fencing Championship. He proudly said, "The best trait of Bhavani is her never-say-die attitude. Although she didn't taste success as much as she wanted to in recent years, she never lost hope and was never demotivated,".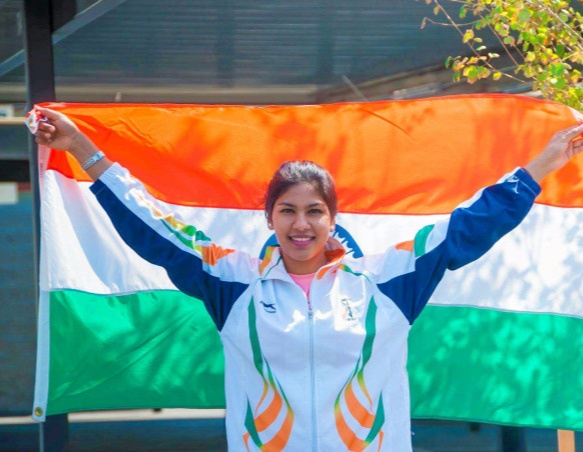 From GO Sport to Italy
Lagu her coach who followed every movement of Bhavani in this game said she dominated the other players in every round, even though the opponents gave a good fight, Bhavani had the upper hand through her agility and calculative mind.
Lagu even mentioned that Bhavani's decision to move to Italy has been a tremendous upscale to her graph. Now that she had moved to Italy she participated in a lot more tournaments because she didn't have the travel barrier there.
Now currently Bhavani was in line to qualify for Tokyo Olympics 2020 through Adjusted Official Ranking, but before the final tournament, it got cancelled due to Pandemic. And as well as she had to return to Chennai from Italy due to the pandemic.
She is doing her footwork and Target practice using her kitbag. This scenario is exactly like no one or nothing can stop the force of water, she too is like the same force of energy. She is in constant touch with her Italian Coach Nicola Zanotti, through online coaching for her attempt to join the Olympics.
Other than all the above, she has also won several Medals in Youth categories and is a winner of more than Eight Individual National Titles till date.
Bhavani has specially mentioned "Getting Trained Abroad Helped Me To Improve My Fencing Skills Apart from making me a better person. Training With Best Athletes Has Been A Learning Experience For Me. I Got To Know How They Take Success And Failures And Prepare For Competitions."
Proudest WIN.
She then competed in the 2017 World Cup event in Reykjavik in Iceland and won the title of Individual Sabre. She became the first Indian to win Gold at a World Cup event in Fencing. This is the Biggest Laurel she is personally very fond of in all her Achievements.
Motivation and Will Power?
As of September 2020, she ranks 45th in the world with the points of 37.0 in the field of Fencing. Bhavani took her inspiration from all the Women in all the field of Sports, such as Sania Mirza, Serena Williams,etc. When in the field of Sabre her Idol is Mariel Zagunis.
The very inspiring saying by Bhavani "Success won't come in a day. You have to be patient and continue to work hard. More importantly, you must crave and love your Sport.''This quote is itself enough to know about her level of Confidence and Will Power of this gutsy, gritty Fencer.

Follow Her For More Updates