Street children from India met the English cricketers after their world cup win.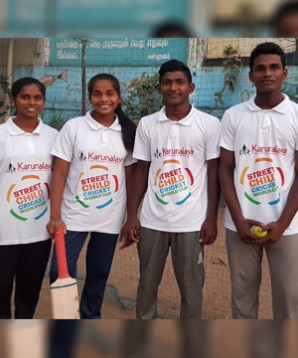 They are abused for what they are. When someone thinks of them, all they will remember is sooty cheeks, soiled feet, wrinkled skirts, and aimless wandering - Children on streets. No one cares if they have eaten; no one checks if they get an education, no one allows them into the playgrounds, and no one to think of their safety. Precious little ones live purposeless lives on the streets but how many of us, who don't even care to look at them, realize that they are gems underneath those grimy skins? Thanks to charitable organizations for considering this section of the population. Street children are being pulled out of their terrible living conditions, conditioned and are being offered the proper resources. Look at what they are accomplishing now! Here we bring before you great news about Paul Raj and Monisha, two street children who recently conversed with international cricket players after their historic win in the world cup. Yes! Indian street children got to speak with international cricketers. Interesting, isn't it?
A Reality That Was Never Dreamt Of:
Joseph Edward Root MBE, an English international cricketer and the current captain of England in Test cricket came to India for the Test series and was in his hotel quarantine in Chennai. While Sam Curran, the English left-handed batsman who plays for Surrey and England was in his home in the UK. These two international cricket icons spoke to the children from Indian streets. Root and Curran felt overwhelmingly excited to share words with Paul Raj and Monisha. What's the link that brought these four to interact? Well, Paul Raj and Monisha are the players in the Indian Street Child cricket team. In the year 2019, they won the Street Child Cricket World Cup against team England at the iconic Lord's stadium. Root and Curran heard of the children's experiences after winning the world cup and shared how much they loved their stay in India. The children felt that it's something unbelievable for them and they haven't even expected meeting the international players. When Paul narrated how he came up to play on the international ground and said that he just played on streets initially, he got a surprising reply from Root who said that he too began in the streets. Though there's a difference in the economic situations, the amount of effort put in to carve a position in the game is the same.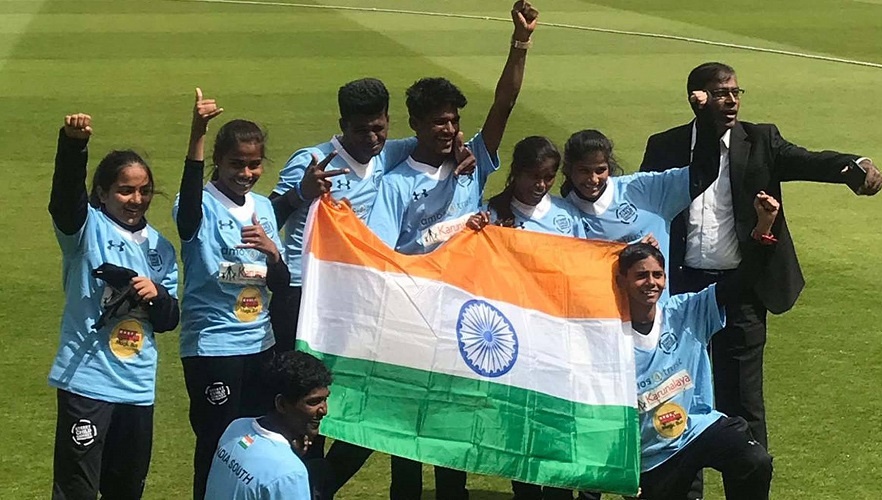 It was a very interesting interaction. My whole perspective of international cricket players and how they come up changed when Joe Root narrated his story. Assuming that all players abroad directly start their career from net practice, I was telling them about my story from beginning in the street. That was when Joe Root said his play too began in the street, said Paulraj.
The girl and the boy spoke about India's players and their strong points and sweetly warned the mighty heads of cricket to be prepared for their upcoming Test series.
We were talking to them about how they must be careful about Bumrah and Natarajan among others. They said both the teams are in good form and that they are excited, said Paulraj.
Monisha spoke about how important funding is, in order to encourage talent. "We had to borrow money even for flight tickets in 2019. That must not repeat in the upcoming world cup. The country has seen a victory and if that has to follow, funding would be of major help," she said. She also expressed hope that by the next World Cup scheduled to be in 2023 in India, funding must be improved in order to improve the gameplay. Sam and Joe promised signed shirts and batting gloves to help raise awareness for the cause of street children.
Paul Raj said that he didn't ever think that he would even speak to the State-level cricketers. "I was overjoyed at being able to interact with them. They spoke to us like we were friends and I loved chatting about the sport," says Paulraj.
Behind The Scenes:
India's Street Child Cricket World Cup team was a power-packed gender-equal team. Street Child Cricket World Cup, the inaugural edition of the Street Child World Cup organized under the charitable foundation Street Child United is where 10 national teams, consisting of girls and boys represented their respective countries. The Street Child United has been working for more than a decade to use the power of sport to change the negative perceptions and ill-treatment of street children across the globe.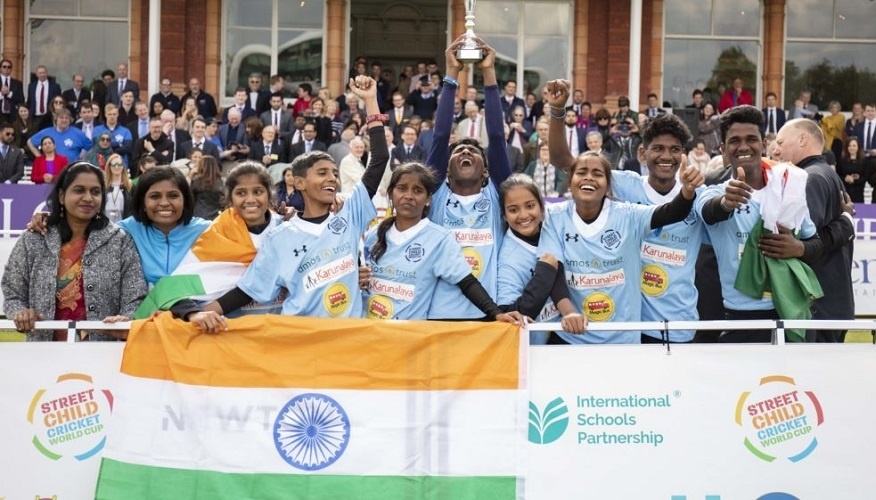 Having organized Football tournaments and Street Child Games, this foundation brought into the scene, the street child cricket world cup. The format involves six-member teams fighting on each other in a twenty-ball match. The tournament was held between April 30 and May 8, 2019. In an 8-member team, an equal number of boys and girls aged between 14 and 17 were taken. Teams from Bangladesh, England, Congo, Mauritius, Nepal, West Indies and Tanzania participated in the tournament and India was represented by two teams- India North and India South. While team India North was represented by children of Hope Foundation and Save the Children India, team South was represented by the children of Karunalaya Social Service Society and Magic Bus. After winning several matches with different nations, India South team led by Captain Paul Raj finally got to face off with team England at the Lord's stadium. Indian team won against the English players by 5 runs.
After the win, Monisha, a member of the team, was asked about her life as a street kid. She said that her life on the street was without protection, basic facilities such as water, toilets, clean food etc. Monisha also quoted the risk of abuse that street children face. She painfully said, "If you respect us, you will listen to us. If you listen to us, you will protect us. Please protect us".
Paulraj, the captain said that it was a big joy and that he had felt never-like-before happiness after he and his team received the cup in their hands. For Paulraj, playing cricket at Lord's was like a dream come true. "We didn't just play, we were also the champions.", he said.
Never Gonna Leave The Passion That Gave Identity:
Paul Raj and Monisha said that they will continue to attend cricket coaching classes and hope to play in future too.
"Cricket is something that changed my life. As someone who lives on the street, it has taken me across the world and given me an experience that I will always cherish," says Monisha.
If something is breaking chains and bringing identity to what you are, never leave it. Hold it tight and it will take you to the skies.

Know More About Street Child United