An Indian Origin student becomes a millionaire in London within 15 months of going Live with his Real Estate Portal.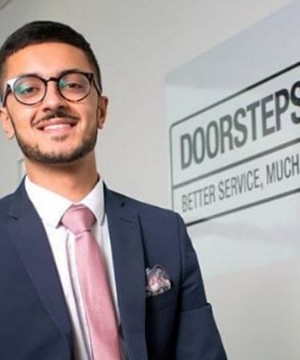 College Teen creates headlines.
In the city of London, where most teens keep themselves busy with music, theatre and sports and focusing on finishing their assignments; for Akshay Ruparelia it was the desire to be different and look at business prospects. He has been fascinated with the new age technologies and StartUps. Being his own Boss meant a lot of hard work and risks but the thrill of success if at all; would be worth it. Today is the age of young entrepreneurs and he too wanted to start young.
StartUp Idea.
Bombarded with countless ideas but finally pinning down on the right one is so important and critical. The idea of a Real Estate Portal was finalised, but had to do a lot of initial ground work like understanding the nuisances of how the current market works, the basic surveys and the mind sets of the customers who have been using the traditional way to go about buying and selling and what is that he could offer to divert them to his portal.
Financial Support.
A few thousand pounds is all that he wanted and his family were willing to do that. His friends too were very supportive of his venture. With an initial 7000 pounds he started working on the portal and launched his firm www.doorsteps.co.uk in 2016.

Juggling between work and studies.
Akshay already had a packed day and also had to clear his assignments but had to work around his time and manage the business. He smartly decided to hire the services of a call centre to take in calls and queries during the day and returned the client calls in the evening. He would then organise Site visits as early as he could. He recollects that sometimes he would run short of money and even borrow a car for client visits.
Getting the first client or a first break is always a tough one and when he did get it, he wasted no time and concluded the deal within a few weeks. He always went that extra mile to ensure that the clients are satisfied and indeed today he is known for being trustworthy and honest.
99 Pound Unique Strategy
Where the commissions are huge for selling and buying properties in London, he had to be innovative and come up with an affordable option. He kept the rate at as low as 99 Pounds which was so attractive, that he soon started negotiating huge properties and closed the deals in a quick turnaround time. The client base grew swiftly; so much so that he had to hire a few people to cope with the heavy demand. His company is currently valued at 10 million pounds and investors are already knocking on his door.
Much talked about Millionaire.
A millionaire in just over a year's operation and the whole world seems to be talking about this teen. Now that he has successfully diverted clients to using his portal, he certainly is on a serious Mission to put the traditional real estate operators out of business; especially on High Street.
Offers to Study.
Hearing his success, the prestigious Oxford University has offered him to do his studies and also some other well know Universities. He is elated but has put this on the back burner for the time being.
Inspiring
Success at first short is commendable and it must be a proud moment for parents Kaushik and Renuka, his family and all Indians. For all youngsters who are contemplating an entrepreneurial career, here is a wonderful success story.