Lost his arms to Live Wires is a national level skating champion. Was elated meeting Milka Singh.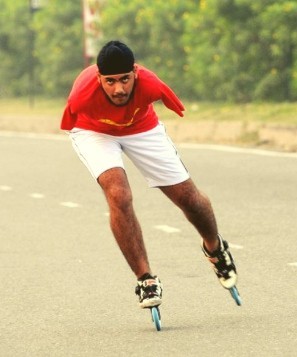 The 11-year-old boy was playing with his friend on the terrace. Little did he know that the high voltage wires running above their heads would turn his life upside down. The boy came into contact with 11kV wires and suffered severe burns on his body. He was taken to GMC, Jammu where the doctors could do nothing looking at his slit gut, burnt bladder and infected arms but shift him to GMC, Ludhiana for plastic surgery. At GMC Ludhiana, the doctors had no option left but to amputate both his arms all the way to the shoulders. This is the tragic story that happened to Chandeep Singh Sudan, a national level skater and a world record holder. "I remember once after his second amputation, my son asked me to tell the doctors to loosen the bandages on his fingers. Even then, he could feel his fingers and didn't know that his arms had been amputated," his father recollects.
What Happened After the Accident?
Chandeep Singh who hails from Jammu has done his initial schooling at Air Force School, Jammu. Sports and games always were his favourites and the young boy was truly a sport. He never bothered about winning or losing, all he wanted was his participation. "For me, participation and learning were more than enough and it used to make me happy," says Chandeep. Young Chandeep was also sharp in math and topped the math quizzes in school. This Kho-Kho and Football player also nailed drawing and calligraphy. This active kid's world suddenly came to standstill when he was 11 years old with the tragic incident taking away both his arms. But, Chandeep didn't lose hope. His parents and other family members held him tight and remained as strong pillars of support asking him to think of what he has to do going forward instead of lamenting about what happened due to ill-fate. The young boy understood what everyone was trying to tell him. His tender mind could sense how deeply his family loved him and wanted him to bounce back. Their desperation to make him feel normal and perfect made him think. He wanted to give them the gift of his successful living. He resumed to academics and completed his class 12 from Banyan International School by scoring 78 per cent in Class 10 and 77 per cent in 12.
Post his accident, Chandeep Singh who was motivated by his family decided to take up roller skating. People told him that he needs arms to maintain balance in skating. Chandeep took it as a challenge and wanted to prove them wrong. Every evening, after his classes, Singh would go to practice in the skating rink for 90 minutes and there, he competed with able-bodied people. He kept falling frequently unable to keep balance but he didn't give up. He fell countless times and one day, mastered it. "My inspiration is my family and friends. I used to think that they are doing so much for me and I must do something in return so that they feel proud." says Chandeep.
Thus, Chandeep managed to fair well both in academics and sports. After his class 12, he also joined the UIDC (United India Dance Group), the biggest dance workshop in the world where he was the only participant from Jammu and Kashmir. A skater, a dancer and a bright student then went on to participate in many national level competitions winning medals.
Chandeep's Glorious Moments:
In the year 2012, Chandeep participated in a national roller-skating event, competed with able-bodied contenders and won a bronze medal. He was awarded by many state level and national level NGOs. He has also participated in Speed Skating in the CBSE Delhi North Zone Championship for the years: 2012-13, 2013-14, 2014-15, and 2015-16. He was honoured with a memento in the 61st National School Games Belgaum, Karnataka. He bagged a bronze Medal in 7th All India Roller Skating Championship 2012 held in Mussoorie, Uttarakhand. He won four gold medals in competitions held by Jammu and Kashmir Roller Skating Association in 2014. For his flair, he was awarded a certificate by Smt. Smriti Zubin Irani, MHRD Govt. of India. He was recognized with "Pehal Youth Proud Award" on the occasion of Dr A.P.J. Abdul Kalam's Birthday. He bagged three Silver Medals in Jammu Gold Cup Roller Skating Championship 2014. He brought home three gold Medals from Jammu and Kashmir Roller Skating Association in 2015. He was named among Six Heroes of India by India Today. On December 31, 2016, the J&K Bank honoured Chandeep Singh by featuring him on its annual calendar for his extraordinary achievements in the field of sports. This national-level skater also was presented with a world record by the Golden Book of World Records for the fastest 100-meters Para-skating in a record time of 13.95 seconds. Of all these achievements, meeting the ace sprinter Milka Sigh turns out to be his best achievement ever. This glorious skater didn't relax with just the skate shoes. He mastered Taekwondo as well. He won two gold medals from Kimunyong Cup Taekwondo Championship held in South Korea.
Aspirations for The Future:
This bright young man who pursued his electrical engineering from M.B.S College of Engineering and Technology, Jammu aspires to become an IAS officer. Not only that, his eyes are centred on becoming the world champion in Para-skating and is looking forward to taking part in the Olympics for India. Legendary athlete Milka Singh has got to support this brave fighter all the way.
Gratitude towards Everyone:
Chandeep feels grateful for everyone who has been supporting him all the way.
"My family was my biggest pillar of strength. They kept encouraging me; they said that they would always be by my side no matter what. I was told to pursue all that I wish to do in my life. I had complete support. Besides my family, there were friends who never made me feel that I had lost anything in life,'' he said. He extends his thanks to his friends and also his teachers who instilled in him, continuous hope and courage.
Chandeep's Valuable Words:
"Never lose hope, always believe in yourself. Listen to everyone but do what makes you feel proud of yourself. Always remember that everything happens for a good reason. If one door closes, another opens, focus on your goal and believe in yourself."
What a story! Doesn't that shake everyone's earth from beneath who keep cribbing about what they don't have in life always? Being perfectly fine with everything, youth often find gaps in their lives and lament silly losses. Every such person out there, come read Chandeep's journey, wake up and keep going!!