Her scintillating knock of 171 Not-Out at the World Cup got her the DSP role in Punjab.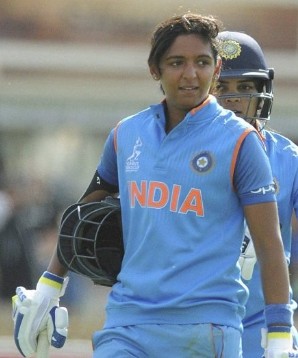 New-Age Women in Blue.
Women's Cricket definitely without a doubt in the last decade has gained immense popularity and thanks to the money, support and job offers. The last few years has seen Mithali Raj leading India to many great wins. The numbers watching, following and discussing women's cricket has gone up tremendously and thanks to BCCI and girls who have raised their game and consistently making a mark in the international circuit.
Captain's Talent.
Her strong will, hunger for success, instill confidence in her team-mates, handling pressure and being an all-rounder has earned her The Skipper's spot. She is sometimes compared to Kapil for her aggressive captaincy and Veeru for her fearless shots. Her aggressive cricket could well be attributed to her having played with the boys during her childhood.
Apart from playing the Captain's knock, there are a whole lot of responsibilities she needs to shoulder to be a successful captain. Harman is extremely alert during matches and has the ability to judge the game as it progresses and take quick decisions whether it is the field placements, Batting or Bowling.
Style
Harmanpreet's greatest strength is to hit the ball hard to reach the Fence, Spectators or over the top. If she takes the ball, she is sure to have the batswoman thinking and invariably gets one or more wickets. Her fitness and stamina makes her the quick runner between the wickets.
Impressive Graph
A debutant at 20 in ODI and the T20 forms against Pakistan and England respectively in 2009. In 2013 she was handed the captaincy when Captain Mithali Raj was injured against a Bangladesh series. She grabbed this opportunity and proved to the selectors that she is all ready and set to take on the mighty big job, while the board continued to monitor her progress. Only in 2016 she replaced Raj in the T20 series against West Indies and continues to shoulder the captain's responsibility.
DSP at 28
The 90s onward there has been tremendous scope for any good sports person. The government and private agencies are pumping in money like never before. Harmanpreet was employed with the Railways but due to her scintillating knock of 171 not out during the World Cup Final in 2017 got her the DSP job in Punjab.She is a recipient of the Arjuna Award as well.
She is here to stay and entertain the cricket lovers for many many years to come.