Meet the first woman from North-east to participate in the JK Tyre-FMSCI national racing championships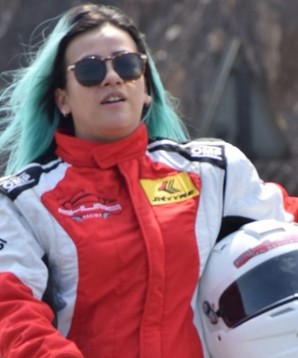 When Phoebe Dale Nongrum made the northeast proud, the whole nation looked at who she is and so did we. After getting to know her tale, we felt that it must be shared on this page for the world to look at this amazing racer. Shillong-based Phoebe Dale Nongrum, North-east's first woman to participate in the JK Tyre-FMSCI national racing championships has a lot to tell. Let's race into her story.
The Child Who Raced Beyond Her Age:
Nongrum hails from Shillong and as early as a 12-year-old kid, she was fascinated by cars. She used to wake up early in the morning and asked her driver to take her to an open ground in Shillong to teach her driving. She told her parents that she would go to play basketball and learned to drive without their knowledge. She learnt full-fledged driving by the age of 14. Racing always amazed her and she would drive along the Shillong-Guwahati highway. "These highways, the one from Guwahati to Shillong were my practice roads. I used to drive a gypsy." , she said.
Life Had Different Plans:
Phoebe's family sent her to Bengaluru for higher studies and she lived there for 15 years. During her stay in Bengaluru, the perception she had in her mind until then that racing is for men, washed away. She found ways to attend racing rallies in Bangalore. She got associated with the racing rallies either by organising them or by simply attending them. She got associated with a company called Red Bull that would sponsor racing rallies. That became her "point-to-reach". She continued to enjoy the gruelling Schedules as well but in 2017, she decided to take a small break and go back to Shillong for quite sometime. This time, again, her parents decided what her life should be like. Her IPS father wanted his daughter to become a cop like him. Phoebe had to succumb to the family's wish and she started preparing for the PSC and IPS examinations. However, she didn't feel like giving up on motorsports racing. Upon her friend's push, she participated in her first race which was an autocross. To her surprise, she stood out as the winner and picked up the trophy. This win gave her wings and she enrolled her name in a talent hunt led by Ahura racing. She then went on to secure a place in the first Formula national women's team. She was among the six team members selected from across the country.
History Written On The Wheels:
Phoebe Dale participated in the 23rd Jktyre National Racing Championship 2020 held in Coimbatore in which she created history for the North East by finishing the third podium. In a championship that had 26 women participants, Phoebe turned out to be the first woman from Meghalaya to secure place in the Formula LGB 4 team. This is the first time that Phoebe joined the formula racing.
"Got my first podium in Formula Racing and set a new record for my Home Town Shillong Meghalaya and Northeast as a whole. 2020 has been a crazy year for all of us. But apart from all the crisis, it turned out to be a good end to the Racing season for me at the 23rd Jktyre National Racing championship 2020 LGB Formula4.", she said in her FB post. She said that it was a tough week where she was leading in the ladies category on the first day but on the second day, she couldn't finish race one and three. She however managed to finish the third podium.
Challenges To Embrace Her Career:
This Formula 4 racer had to struggle so much to reach where she is today. While her father wanted her to become a police officer, her mother was not happy when she came to know that Phoebe was driving at the age of 14. However, instead of letting her words speak, Phoebe let her trophies explain her passion to her parents. She let them understand that her chosen career path is no less than what they chose for her.
"I have not come back home without a trophy since I started racing and I believe that's how they wrapped their head around it. I just kept bringing home trophies and my dad was like 'you don't have to write the exams anymore'.", she giggles. On the other hand, she is also struggling to find sponsors for her sport as motorsports continues to be an expensive sport in India.
Her Passion, Her Life:
Phoebe says that racing is very personal to her. "It's like therapy in a way. If I don't go racing, I feel very low. I need to get in a car and hit the track. I like the fact that they're all different and adapting to all three is a lot of fun.", she says. She says that in the days to come, she wants to represent India in one of the Asia Pacific rallies and the other Formula racing championships.
Kudos to the confidence and boldness of one of India's first women Formula 4 drivers and the first from the Northeast. She surely paved way for the rest to follow. May Phoebe's racing career continue to grow and may she become the most successful racer.