Mother of 12, Granny to 30 kids is a successful marathon runner. Walk, run, eat healthy is her fitness mantra.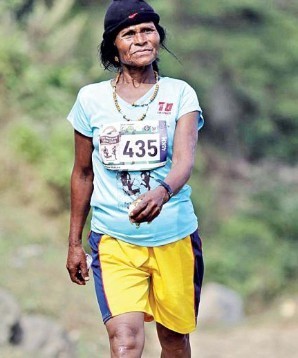 What if your skin is wrinkled, hair is turning grey and your bones are going weak? If your mind has one medicine, it's more than sufficient to keep your body strong and going. That's what Kmoin Wahlang from Shillong has proved in action. Let's get into the story of an amazing lady who, went against the growing numbers of age, and proved that an aged woman need not sit cribbing about knee pains and other health ailments. If one concentrates on keeping a healthy lifestyle, one is sure to be healthy even as age progresses. Her story is something that youth of today should read, who either go by a sedentary lifestyle or undertake rigorous gym sessions – both extremes are harmful.
Running Beyond The Age:
Kmoin Wahlang who hails from the Indian north-eastern state of Meghalaya was born in 1948 and is currently 73 years old. She is a mother of 12 children and is a grandmother to almost 30 children. Her complete life was dedicated to taking care of the kids and family and she could never find break from leading a strenuous life. Kmoin faced severe abdominal issues after giving birth to her twelfth child in 2001. To overcome her health issues, she started walking extensively and this walking habit, eventually turned into the habit of running. After her life saw some time in leisure, she didn't want to relax but decided to do something out of her strength that fulfils the purpose of her living. Her running capabilities were discovered by a non-profit organization called RUN Meghalaya and she became a part of it with no hesitation. Something that no one expects from an aged woman! She started running marathons and have run a couple of them in her state. She had also completed the 45km run in the Mawkyrwat Ultra Marathon.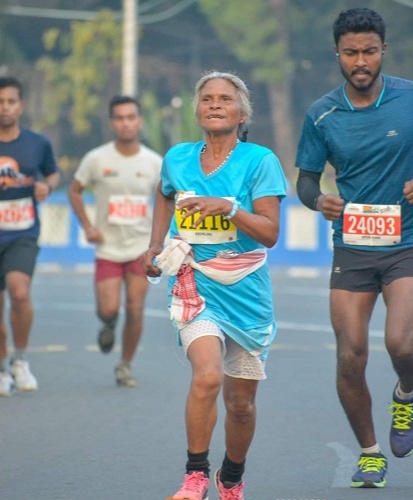 Beyond Place And Language:
When Tata Mumbai Marathon was held in January 2019, Kmoin showed the nation what her feet could do. This 73-year-old grand ma has left the whole nation jaw-dropped by successfully finishing the marathon run. Even the fitness enthusiasts were left in shock when they saw the old woman run like a pro completing the run of 42.195km in 4 hours 33 minutes and 55 seconds. Out of 520 women runners, this lady in her 70s stood in the 89th position. Imagine! She was in the Top 100 out of 520 women. Moreover, Kmoin was the only woman in her age bracket. "Kmoin Wahlang from Meghalaya participates in several marathons and runs in her home state. She stole everyone's attention at the TATA Mumbai #Marathon in 2019, where she was the only woman in her age bracket.", the twitter post about her feat mentioned. Kmoin, who doesn't know any other place beyond her native and no other language besides her mother tongue, did not experience any kind of place or culture shock when she travelled to Mumbai to take part in the Marathon, though it was her first time to participate in a marathon outside the city of Shillong. On top of that, she displayed incredible skills and her running speed did not go below 9km/hr all through the run.
What started as a way of leading a healthy life changed into a passion and that made her stand as an inspiration to many people out there. Yes! Doctors and medicines do help, but more than that, it is the exercise, personal care and self-love that makes wonders. Kmoin has definitely proved everyone who feel depressed about falling prey to ill-health that anything is possible through will power and determination.
Must Read: From being overweight, critical health conditions to winning marathons. It's all about lifestyle changes.