Golden Girl Becomes the Youngest Indian Woman to Shoot Gold in CGC 2018.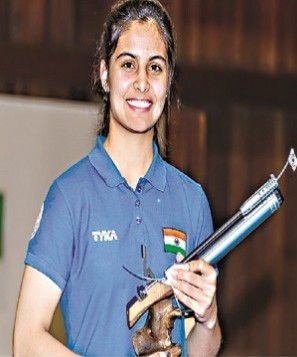 The 21st Commonwealth Games has yet again produced a young sensation from among its midst - A sweet 16-year-old who has got a wild side to her innocent face, a young Indian shooter who has made her country proud.
Manu Bhaker is the shooter you should look out for. She is relentless to chaos and her sweet demeanor is not to be trifled with. Competing against experienced professionals, this new talent has shone through bright.
A Walk-Through Manu's Life
Manu Bhaker is from the Goria village in the Jhajjar district of Harayana. Until she was just fourteen, the teen took interest in a variety of sports like boxing, tennis, skating, and sports like Huyen Langlon which is a form of martial arts in Manipur. She participated in several national level championships and won medals.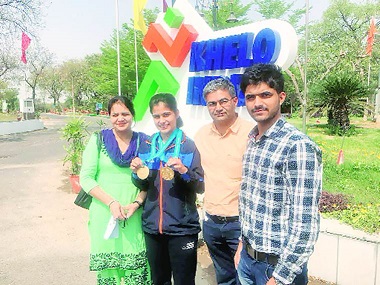 After all, this, when Manu approached her father and asked him to get her a pistol, Ram Kishan Bhaker, a chief engineer in the Merchant Navy, wondered if the investment of INR 1.5 lakhs would really be worth it. Manu was good at many things but was a career in shooting the path for her?
Turns out, it all worked out for good.
Gold, Gold, and Gold Again!
Winning the title of the youngest gold medalist in the country does not come easy. It requires perseverance and rock-solid faith, both of which Manu possesses. She smashed all records, competed against the top professionals in the country and won her way to becoming the golden girl.
Just how talented and special Manu's skills are as a shooter has been rather well documented. She tasted her first sweet victory at the 2017 Asian Junior Championships where she won a silver medal.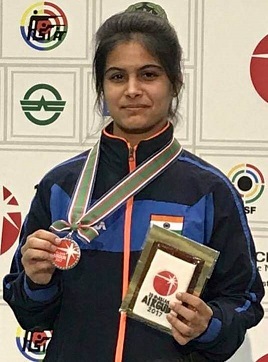 This wasn't just it. In the 2017 National Games held at Kerala, Manu took home NINE gold medals, also defeating multiple World Cup medalist Heena Sidhu in the process. She broke Sidhu's record of 240.8 points by scoring an excellent 242.3 points in the final.
In 2018, she represented India in the ISSF World Cup and won two gold medals making her the youngest Indian to ever do so.
For someone of her caliber, the Commonwealth Games had to be a quickie. Indeed, in the finals of the women's 10m air pistol event during the Commonwealth Games, she easily bagged a gold medal and set a new record of 240.9 points.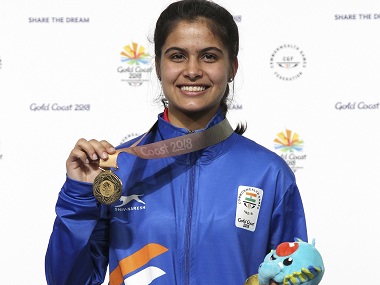 A Young Spirit of Dedication and Might
It has only been two years since Manu first touched a pistol, yet she has already achieved groundbreaking heights. She has almost never walked out of a tournament without a medal and each time has delivered a stunning performance.
Manu has steadily climbed up the ladder of victory and is living proof of a strong and mighty woman just at the cusp of adulthood. It was the work of luck and chance when she took up shooting and it is no secret that she's got a skill for it.
Winning with such consistency at such a young age sure qualifies as an amazing achievement.