Skiff sailing champ from Goan receives Bal Puraskar. Pearl of the Sea.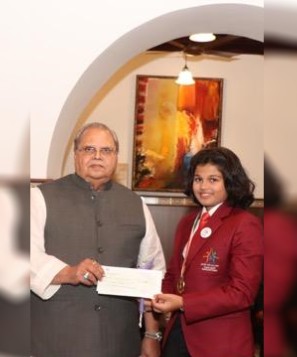 Governor of Goa, Shri Satya Pal Malik felicitated Pearl Colvalcar, a 13-year old student of class eight in Raj Bhavan. He presented a cheque of Rs.50,000/- to Pearl Colvalcar as a token of appreciation. Governor Shri. Malik said that she has made her parents Dr. Milind Colvalcar and Dr. Tejashree Colvalcar proud, and has brought laurels to herself and the State of Goa. He also assured his complete support in her future endeavors. The appreciation from the governer came after Pearl was honoured with the Pradhan Mantri Rashtriya Bal Puraskar 2020 by President Ram Nath Kovind, for her excellence in sports. Let's dive into the story of Pearl Colvalcar, won the "Youngest Sailor" Award along with being known as Pearl of Goa.
Pearl - The Pearl Of Versatility:
The only daughter of Dr Milind Colvalcar who is a Senior Gynaecologist and Infertility Specialist and Dr.Tejashre Colvalcar, who handles the administration of his hospital and Fertility Clinic, IVF Angels, Goa. She goes to Sharada Mandir HS, Miramar and is truly a pearl in academics as well as extracurricular activities. She displayed her excellence in Maths, Science and English Olympiads. Pearl is also taking certificate training in harmonium, piano and guitar and has been awarded the distinction certificate from Trinity College of Music. She has also received a certificate of appreciation for securing the highest marks in piano by the Department of Western Music at Kala Academy, Goa, in 2018. Pearl also learns German and Portuguese and she proved to be a gem in every sphere.
Pearl - The Pearl Of Waters:
When a camp Skiff Sailing was organised in school, Pearl took part in it and fell in love with the sea. The girl, who loved challenges, loved the skiff boats as they are unstable and capsize very fast. "It is the most complicated board in the world", she said. She began to receive formal training and would travel from Panjim to attend the training sessions. At the age of 10, she started off with windsurfing at the Goa Yachting Association and at 11 years of age, she started sailing in the Navy. Her windsurfing training is under the guidance of her coach, Derek Menezes. "Sailing and windsurfing are my favorites. Especially windsurfing. They give a lot of adrenaline rush.There was no dull moment at sea. The waves and the winds had a different story to tell everyday.", she mentioned. She was ranked No 1 in India in 29er Skiff Sailing in girls category and overall third in both girls and boys and is also a part of the National Squad. "Skiffs are very fast racing boats. The 29er is a youth class boat. It is the most unstable boat in the world in youth class. Normally, this boat is sailed by 16 to 19 year olds. I sailed it at age 12 as I like challenges. I sailed it at Chennai in the Bay of Bengal in the Nationals," says Pearl. Pearl became India's youngest skiff sailor and has also won the "Youngest Sailor" Award at a sailing event held in Hyderabad.
Pearl - The Pearl Of The Sea:
Pearl Colvalcar was conferred with the Pradhan Mantri Rashtriya Bal Puraskar 2020 by the President of India, Ram Nath Kovind, for her excellence in Skiff Sailing and Windsurfing from the hands of the President of India, Ramnath Kovind at Rashtrapati Bhavan.This award is given to children for their exceptional achievements in various fields and carries a medal, a cash prize of Rs 1 lakh, a certificate and a citation. After receiving the award, she proceeded to be feliciatated by the Prime Minister, Narendra Modi in Delhi and also took part in the Republic Day Parade in Rajpath, New Delhi.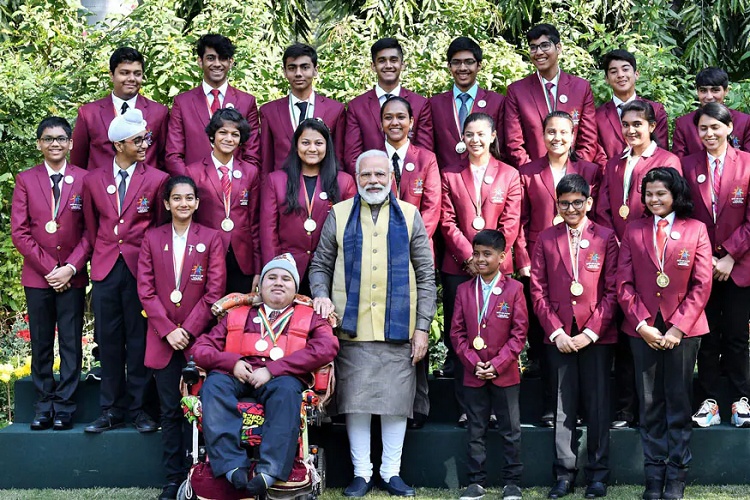 She also received a signed watch from the Prime Minister. "Skiff sailing is not known to many. It is heart-warming to see Pearl Milind Colvalcar excel in this unique area. "Interacting with her, I got to know that she has also won the "Youngest Sailor" Award at a sailing event in Hyderabad". tweeted Shri. Narendra Modi, Prime Minister of India congratulating Pearl Colvolcar. Talking about her success, Pearl's mother said, "She comes from a family of doctors. However, we are very much on land and away from the sea and have nothing to do with sailing. I am really proud as a parent. It's because of her, I could meet the Prime Minister and the President of India and visit Rashtrapati Bhavan Darbar hall and witness the ceremony closely," adds Dr. Tejashre.
The Road Ahead And The Message To Aspiring Sportspeople:
Pearl, who aims to represent India at the Asian level in near future, advises aspiring sports enthusiasts to not to miss the training sessions. She suggests the youngsters that they should make friends not just with books but also with nature and world around them.
"You would reach a certain place but you will not be an outgoing person if you are just with your books.", she opines.

Follow Her Work