Chennai athlete became the Global Child Prodigy. Here's why and how ?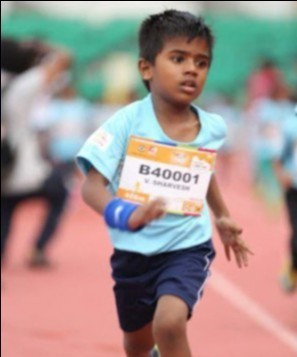 Running marathons and displaying flair in running competitions is something that's heard quite frequently. We also know the stories of great marathon runners and excellent athletes who run like kangaroos on the track. But the story of a seven-year-old boy from Chennai is taking it beyond the conventional running tracks and is attempting to land us on a topsy-turvy track. Let's meet V. Sarvesh, the reverse runner of India.
Moulded With Inspiring Stories:
V. Sharvesh was born on November 11, 2011, in Chennai, Tamil Nadu, India. He became the young prodigy with a unique talent that's awing the world. With a record of reverse running for 1 km in 14 minutes and having participated in 57 Marathon races just by the age of 7, he became the youngest sportsman in the making. It all started with bedtime stories. When Sarvesh was a tiny tot, his father, S.Vishu told him the stories of famous athletes. Sarvesh heard the story of Usain Bolt, moved by his struggles, and inspired by knowing how he overcame all the obstacles to emerge as a successful sportsperson. And ever since then, Sarvesh's feet longed to kiss the track. He embraced the running shoes and when he was in his Upper K.G. he got an opportunity to participate in a Kidathon in Cuddalore. Thus his journey into the world of running began. In that event, he stood third but his parents were shocked to see him give a tough fight to the other contestants who are much above his age. They understood his love for running and decided to encourage him further.
The Running Journey:
Sarvesh has won numerous running events in the year 2017 that is at the age of 6. He has participated in a total of 176 km in running and won a cash award. He stood first in 9 events, bagged second place in three events. He ran a treadmill to complete a distance of 6.5 kilometres in 30 minutes with a speed of 13 km/hr. He is also the winner of the state-level competition named Sri Dharshini Kalaikoodam Award, 2017. In 2017 he also finished 100 kilometres in just 30 days in the Ultra Runner Porur Challenge, His participation in the International Addis Running Marathon challenge in 2018 was a big surprise for his age because he finished off a distance of 206 kilometres in just 100 days. Since then, he has participated in numerous national and international events securing a distance of a total of 552 kilometres. On December 4, 2017, he performed reverse running for 1km in 14min 16seconds at MGR Nagar, Chennai.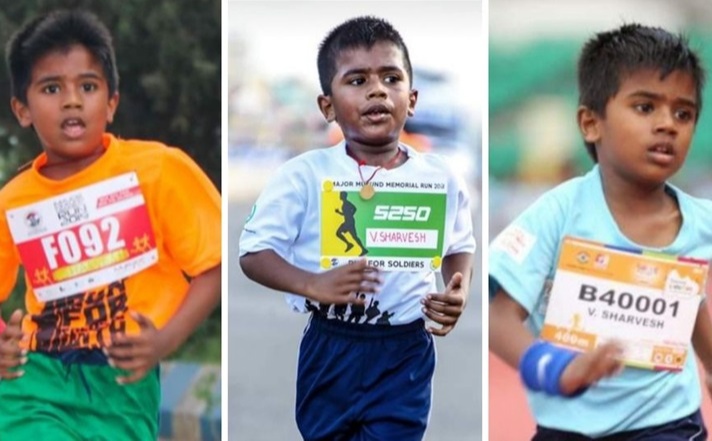 Global Child Prodigy:
The little champ has won three world records for being the youngest to participate in more marathon events (57) and for being the youngest to successfully finish running 486 kilometres and also for running barefoot on the treadmill at 13km/h speed in 30 minutes finishing 6.5 kilometres. Youth world federations award 2018 conferred the YOUNG ACHIEVER AWARD in 2018. The Global Child Prodigy Awards, the world's first and only award ceremony that felicitates unique and talented children, awarded V. Sarvesh under the category of sports, in the year 2020 listing him in the Top 100 Prodigies List of 2020.
It's not a joke to participate in so many marathons at such a tender age. And on top of everything, reverse running is his unique flair. Sarvesh is surely going to be the next Gen India's proud athlete.