Swimmer from Kerala qualifies for Tokyo Olympics. Medal is all that is on his mind.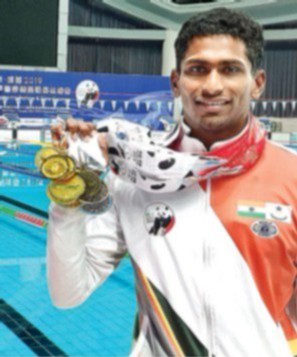 Success does not come as a one time shot. It's not that you hit the target and it shoots the right way in the very first go. While you learn to walk, you fall down, while you learn to talk, you stammer, but does that mean you stop doing all that because you are afraid of failing? No. The same applies to every sphere of life. Be it career or life; keep trying until you bag the goal. This should be the funda for a successful life. We bring before you the story of one such "never stop, come what may" kinda person, India's ace swimmer Sajan Prakash. Let's get into knowing more about him and his journey.
Raised In Association With Sports:
Sajan who is basically from Thodupuzha village in Idukki district of Kerala moved to Neyveli, Cuddalore district in Tamilnadu along with his mother V.J.Shantymol who secured a job in Neyveli Lignite Corporation. His mother is also a national level track and field athlete and has represented India in several national and international events. The mother and son stayed in staff quarters in Neyveli where Sajan found himself being drawn towards a variety of sports like badminton, running, swimming and any for that matter any new thing that came his way. Also, the best part is that so many former and contemporary players trained at these facilities and thus Sajan got his best grooming place. Sajan, who finished his schooling from St. Paul's Matriculation Higher Secondary School and Jawahar Higher Secondary School, Neyveli, pursued his graduation in computer applications from Annamalai University, Chidambaram. He is now into the Kerala Police Department as an Officer Commanding. Sajan received his initial training in Swimming at the Neyveli Lignite City Swimming Club, Neyveli, Tamil Nadu.
The Decision-making Time:
When Sajan reached his teenage, it was time that he had to choose one sport and focus on it in particular. Aquatics, track and field - all require different body types and grooming. As Sajan had flat foot, he chose Swimming under the able mentorship of Joy Joseph and Saji Sebastian. However, the authorities at Neyveli hadn't shown much interest to encourage swimming as a sport which made it harder for Sajan to receive good-quality training. His coaches then recommended him to Basavanagudi Aquatic Centre, one of the best swimming centres in India.
Grooming At BAC:
BAC is from where many top-notch swimmers and Olympians like Hakimuddin Habibulla (2000), Nisha Millet (2000), Shikha Tandon (2004), Rehan Poncha (2008) or Gagan AP (2012) emerged. In 2012, Sajan entered the premises of BAC. Though it was a prestigious training centre, Sajan's initial training days were very close to unbearable. Sajan was a short distance swimmer but the training at BAC was tuned to long-distance swimming.
I remember, in one session, the coaches asked me to swim 18 or 20 - 200m sets. And guess what I did? I sprinted the first one, and then I was out of gas. Just couldn't move around, he says.
Slowly, with the help of swimmers like Rehan, Gagan and others, Prakash soon got accustomed to the training, put his flesh and blood into swimming to emerge as a No1. Swimmer. He was also selected for the Senior National Championships and a few international meets. However, it was only in the 2015 National Games that Sajan got recognized as one of the country's best swimmers.
The Shower of Medals:
Sajan set his page in the Swimming history of India by bagging a medal haul at the National games - six gold and three silver. It was the time when Sajan and his family were struggling financially. After knowing that the winners in these meets shall be presented with cash awards, he thought that his participation and winning would get the family out of financial constraints. This is another point that pushed him to win medals apart from the strong will to set records. His performance at National level meets drove towards him an opportunity to enhance his skills further in a foreign land.
FINA - A Blessing:
In 2015, FINA, the world aquatics body, an association with a swimming training centre in Phuket, Thailand resolved to train 21 aspiring swimmers for the 2016 Rio Olympics. In the process, FINA contacted the Swimming Federation of India who recommended Sajan's name for the program and thus he received the best world-class training at Phuket and made his way to the 2016 Olympics. Though he couldn't win there, Sajan learnt great lessons at the Games village. He understood where Indian swimmers are lacking and what is making them fumble on the world stage.
One thing I learnt there was if we are to be on a par with the world standards, we need things that make them that good, he says.
He understood that swimming alone doesn't serve the purpose. Masseuse, trainers, analysts, physiotherapists, mentors, everyone play a vital role in carving the best swimmers.
For me, I have had my coaches who have guided me and corrected me. But if Indian swimming has to develop, it needs to go beyond just the coaches, he says.
Trying To Change The Way Things Are:
Sajan is now committed to bringing revolutionary changes to the way swimming is pursued in India. While he is training hard to bring home medals from the 2020 Tokyo Olympics that were rescheduled due to the coronavirus pandemic, he is continuing to help the youngsters in choosing the right path and receive the best training to become nation's proud swimmers.
The idea is to educate people that reaching the Olympics is not a big deal. Winning a medal is what matters and is what should matter, he says.
He says that Indian children strive in a competitive scenario where they are often asked to work hard rather than to work smart. This, he says, needs to change. This takes a lot more years to change but he is happy that the beginnings are on the way.
Now that he has created history by becoming the first Indian from Kerala to qualify for the 2021 Olympics, his eyes are firmly set on a medal. The whole nation wishes and hopes for the same.