Ice Speed Skating its hardly a known sport. First woman in India is gearing up for winter olympics.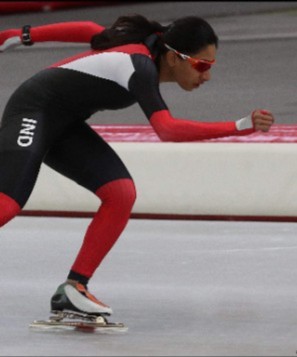 Well, sports are often categorized into various fields, yet sports identified with Ice are consistently fun and difficult especially in India. Ice skating is generally well known in places like Shimla, Kashmir, and Ladakh as the rest of India consists of a tropical climate hence, it gets difficult to find skating arenas in other places. Despite the ups and downs, Shruti Kotwal managed to pursue her passion and was the country's first female speed ice skater.
From Artificial Rinks to Olympics
Shruti kotwal was born on 2nd December 1991, Pune, Maharashtra, India. She began roller skating at the age of 7 as her hobby and gradually transformed it into her passion. She won gold medals for roller skating at a national level for several years. She started with roller skating and later on discovered an interest in ice skating and wanted to give it a go.
Shimla hosts a national camp and competitions every year, shruti was drawn towards it as it was an Olympic sport recognized worldwide. Ice speed skating is originally from the Netherlands. This was initially added in the winter Olympics in 1924 and it was conducted for men, whereas in 1960 they said women's speed skating was added.
In 2011, she won gold medals for 500m, 1000m, and 1500m categories at the south Asia championship and she managed to break her national record in the 500-meter categories, since then she had gained confidence and never turned back. She had got a scholarship from the International skating union (ISU) in 2012 and got a chance to get trained under Canadian player Jeremy Wotherspoon, to sharpen her skills and pursue her passion she shifted to Canada. She won five gold medals at a national ice-skating championship in Shimla, won a bronze medal in Gulmarg at national winter games, and also participated at the Asian winter games in japan,2017. She is grateful to her family as they supported her endlessly and gave her the freedom to choose her career. Especially her mom who took care of all her races and practices conducted all over India.
Hardships through the Journey
A lot of female athletes go through tough times pursuing a career in sports and mostly in India, they get suppressed by social norms and family culture, but for shruti her family supported her through thick and thin. She is a living example of a professional women's athlete and has been an inspiration to many others out there. Since India did not have a well-structured ice rink she had to move to Canada and got trained for four to five seasons.
Moreover staying away from family or friends is also the biggest challenge of all, as they have to practice throughout the day and night where it can be exhausting and tedious. Speed skating is a race on ice that involves a lot of strength and control over the lower body as well as good cardio. They skate around an oval ice arena at various distances, while the length of the ice track can be around 400 meters.
An opportunity for the youth!
Shruti and her husband Harshal Mundphan both are professional skaters and support each other in the same field. They opened a skating academy 'Pursuit Skating Academy' in the year 2010 at Pune, Maharashtra. It has both roller skating as well as ice skating. Later on, she was featured in 'HERoic', a Canadian documentary web series directed by Nicole Murphy that premiered in Calgary.
During a chit-chat with Anam khan, shruti had given a piece of advice to the youth, she said " Train smarter and not harder. Don't do donkey work as it's about quality rather than quantity. Don't do 100 laps without knowing how to do them rather do 10 laps but perfect. My next step is preparing for the Winter Olympics."