Powerful roll of a little girl on the roller skates.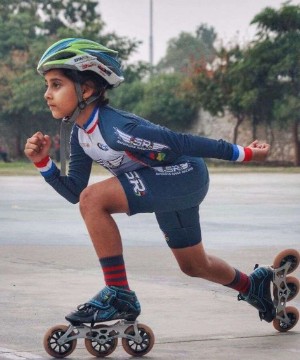 Little Feet's Big Steps Towards A Rolling Future
Parents!! Shout out to those innate talents in your kids and see them glittering while their abilities are polished. Engineer? Doctor? Lawyer? CA?IAS? IPS? Every time when we think of our kids, we dream of something big and we expect them to reach our expectations. We often unknowingly shackle their hands by curbing their interests and directing them towards what we call as a fruitful career and life.
But what is the right choice for a kid? The right career choice or goal for a kid lies in his/her aptitude and interest. Anjali and Kapil Surana, the parents of Labdhi Surana have rightly caught the innate talent of their daughter and inclined her towards the same which made Labdhi a queen on the global skating rink. Let's know more about Labdhi Surana.
A Tender Bud Blooming Early In Time :
Labdhi Surana, a girl from Udaipur is the Rajasthan's youngest girl representing the nation in the arena of Roller skating. She is a National Gold Medalist (RSSFI) and her best time for 300mts. is 48.38 sec. A Rashtrapati Award winner, Labdhi is a Grade-2 student of Rockwoods High school.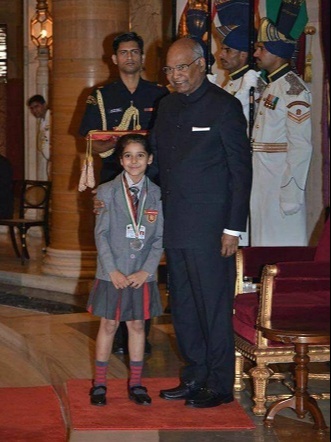 How Did She Come Into Limelight Now?
Very few knew about Labdhi when she reached Germany to participate in the Europa Cup in which 32 nations take part. Thanks to the encouragement of the parents and the efforts of the coaches Sripad Shinde and Priti Ingle that Labdhi shined in Silver making her name vibrate on the national and international podiums. She broke her own record by breaking the third position she has secured in 2017 in the same event and rising up to bag Silver.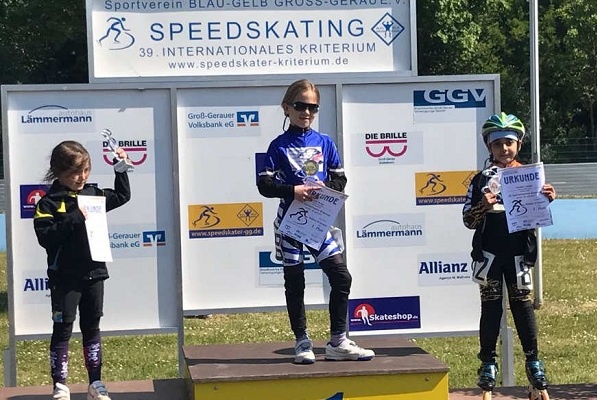 Being More Than Her Number :
Labdhi challenges herself and her age quite often. When all the other kids of her age will be sleeping, her day starts at 4:30am. Rigorous training, diet, and strict regimen are a part of her indifferent childhood. Not only that she stands apart from her counterparts in her daily routine, even in her sport, she has set her own trend. She plays under 11 and under 14 skating tournaments- almost double her age and manages to be in the 2nd and 3rd places.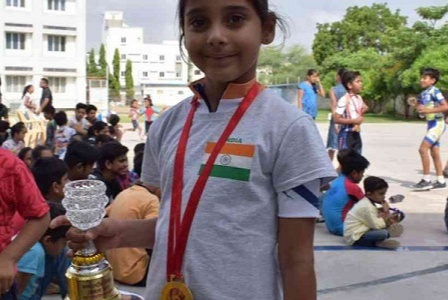 Her Future Endeavours :
Labdhi says that she has much more to accomplish as she soon turns 10 in September. Her targets are world championships and the Olympics.
The Little One's Big Message :
In whatever field the child might be interested in, parents should stand as pillars of support and it is only through discipline, dedication and self-belief that anyone can achieve their goals.
Lend an Ear...
Labdhi parents' say - First get your child into a regular physical activity from a very very early age .....then the choice of sport though may be tough it will happen. Then of course - the dreams, the hard work, the goals, discipline and the results will show.....somehow the kid who does a regular sport activity learns to find a balance between studies and ex curricular activities....